The Mondello Park Experience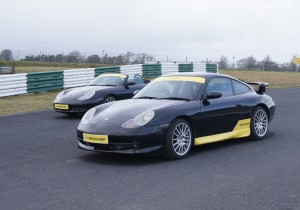 Lads, listen up! If you're on the hunt for an unforgettable stag party that'll have your mates talking for years to come, we've got a secret Irish gem for you: the Mondello Park experience. This place isn't just any old motorsport haven; it's a playground of epic proportions, where the thrill of the track meets the charm of an Irish adventure. So, buckle up, because we're about to spill the beans on why Mondello Park is the ultimate stag party destination that'll give you more craic than you can shake a shillelagh at.
Where is Mondello Park Located?
You might be wondering, "Where in the world is this motorsport haven?" Well, fear not, for Mondello Park isn't playing hide and seek. It's nestled in the charming vicinity of Caragh, County Kildare, Ireland. If you're plotting a route on the map, the R409 regional road is your ticket to the track. Just a stone's throw—well, more like a thrilling ride—away from the bustling heart of Dublin city center, Mondello Park is a mere 48 kilometers (approximately 30 miles) from the buzz of the capital. 
You can also visit Mondello Park's website.
Mondello Magic
First things first, let's set the stage (pun intended). Mondello Park isn't just your average racetrack. It's the only international motorsport venue in all of Ireland, and it's been hosting heart-pounding events for decades. From the roar of powerful engines to the high-speed action that'll have you gripping your pint, Mondello Park is a place where legends are born, and memories are etched in the minds of those lucky enough to experience it.
Rev Up the Fun: Mondello Park's Stag Party Vibe
Now, here's the real scoop, lads. Imagine gathering your stag party crew for a day that's less about embarrassing dares and more about unleashing your inner adrenaline junkie. Whether you're a die-hard motorsport fan or someone who just wants to kick it into high gear for the big send-off, Mondello Park has you covered.
Start your engines with karting at the Mondello Karting track. It's like reliving your childhood go-kart days, only this time, it's more intense, and you're not getting told off for bumping into your mates. Zoom around the track, channel your inner Hamilton, and make memories that'll have everyone laughing 'til their sides hurt.
Mondello Park Activities and Events
Remember the days when racing was pure, unadulterated, and a breeding ground for legends? Formula 3000, a racing series that revved from 1981 to 2004, was the crucible of champions-to-be. Among those who cut their teeth on this very track were the likes of Michael Schumacher and David Coulthard. Talk about walking in the footsteps of greatness!
World Superbike Championship
For those with a penchant for two-wheeled exhilaration, the World Superbike Championship is a symphony of speed. It's been running since 1988, and the heart-thumping drama it brings to the track is nothing short of legendary. Brace yourselves for a battle that's not just about speed, but sheer finesse and daring.
British Touring Car Championship
The year was 1958, and the British Touring Car Championship was born. Fast forward, and it's become a staple in the global touring car racing scene. Here at Mondello Park, you get a front-row seat to the intense clashes, daring maneuvers, and the roaring symphony of engines as these touring car gladiators go wheel-to-wheel for supremacy.
Irish Motorbike Grand Prix
Since 1962, the Irish Motorbike Grand Prix has been a tradition at Mondello Park. It's not just an event; it's a piece of Irish motorsport history. Witness the raw power and precision as motorcycle racers navigate the twists and turns of the track, etching their names in the annals of racing greatness.
Mondello Historic Festival
Time travel might not be a reality, but the Mondello Historic Festival comes pretty close. Every year, classic racing cars—think Formula 1, sports cars, and touring cars—take to the track, bringing the past to life in a heart-pounding display of horsepower and nostalgia.
Classic Formula 1 cars, driven by legends past and present, tearing up the tarmac—welcome to Mondello Masters. It's not just a race; it's a showcase of automotive artistry and the harmonious marriage of man and machine.
When it comes to rallycross, expect the unexpected. The Mondello Rallycross event is a symphony of dirt, dust, and daring feats. Watch as rallycross cars, driven by some of the biggest names in the sport, kick up a storm on the track, defying both gravity and convention.
For those seeking a slice of the action themselves, Mondello Karting awaits. Open to the public, it's your chance to channel your inner racer and zoom around the track in a flurry of speed and camaraderie. Remember, the one who finishes first might buy the first round at the pub later.
Drifting: where control meets chaos, and skill takes the wheel. At Mondello Drifting, watch in awe as drift cars and their fearless drivers dance on the edge of traction, leaving tire marks and wide-eyed spectators in their wake.
A fusion of off-road and on-road excitement, the Mondello Supermoto event is a showcase of agility, precision, and a healthy dose of two-wheeled swagger. With supermoto bikes and riders who redefine the term "daring," you're in for an adrenaline-pumping spectacle.
Mondello Corporate Events
But wait, there's more to Mondello than the revving of engines and the scent of rubber. It's also a destination for corporate events and team building activities. Whether you're unleashing your team's competitive spirit on the track or bonding over friendly karting competitions, Mondello Park has all the facilities and activities to make your corporate gathering a roaring success.
The Mondello Stag Party Experience is Second to None!
As the sun sets on your Mondello Park adventure, you'll find yourselves laughing over shared stories, toasting to the daring feats you conquered, and relishing in the knowledge that you've just experienced a stag party like no other. The Mondello Park experience isn't just about the track; it's about the camaraderie, the shared memories, and the unbridled joy that comes from living life in the fast lane, even if it's just for a day.
So, lads, if you're ready to make your stag party a legendary tale, get yourselves to Mondello Park. The engines are revving, the craic is waiting, and the adventure of a lifetime is calling your name. It's time to create memories that'll have you saying, "Remember that time at Mondello Park?" for years to come.
But enough talk – time for action! Pick up that phone, book a session for your stag party in Ireland, and get ready for the time of your life. Trust me, you won't regret it!