Bumper Soccer
Stagit.ie is bringing you one of the newest craziest sports to hit the world of soccer. You are strapped into large 1.6m diameter zorb balls and you go head to head against the other team. You can do backflips, rollies, dives, anything goes basically. When you fall or are thrown off balance you will bounce into the ground or bounce to your feet depending on how athletic you are. This is a must try for all groups.
footgolf
Footgolf has come to Dublin!
This fusion of Golf and Football is taking the world by storm and it's easy to see why. All the fun of golf without stress and all the skill of football where everyone has the chance to score a goal.
The premise is quite simple: place the soccer ball into a hole measuring 52 centimeters in diameter, with the foot in the least amount of kicks possible. Sound simple, doesn't it? Well think again. As you set off with a kick from the tee box, you will need to call upon all of your accuracy and strength to make it to the hole in the least amount of kicks possible, taking hills, bunkers, wind, ground and your nerves into consideration!
Footgolf was created in the Netherlands in 2009 when the The International FootGolf Association (IFGA) was founded in Geneva (Switzerland) in January of that year. With over twenty countries now hopping aboard the Footgolf train, this brand new sport shows no sign of slowing down.
Locations Available: 
Westport
Dublin
Dodgeball

You've seen the film, but have you ever played dodgeball before? Now is your chance to try the real thing!
Dodgeball has a perfect balance of sports, aggressiveness, and silliness and is pretty much a straight-forward game. You throw balls to hit the opposite players, catch balls before they hit the ground, and dodge balls that are hurled at you. The team to eliminate all opposing players is the winner. Easy peasy, you say? Try the game and we'll see.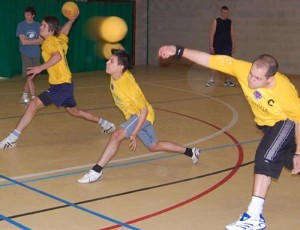 Players of all sizes, abilities, and experience levels are welcome. Just keep in mind the 5 D's of dodgeball: Dodge, Duck, Dip, Dive, and Dodge!