Top Stag Do Activities in Killarney
Killarney's lush fields, fascinating lakes, magnificent mountains are contributing factors for fun and thrilling Killarney stag activities.
The Ring of Kerry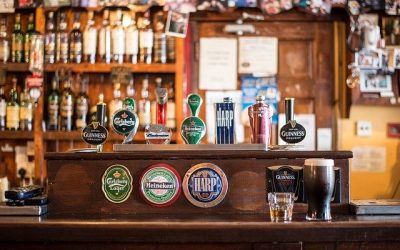 Killarney stag party is never complete without having the famous tourist trail in the Ring of Kerry. The trail takes around 3.5 hours nonstop driving, however, to make the most of your experience in this stunning visual history, take your time. 
Irish Whiskey Experience
For a group who loves and enjoys the taste of Irish Whiskey, why not arrange an Irish Whiskey Experience in your Killarney stag do? Irish Whiskey Experience is an interactive guide through the origin of the drink and its distillation process.
Killarney Falconry
The Killarney Falconry experience is another pick for a stag party activity in Killarney. This activity will thrill the group especially when the bird flies from aloft into your gloved fist.
Golf
Golf should also be on your list of stag activities. The Killarney Golf & Fishing Club offers prestigious golfing venues in Ireland.
Kayak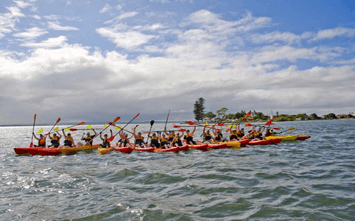 Exploring the majestic lakes of Killarney is best done through a kayak trip.
Horse Back riding
Treks through the mountains on horseback would be another pick for a stag activity in Killarney. The Killarney Riding Stables offers professional trekking tours.
Carrauntoohil Mountain
Hiking to Carrauntoohil, Ireland's highest mountain, is also an exciting activity for a stag on tour. This spectacular activity is not for the faint-hearted. Make sure the group is fit and healthy.
Treyvauds Killarney
Ah, lads, have you ever been to a place where the food is so delicious it's like a taste of heaven on Earth? Well, let me tell ya about Treyvauds Killarney, the heart and soul of dining in Killarney, Ireland. Sit back, relax, and let's take a mouthwatering journey through the delights of Treyvauds Killarney.
Treyvaud's: The Perfect Restaurant for Stag Parties in Killarney
Treyvaud's, nestled on the charming High Street of Killarney, has been dishing up mouthwatering delights for over 30 years. It's not just a restaurant; it's a culinary experience. This family-run gem combines the best of Irish and international cuisine, so whether you're a lover of traditional Irish dishes or craving something more exotic, Treyvaud's has you covered.
Now, what sets Treyvaud's apart from the rest? It's not just the scrumptious food; it's the atmosphere, the service, and the unmistakable Irish charm that make it a hit among both locals and tourists.
Where is Treyvauds Killarney Located?
Located in 62 High Street, Killarney, Co. Kerry, V93 KV66, it's right in the middle of the Killarney action lads!
Special Features of Treyvaud's
When you step inside Treyvaud's, you'll instantly feel the warmth and hospitality that Ireland is famous for. The cozy atmosphere and friendly staff make it the perfect place for a relaxing meal or a lively celebration.
What's even better? Treyvaud's prides itself on using fresh, local ingredients to whip up their culinary creations. It's farm-to-table goodness that'll have your taste buds dancing an Irish jig. And speaking of dancing, Treyvaud's hosts regular event nights, including live music, comedy nights, and quiz nights – making it the ultimate spot for a night out with friends.
Food and Drink Menu at Treyvauds Killarney
Now, let's talk about the real stars of the show – the food and drinks! Treyvaud's menu is a treasure trove of delights that will satisfy even the pickiest eaters.
Start your journey with delectable appetizers like Bruschetta, calamari, or a goats cheese and mushroom tart that's a taste explosion in your mouth. Then, dive into the main courses – from succulent steaks and tender lamb shanks to classic fish and chips or mouthwatering pasta dishes. And, if you've still got room (which, trust me, you'll want to make room), the desserts are to die for! Chocolate lava cake, cheesecake, and crème brûlée are just a few sweet delights that await.
Wash it all down with a carefully curated selection of wines from around the world, or indulge in a pint of the finest Irish stout. The bar is stocked to keep your spirits high and your glass full.
Why Treyvaud's is the Prime Choice for Stag Parties
Now, let's talk about the real reason you're here – planning a memorable stag party. Treyvaud's has got you covered! Here's why it's the ultimate choice:
Treyvaud's boasts a private dining room that can accommodate up to 20 of your closest pals. It's the perfect space to let loose, share laughs, and raise a glass (or several) to the groom-to-be.
The Treyvaud's team knows how to throw a party. They're experienced in catering to stag parties and will help you plan a night that'll go down in history – or maybe just in blurry photos.
Whether your group is craving mouthwatering steaks, hearty Irish classics, or something a bit fancier, Treyvaud's menu has an array of options to keep everyone satisfied.
Location, Location, Location
Treyvaud's is smack in the heart of Killarney. That means you're not far from all the action, whether it's a pub crawl, a late-night dance, or just wandering the charming streets of this lovely town.
You can also visit Treyvauds Killarney's website!
Treyvaud's Killarney: Your Recipe for Unforgettable Nights!
In conclusion, Treyvauds Killarney is more than just a restaurant – it's a culinary adventure and a fantastic spot for stag parties. So, gather your mates, book that private room, and get ready for a night of good food, great craic, and unforgettable memories. Treyvauds Killarney – where every bite and sip is a taste of Irish perfection.
But enough talk – time for action! Pick up that phone, book a session for your stag party in Ireland, and get ready for the time of your life. Trust me, you won't regret it!
The Best Restaurants in Killarney Ireland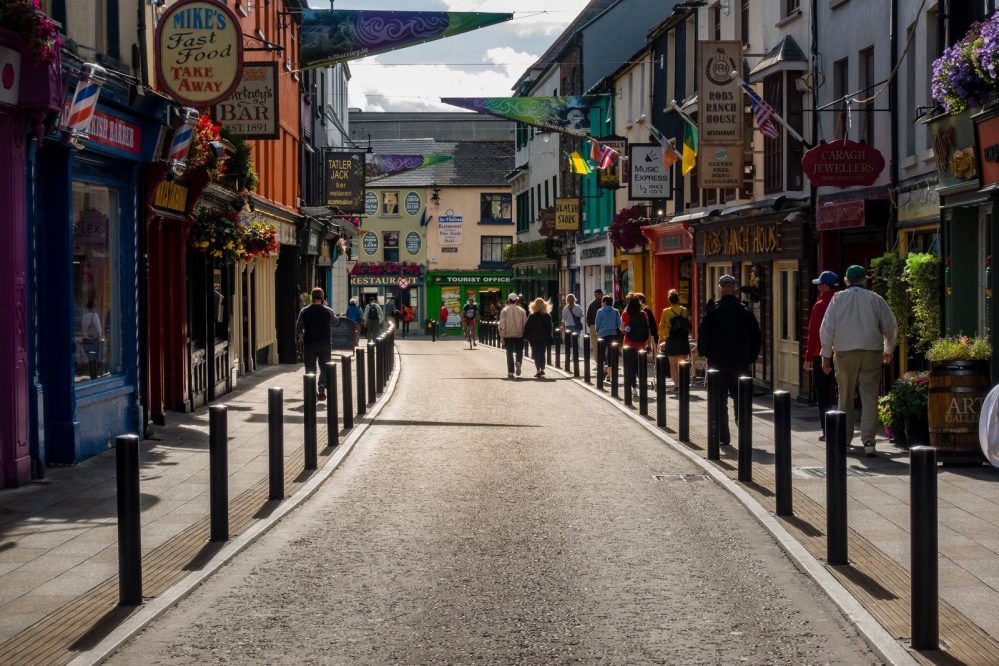 Lads, grab your groom-to-be and sound the horns of revelry, for you're about to embark on a stag party adventure that's as epic as the Irish legends themselves! Killarney, Ireland, isn't just a picturesque landscape – it's a haven for food enthusiasts and adventure seekers alike. In between the stag party shenanigans, why not treat yourselves to the finest flavors this town has to offer?
From hearty gastropubs to luxurious Michelin-starred venues, the best restaurants in Killarney Ireland are ready to cater to your celebratory appetite. So, raise your pints and let's dive into a culinary escapade that will make your stag party truly unforgettable!
The Best Casual Restaurants in Killarney
Porterhouse Restaurant
First up on the best restaurants in Killarney Ireland is the Porterhouse. Lads, imagine this – a lively atmosphere, a wide selection of beers on tap (including local craft delights), and classic Irish dishes that'll put a grin on your faces. Welcome to the Porterhouse Restaurant, the ultimate kickoff point for your stag party antics. 
Not only can you feast like kings on shepherd's pie and legendary fish and chips, but you can also toast to the groom's journey with the best brews around.
Visit the Porterhouse's website.
Cronins Restaurant
What's a stag party without a taste of Irish tradition? Cronins Restaurant, a family-owned gem, has been serving up authentic Irish fare for over 50 years. Picture your crew diving into corned beef and cabbage, Irish stew, and more while enjoying the cozy vibes of a charming stone building. And to top it off, their collection of Irish whiskeys will keep the good times flowing.
Visit the Cronins Restaurant's website.
The Mad Monk by Quinlans
Stags, it's time to dive into a seafood feast that's as magnificent as your upcoming wedding. The Mad Monk by Quinlans is a haven for fresh, locally-sourced delights that will make your taste buds dance. 
From lobster bisque to pan-fried scallops, you'll feel like kings as you indulge in the heart of a restored Georgian townhouse. And for those summer nights, their outdoor dining area is where the party truly begins.
Visit the Mad Monk by Quinlans' website.
Bricín Restaurant and Boxty House
Stag parties are all about variety, and Bricín Restaurant and Boxty House deliver just that! With both a traditional Irish restaurant and a seafood paradise under one roof, you're in for a treat. 
Raise a toast to the groom with boxty – the potato pancake masterpiece – and indulge in Irish classics like hearty stew and crab claws that will fuel your celebrations.
Visit Bricín Restaurant's website.
Khao Asian Street Food
Lads, it's time to give your taste buds an international adventure. Khao Asian Street Food brings the flavors of Asia right to your stag party table. Escape the hustle and bustle of the streets and immerse yourselves in the calming ambiance. 
From Thai calamari to fiery Bang Bang chicken, this spot offers the perfect blend of tranquility and taste.
Visit the Khao Asian Street Food's website.
Treyvaud's Restaurant
Fine dining doesn't have to be fussy, and Treyvaud's Restaurant proves just that. Treat your stag party crew to the pan-seared chicken bruschetta or indulge in the flavorful Treyvaud's prawn cocktail. 
For mains, options like fresh halibut and wild forest mushroom risotto will keep the celebration spirits high.
Visit the Treyvaud's Restaurant's website.
The Best Luxurious Restaurants in Killarney
The Europe Hotel's Panorama Restaurant
When it's time to celebrate the groom's last hurrah, why not do it with a view that takes your breath away? The Europe Hotel's Panorama Restaurant offers panoramic views of the Lakes of Killarney, setting the scene for a lavish stag party. 
With a menu that celebrates modern European cuisine and a wine list that's fit for connoisseurs, your stag party just got a whole lot fancier.
Visit the Panorama Restaurant's website.
The Lake Room at Aghadoe Heights
Stag parties deserve Michelin-starred magic, and The Lake Room at Aghadoe Heights delivers in spades. With panoramic views of the Lakes of Killarney, you'll savor every bite of their fine dining creations. 
Indulge in the finest ingredients, from prawn salad to the rich flavors of roasted saddle of lamb. Your stag party just got upgraded to legendary status.
Visit The Lake Room's website.
The Park Restaurant at Killarney Park Hotel
Stags, when it's time to celebrate your mate's upcoming nuptials, The Park Restaurant at Killarney Park Hotel is the place to be. A Michelin Bib Gourmand award winner, this spot offers the perfect blend of classic and creative dishes. 
From succulent steak to innovative creations, your stag party crew will be raising their forks in joy.
Visit The Park Restaurant at Killarney Park Hotel's restaurant.
The Grill at The Brehon
Last up on our list of the best restaurants in Killarney Ireland is The Grill at The Brehon. Stag parties and steaks go hand in hand, and The Grill at The Brehon knows how to do it right. Dry-aged beef cooked to perfection, accompanied by a variety of sides, sets the stage for a celebratory feast. 
And for those who crave variety, seafood and pasta options await to keep the party spirits high.
Last Orders: Cheers to Unforgettable Stag Party Feasting!
Lads, as you embark on this epic stag party adventure in the heart of Killarney, remember that feasting is an integral part of the festivities. From lively gastropubs to luxurious fine dining, the best restaurants in Killarney Ireland are ready to fuel your celebrations in style. 
So, raise your glasses, toast to the groom, and let the culinary delights of this charming town elevate your stag party to legendary status. Sláinte to an unforgettable journey of flavors and festivities!