Go Karting Belfast
…..
….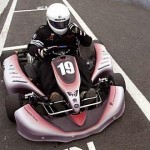 Hotel
The best thing about checking into a hotel in Belfast is that most of them are strategically situated right next to some of the best entertainment spots to be found in Northern Ireland. You and your mates will be thrilled to find that some real Northern entertainment is only a few steps away from your hotel room. What's more, the excellent facilities and friendly staff will ensure that you feel at home away from home. What more could anyone ask for?
Go Karting
Now there is the perfect stag weekend activity for you and your friends to indulge in. Get your adrenalin surging by racing your friends down the go karting track like the pro rally driver you'd like to believe you are. You can start by a practice session, followed by qualifying heats which will determine the grid positions that each of you will occupy. When it comes to the main event, your group of stags will compete by racing towards the podium and the winner gets the bragging rights.
Breakfast
Perhaps the hallmark of your stay in the hotel is the gourmet breakfast that you will be served, prepared by some of the most seasoned chefs in Belfast. You will be spoilt for choice as there is a large menu with associated mouth delicacies for you and the boys to choose from. You can go for the local favorites or if you are feeling adventurous, there are some sumptuous unique dishes available. Eat like you will never eat a meal like this again…chances are you probably never will.
VIP nightclub entry
Married life means less clubbing (sigh) and more of playing perfect husband to your starry eyed bride. VIP night club entry will ensure that you have the time of your life in some of the best night clubs in Belfast. You and the boys will be given the best corner in the club and will be waited on hand and foot by gracious and friendly staff. Order your favorite drink, enjoy the music and savor the company of your mates. It will be a long time before you get another chance for a boys' night out.

ENQUIRE NOW – FILL OUT THE BELOW FORM