The Oarsman Carrick-on-Shannon
Before your groom takes the plunge into the world of married life he needs a grand feast to commemorate the send-off and if you're looking for the perfect place to gather your lads and have an unforgettable time, look no further than The Oarsman Carrick-on-Shannon. An award-winning restaurant in the heart of Leitrim. Here's why it's the ideal spot to host your stag party.
Why Choose The Oarsman Carrick-on-Shannon for Your Stag Party
The Oarsman Carrick-on-Shannon is no ordinary spot. It's a multi-award-winning gem featured in the prestigious Michelin Guide. This family-owned establishment, now run by the seventh generation, understands the importance of offering an exceptional high-quality service-led experience. 
They're not just about serving food and drinks; they're passionate advocates of using well-sourced, quality local, and artisanal ingredients. They know that great food starts with great ingredients.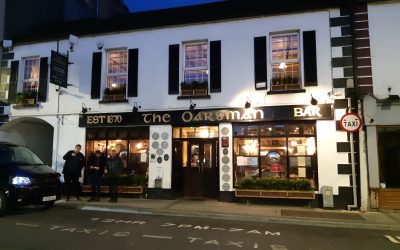 The opening hours are designed to cater to your dining needs throughout the week. Here's a glimpse into when The Oarsman doors are open to welcome you:
Opening Hours:
Monday: CLOSED

Tuesday: CLOSED

Wednesday: Restaurant 5 pm – 8.45 pm

Thursday: Restaurant 12.30 pm – 3 pm, 5 pm – 8.45 pm

Friday: Restaurant 12.30 pm – 3 pm, 5 pm – 8.45 pm

Saturday: Restaurant 12.30 pm – 3 pm, 5 pm – 8.45 pm

Sunday: CLOSED except for Bank Holidays
It's Perfect for Large Groups!
They're well-versed in catering to stag party needs and can accommodate large groups. They even have a private dining room that you can book for a more intimate celebration. Decorated in a traditional Irish style, it has its own bar and lounge area. The private dining room can accommodate up to 20 guests, making it perfect for celebrating with your closest friends. If you need catering, they have that covered too.
A Feast Fit for Kings
No stag party is complete without delicious food to keep you fueled throughout the night's festivities. At The Oarsman Carrick-on-Shannon, you'll find a wide variety of lunch dishes to suit all tastes. Seafood, steak, pasta, and vegetarian options grace their menu. And, for those who prefer bar food, they serve up mouthwatering burgers, sandwiches, and pizzas.
The best part? The food at The Oarsman is always cooked to perfection, and the portions are, let's say, more than generous. Their reputation for using fresh, locally sourced ingredients makes it a must-visit spot for food lovers.
They Have a Grand Selection of Drinks!
A stag party wouldn't be complete without the perfect drinks to toast to the groom-to-be. The Oarsman Carrick-on-Shannon boasts an impressive selection of wines, beers, and cocktails. The bar staff are more than happy to recommend drinks to suit your taste. They also have a great selection of local beers on tap, including classics like Guinness, Smithwicks, and Harp. 
If you're feeling a bit adventurous, they have an array of craft beers from around Ireland to explore.
Entertainment Options to Keep the Party Live
Apart from fantastic food and drinks, The Oarsman offers a host of activities to keep the party going. Whether you're into karaoke, pool, darts, poker, or even golf, there's something for everyone. It's all about making your stag party experience one for the books.
Vibes that Say "Sláinte!"
The Oarsman's atmosphere is nothing short of lively and welcoming. With its traditional Irish décor, think exposed brick walls and wooden beams, it exudes that charming, rustic appeal. And, let's not forget the large open fireplace – perfect for warming up on those chilly winter nights.
The staff here are more than just friendly; they're attentive and ever-ready to help with any requests. They go out of their way to ensure that you have an unforgettable time. A warm Irish welcome is guaranteed!
The Stag Party Package
The Oarsman Carrick-on-Shannon offers an exclusive stag party package that includes a three-course meal, a selection of drinks to quench your thirst, and entry to a nearby nightclub. It's an all-in-one package to ensure your night is nothing short of legendary.
Want to know more about The Oarsman Restaurant, click here to visit their website!
So, if you're on the lookout for the perfect place to celebrate your stag party, we highly recommend The Oarsman for your stag party in Carrick-on-Shannon. With its diverse menu, lively atmosphere, private dining options, and friendly staff, it's more than just a restaurant – it's the ultimate stag party destination. Raise your glasses, enjoy the food, and toast to unforgettable memories. Sláinte!