BODA BORG – LOUGH KEY FOREST PARK
How's it going, lads? On the hunt for a stag party experience in Ireland that's more epic than your mate's tall tales? Look no further! We've got the lowdown on Ireland's secret weapon for legendary stag parties – Boda Borg at Lough Key Forest Park. It's not just a day out; it's a wild adventure packed with laughs, challenges, and memories that'll have you toasting for years to come.
Irish Craic Meets Swedish Ingenuity
First off, let's unravel the mystery that is Boda Borg. Picture this: a massive indoor adventure playground straight from Sweden but now comfortably chilling in the heart of Ireland. It's a two-story labyrinth of fun that's not just for the kiddos – it's your playground, lads.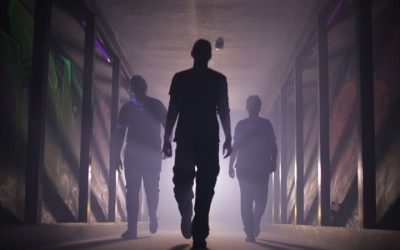 No manuals here, fellas! Boda Borg throws you into 15 Quests, each with a mind-boggling 47 challenges. It's like a real-life video game, but the catch? There's no pause button. Your wit and the lads are your only guides through this epic adventure.
Adventures for Every Lad – No Fitness Shaming Here!
Now, pay attention because this is the kicker – Boda Borg doesn't care if you've got a six-pack or a one-pack. It's for everyone! Challenges come in all shapes and sizes, so whether you're a gym buff or the proud owner of a couch dent, you're in for a good time.
But here's the real craic – it's not just about conquering quests; it's about conquering them together. Grab your mates, put on your thinking caps, and get ready for a test of friendship and camaraderie like no other.
"Why Boda Borg for a stag party?" you ask. Well, brace yourself, lads!
First, it's a challenge. Groom and mates pitted against each other in a friendly battle of wits and skills. Best man? Think again!
Second, it's interactive fun. Team up, solve puzzles, and face challenges that'll have you laughing 'til your sides hurt.
Third, safety is king. Tackling tough quests without the risk of injuries? Sign us up!
The Quests: Where Craic Meets Challenge
Now, let's talk about the good stuff – the quests. Boda Borg throws four categories your way:
Physical:

For the lads who bench-press pints.

Mental:

Brainiacs, rejoice!

Skill:

Showcase that unique talent of yours.

Teamwork:

Round up the crew for these joint challenges.
Picture this:
The Labyrinth:

Real-life maze with lasers and moving walls – a true test of agility.

The Spider's Web:

Can you cross without getting caught? Spoiler: It's not a walk in the park.

The Laser Maze:

Mission impossible? Challenge accepted!

The Rope Bridge:

Wobbly bridge, no safety net – good luck!

The Puzzle Room:

Escape and claim bragging rights for life.
Want to know more about these challenges? Book your stag party adventure with stagit!
Boda Borg at Lough Key Forest Park is the perfect destination if you're looking for a nearby activity on your Carrick-on-Shannon stag party. Challenges, camaraderie, and memories – it's a recipe for the books. Round up the mates, bring your banter, and get ready for a stag party that'll go down in history. Boda Borg is waiting, and the quest of a lifetime awaits.