Carrick Central Apartments
These Carrick-on-Shannon apartments are like a cozy, self-catering Irish home away from home. You'll find everything you need for an epic stag weekend, including multi-channel television, a seating area (for your post-adventure powwows), and even an iron/ironing board (for when you have to look presentable, you know, maybe once).
But here's the kicker – you'll have an electric kettle to whip up your morning brew, a trusty refrigerator to keep your stag party supplies chilled, and a washing machine for any unexpected messes. It's all about convenience, lads!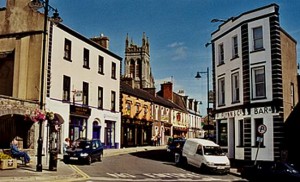 Prime Location Alert
Let's talk about the prime location of Carrick Central Apartments, just a stone's throw away from all the action. You're literally minutes away from local amenities, pubs, nightclubs, shops, and restaurants. We've got you covered whether you're planning a stag do, a hen party, or just a break with friends.
And the fun doesn't stop there! You'll have easy access to the Dock Arts Centre and Saint Mary's Church. Looking to satisfy your taste buds? Dining options like the Bush Hotel and BR Bistro are just 50 meters away. When it's time to catch a movie, Lough Corry and Gaiety Cinema are just a short taxi ride away. What more could you ask for your stag party in Ireland?
A Bathroom Fit for a King
The bathrooms in these Carrick-on-Shannon apartments are more royal than an Irish jig. With a bath and a shower, you'll be pampered like a true stag party king. You'll also find a hair dryer to keep your locks looking stylish and bath sheets to wrap yourself up in comfort.
Getting Around Like a Pro
Ready to explore the rest of Carrick-on-Shannon? The bus station is just 350 meters away, making it easy for you to hop on and off and hit all the hotspots. Check-in and check-out times are flexible too, with check-in starting at 14:00 and check-out at 12:00, so you can squeeze in every bit of fun.
Attractions Galore
Carrick Central Apartments is the key to an unforgettable stag party in Carrick-on-Shannon with its location. Some must-visit spots include the Moon River (400 m), Gaiety Cinema (250 m), Saint George's Church (100 m), Dock Arts Centre (350 m), Saint Mary's Church (100 m), Carrick-on-Shannon Sports & Leisure Centre (300 m), Carrick Craft (400 m), Corn Mill Theatre Group (350 m), and Patrician Hall (700 m).
For your convenience, Carrick-on-Shannon is served by Ireland West Knock Airport, which is just 60 km away. So, whether you're flying in or taking a road trip with the lads, Carrick Central Apartments are easy to reach.
If you want to know more about Carrick Central Apartments, you can check their page out on carrickonshannon.ie.