Castlecomer Discovery Park
Lads, if you're planning for the most craic-filled stag party destination that Ireland has to offer, look no further than Castlecomer Discovery Park. 
Picture this: 80 acres of wild woodlands, shimmering lakes, and adventure-packed fun that'll have you and your crew grinning from ear to ear. It's not just another adventure center – it's the adventure center. 
So, grab your mates, don your lucky charm, and let's dive into why Castlecomer Park is the ultimate playground for a legendary stag do!
Where is Castlecomer Park located anyway?
First things first, let's pinpoint this gem on the Irish map. Castlecomer Park sits pretty in County Kilkenny, a mere 20 kilometers (that's about 12 miles for you metrically challenged lads) away from Kilkenny city. Easy to reach, and oh boy, you're in for a treat when you do!
Thrilling Activities For Your Stag Do
Lads, brace yourselves for a rollercoaster of heart-pounding action! Castlecomer Park has an adventure menu that'll make your adrenaline go wilder than a leprechaun at a rainbow party:
Ireland's Wildest Zip Line
This ain't your ordinary zip line, folks. It's 300 meters long and a whopping 35 meters high. As you zip along, catch stunning views of the park and the countryside that'll make your jaw drop faster than a pint of Guinness in an Irish pub.
Walking on Air with Treetop Walk
Think you've got the courage? Take on the treetop walk – a series of walkways suspended high in the trees. The view? Spectacular. Your heart rate? Through the roof. Trust us, it's like getting a giant Irish hug from Mother Nature herself.
Climbing a Wall, Like a True Warrior
Channel your inner Celtic warrior on the climbing wall. With varying levels of difficulty, you'll feel a sense of accomplishment no matter which route you conquer. And if you reach the top, well, you've earned bragging rights for life!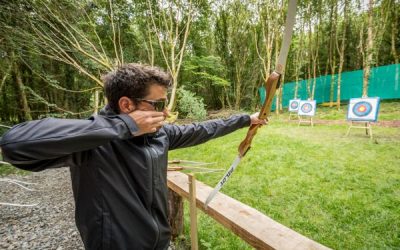 castlecomer park
Fancy yourself as the next Robin Hood or Brian Boru? Have a go at archery and axe throwing. Hit the bullseye, and you're practically an honorary Irish hero.
Take to the lakes with boating and canoeing. Glide across the water, soak up the serenity, and let the banter flow as freely as the Irish whiskey.
Saddle up, lads! The mountain biking trails are like a rollercoaster ride through the woods. Challenge accepted? Absolutely!
Chillin' by the Fishing Lake
If you're feeling a bit more laid-back, try your hand at fishing in the tranquil lake. Reel in trout and pike and tell the tale of the one that almost got away.
Trails for the Wanderlusters
Stretched your legs enough? Explore the park's walking trails – from easy strolls to proper hikes. Nature, fresh air, and a bit of exercise – the perfect combo!
More Hangout Spots Than a Pub Crawl
Now, I know you're thinking, "Alright, where do we refuel for all this craic?" We've got you covered:
Tummies rumbling? Head to the restaurant for some hearty Irish fare that'll satisfy even the most voracious appetites. Think traditional Irish stew, bangers and mash, and a pint of the black stuff to wash it down.
What's an Irish adventure without a cheeky drink? Grab a pint, clink glasses with your pals, and toast to unforgettable memories in the making.
Raise Your Glass to the Ultimate Stag Bash at Castlecomer Discovery Park
In a nutshell, Castlecomer Park is not just a place; it's an experience. It's where adventure junkies meet, adrenaline junkies thrive, and every lad in the crew becomes a legend. Whether you're soaring through the skies on the zip line or soaking in the beauty of the treetops, you're in for an adventure that'll make you yell, "Ye-haw!".
So, gather your mates, don your quirkiest stag attire, and embark on a journey that'll have you reminiscing over pints of Guinness for years to come. When it comes to Kilkenny stag parties, Castlecomer Discovery Park is more than a destination – it's a memory-making machine. Sláinte, lads!