Chicktionary
Imagine the classic Pictionary, throw in a dash of hen-party magic, and voilà – you've got Chicktionary! It's the go-to activity for non-sporty chicks looking to have an absolute blast. Will you draw it? Sing it? Act it? Maybe even rap it? The possibilities are as wild as your hen night dreams!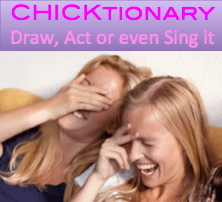 Why is Chicktionary a perfect activity for your hen party in Ireland? Here's the scoop:
Hentastic Twist
Chicktionary is not your average board game – it's Pictionary's fun cousin with a hen-friendly twist. Picture this: you and your gal pals taking turns drawing hen party-related words or phrases. It's a loud way to break the ice and set the laughter in motion!
Ice Breaker Extraordinaire
Hen parties are all about bonding and having a good time, right? Well, Chicktionary is your secret weapon! It's a fun and interactive game that gets everyone talking, laughing, and, most importantly, connecting. Who knew guessing hen-related doodles could be this entertaining?
Budget-Friendly Fun
Hen parties can add up. But fear not. Chicktionary is here to rescue your wallet! It's a relatively inexpensive activity that promises laughter without breaking the bank. Because who says a reasonable time has to cost a fortune?
Easy Peasy, Lemon Squeezy
Organizing a hen party can be hectic, but Chicktionary is here to make your life easier. Setting up this hen party game is a breeze, and you'll be too busy laughing to notice the simplicity of it all. Gather your gals, grab some pens, and let the Chicktionary magic unfold!
So, there you have it, ladies! Chicktionary is not just a game; it's an experience. Dive into a world of hen-themed drawing, guessing, and laughter. If you're looking for a hen party game as fabulous as your squad, Chicktionary is the answer.
This activity is also perfect for stag parties in Ireland looking for unconventional fun!