Dance Class – Fun Party Dance Class
A great way to kick start you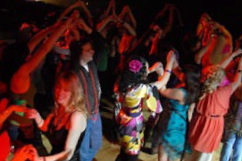 r hen weekend is a dance class for your group.  Gather the girls, form a sexy dance troupe, and learn some dance routines that you can perform in the evening on the dance floor at the club or maybe even on the big day.
Dance lessons by Fun Party Dance Class are designed to suit an absolute beginner, so nobody need fret over having two left feet.  You're guaranteed to be strutting in no time and all and everyone is guaranteed to have fun.
This is a unique fun hen party idea and hen activity guaranteed to get your hen party started with a giggle.
[website-button id="46″ type="website, phone, email, both"]