The Dundalk Dog And Horse Racing Stadium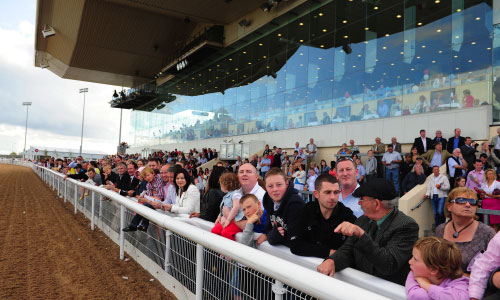 Hey there, best mans and thrill seekers looking for a barkin' good time! If you're looking for a unique craic on your stag party then hold onto your flat caps and pint glasses because we're about to dive into the wonderful experience of Dundalk Dog Racing at none other than the iconic Dundalk Stadium. Grab a cuppa or a pint of the finest brew, and let's embark on a journey through the twists and turns of this incredible all-weather racecourse!
The Lowdown on Dundalk Stadium: Where Horses and Hounds Rule the Track
Nestled in the heart of County Louth, Ireland, Dundalk Stadium is more than just a place to catch a race; it's an experience that'll have you cheering, shouting, and maybe even dancing in your seat. This ain't your ordinary stadium, no sir! It's a haven for both greyhound and horse racing enthusiasts, offering up the best of both worlds. 
Imagine the thunder of hooves and the swish of sleek greyhounds as they dash across the all-weather track. It's a spectacle that'll have your heart racing faster than the fastest greyhound on the block!
Location, Location, Location: Getting to Dundalk Stadium
Before we get into the nitty-gritty of the thrill-packed action, let's sort out how you can get to this paradise of racing. 
The Dundalk Dog Racing Stadium sits pretty on Racecourse Road, Dundalk, County Louth, Ireland. Dublin's about 45 minutes away, and Belfast's just a wee bit further at 60 minutes. Whether you're rollin' in from Dublin or cruisin' from Belfast, you're in for a treat!
Are you from Dublin?
If you're headin' from Dublin, just hop onto the M1 motorway northbound, and when you hit Junction 17, follow the signs like a true racing pro. For those coming from Belfast, the M1 southbound is your highway to heaven. Exit at Junction 16 and let the signs lead you to where the action is.
Don't fancy driving?
No worries, mate! Hop on the Bus Eireann 166 service from Dublin to Dundalk, and you'll be right at the doorstep of Dundalk Stadium in no time. If the rails are more your style, the Dundalk railway station's a mere 1.5 kilometers from the stadium. You can hoof it or grab a taxi to keep your energy for the real fun ahead!
Features That'll Knock Your Socks Off: More Than Just Racing
Alright, you've arrived, you're pumped, and you're ready for action. But what exactly does the Dundalk Dog Racing Stadium have to offer? Prepare to be blown away by:
Rain or shine, this track is where the magic happens. Thanks to its synthetic material, the races go on no matter what the weather gods have in store.
Get yourself a prime seat in the grandstand, and you'll have the best view in the house. The thrill of the races combined with the view – it's like a front-row ticket to excitement.
Rumbling tummy? The stadium's got a restaurant that serves up a smorgasbord of delectable dishes. Whether you're a fan of fish 'n' chips or gourmet burgers, they've got you covered.
From pre-race pints to post-victory celebrations, the bars dotted around the stadium ensure you're never far from a refreshment.
Feeling lucky? The tote is where you can try your hand at placing bets on the races. It's all part of the excitement, my friend!
Packages for the Ultimate Lads' Day Out
---
Listen up, lads! If you're planning the ultimate stag do, Dundalk Stadium has packages that'll make your celebration one for the books:
General Admission

: At just €15 for adults and a mere €3 for kids under 14, you'll get access to the stadium and the grandstand. Who says you can't have a blast on a budget?

Premium Package

: Kick it up a notch with the premium package. For €25 (adults) and €10 (kids under 14), you'll not only get into the stadium and grandstand but also snag a reserved table at the restaurant. Now, that's class!

Corporate Coolness

: If you're in the mood for a swanky affair, the corporate package at €50 per person has your name written all over it. Enjoy stadium and grandstand access, a reserved restaurant table, and the cherry on top – delectable food and drinks.
For a more accurate price estimate for your stag group, you can visit Dundalk Stadium's website.
Top Tips for Dundalk Dog Racing Newbies
Now that you're all set to soak in the atmosphere and root for your favorite four-legged speedster, here are a few nuggets of wisdom to keep in mind:
Arrive in Style

: Get there early to grab the best seat in the house. You wouldn't want to miss a single second of the action, right?

Program Power

: Snag a program to keep track of the races, learn about the dogs, and boost your chances of winning big.

Bet Like a Pro

: Whether you're a betting novice or a seasoned punter, hit up the tote desk or chat with a bookmaker to get in on the betting action.

Feel the Vibe

: Above all, let loose and soak in the infectious energy of Dundalk dog racing. It's not just about the races; it's about the laughter, camaraderie, and memories you'll take home with you.
Wrapping Up the Whirlwind: A Day at Dundalk Dog Racing to Remember
So, there you have it, folks – the inside scoop on Dundalk Dog Racing and the thrills that await you at Dundalk Stadium. Whether you're a local looking for a legendary stag do or a visitor itching for some authentic Irish fun, Dundalk Stadium's got your name in the winner's circle. Time to let the good times roll, Irish style! Sláinte!
Looking for the ultimate stag party in Ireland? Explore a wide range of exciting options with stagit!