Lough Allen Adventure
At Lough Allen Adventure Centre, we're not just experts in outdoor shenanigans; we practically invented the term "adventure." Imagine kayaking and SUP tours through the mesmerizing Drumshamazon or plotting your course around the iconic O'Connor's Island. Our crack squad of experienced guides will make sure your journey across Leitrim's pristine waterways is as unforgettable as that time you tried to dance a jig at your cousin's wedding.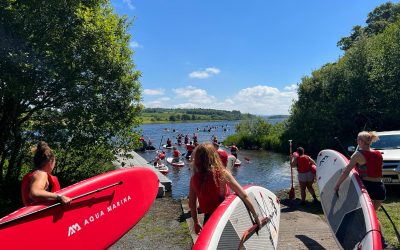 Conquer Sliabh an Iarainn: Land Adventures Await
But the fun on your Carrick-on-Shannon stag party doesn't stop at water escapades. Ever wanted to conquer Sliabh and Iarainn? Our guides will show you the ropes. Or, if you fancy yourself a survival expert, spend a few hours on our island wilderness experience, brushing up on bushcraft, campcraft, and survival skills. It's like Bear Grylls with an Irish twist!
Hot Tubs, Saunas & Wim Hof Breathing
Now, let's talk about our spa – a sanctuary of luxury and tranquility that's more soothing than a pint of Guinness after a long day. Immerse yourself in our state-of-the-art facilities, including hot tubs, saunas, and plunge pools. 
And here's the kicker: ever tried Wim Hof's breathing techniques? Our certified instructor, Edwin, will guide you through a transformative experience, guaranteed to make you feel more rejuvenated than your grandma's stew.
From Water Warrior to Lounge Lizard
But we know not every lad wants to be a water warrior or a mountain maven. That's why we're all about choice. Tailor your stag party experience, whether you're keen on water sports, conquering peaks, or just lounging in our wellness center, soaking up the good vibes.
Eco-Friendly Thrills
What sets Lough Allen Adventure apart? We're not just an award-winning adventure center; we're the chilled-out masters of craic in Leitrim. Our adventure program is like a rollercoaster of adrenaline-fueled watersports – windsurfing, kayaking, and more – mixed with the thrill of reaching the summits of North-West Ireland's fabulous mountains. 
And guess what? You'll be reducing your carbon footprint while having the time of your life. Our eco-friendly facility is powered by solar energy, making your post-windsurfing shower an eco-warrior's dream.
So, round up the lads, pack your sense of adventure, and head to Lough Allen for a stag party in Ireland that'll be talked about longer than that infamous pub crawl in Dublin. Unleash the craic, lads!