North West Adventure
White water Rafting at North west Adventure Sligo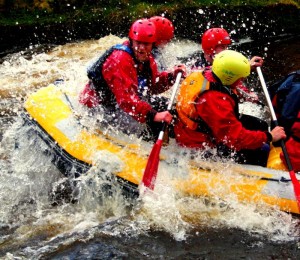 White Water Rafting North West Adventure, Sligo Ireland!
White Water Rafting is the most  Exciting popular Team Adventure Activity.
White water rafting is the number one safest coolest way of taking a group of novices down our mighty 'Boyle'  river.
The rafts are made of toughened  durable Polyurethane Plastic.  They have several compartments for air, so in the unlikely event that one should burst all the others stay up.  The floor is inflatable too.  It is self bailing.  They are a beautiful boat built for Fun!
The mighty 'Boyle' river is full of natural features, drops & rapids. As a grade II river it is suitable for beginners. You won't be staring death in the face but you are Guaranteed lots of fun!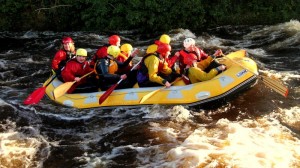 Catching some great rapids this winter.
We have 2 runs every day 11am & 2pm. Booking is essential. Call now to book or email to check availability.
All White Water Rafting is depending on the water levels of the day and weather permitting.  Terms & Conditions must be read and signed before a booking can be confirmed.
[website-button id="141″ type="website, phone, email, both"]