Paintballing – Pallas Karting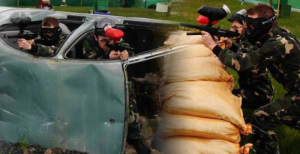 Pallas Karting & Paintball is based in Galway, Ireland, with Go-Karting & Paintball events and packages for corporate, stag, hen & family parties.
Pallas Karting is Europe's Largest Karting Centre, with a 500m Beginners Track and a 1500m Advanced Track. Now with the Additional Attraction of Pallas Paintball, Galways ONLY Paintball Field.
The Hairpin Bend, the thrill of sliding sideways in full control, and overtaking at breathtaking speed, before accelerating into the straight and heading for the chequered flag……Dream on..
Take a spin to Pallas Karting. Here you can be in the driving seat, jostling for pole position in one of the fastest and most exhilarating sports in Ireland today on Europe's largest Karting Centre.
At Pallas Karting you can experience the thrill of real motor racing first hand at our kart circuits. Whatever the weather, Pallas Karting has the green light for an action packed non-stop race programme for everyone.
With Pallas Paintball, Galways only Paintball facility, you get an action packed day, to find out who is the top soldier in the group.
Game scenarios set up to test the best of soldiers, defending or attacking, the cause will be for the team, will you sarcifice yourself in the best interests of the team.
The ideal event for Stag, Hen, Corporate or Family parties at Europe's Largest Karting Centre and Galway's Premier and the newest Paintball Centre in Ireland.
[website-button id="81″ type="website, phone, email, both"]