Shannon River Adventure

Picture this: You're close to the charming villages of Roosky and Dromod, right smack dab on the banks of the mighty Shannon River – the longest river in all of Ireland! Surrounding you are lush forests and serene lakes, making it a prime spot to unleash your wild side in the great outdoors.
That's where Shannon River Adventure comes in! It's a haven for those who are planning a stag party in Carrick-on-Shannon. The crew there is top-notch – friendly, experienced, and committed to making sure your day is as safe as it is enjoyable. Trust me, these folks know how to show you a good time.
Awesome Water-Based Activities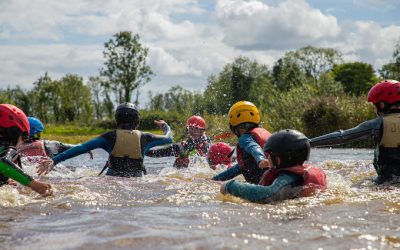 Now, let's talk about the main event – the activities that'll have you and your crew talking about this stag party for years to come:
Kayaking
First up, we've got kayaking – the ultimate way to explore the meandering twists and turns of the Shannon River and the nearby lakes.
Canoeing
If you're after something a bit more laid-back (maybe for the groom-to-be who's a tad water-shy), hop into a canoe. Perfect for families with little ones, it's a leisurely way to enjoy the river without breaking a sweat.
Stand-up Paddleboarding (SUP)
Fancy testing your balance and core strength? Stand-up paddleboarding (SUP) is the name of the game. It's fun, it's challenging, and it's suitable for everyone, regardless of fitness level.
Mud Sliding
For those who like a bit of messiness in their adventure, there's mud sliding – a guaranteed adrenaline pumper that'll leave you laughing, sliding, and covered in glorious muck.
Pier Jumping
Feeling brave? Take a leap with pier jumping. It's the ultimate cool-off on a scorching day, and trust me, the splash is worth it.
Climbing
For the climbers among you, Shannon River Adventure has you covered. It's not just about reaching new heights; it's about conquering them!
Archery
Channel your inner Robin Hood with archery – a laid-back yet competitive activity suitable for all ages and skill levels.
Assault Course
And if you're up for a challenge that tests both your fitness and teamwork, the assault course is waiting for you. Get ready to sweat and cheer each other on as you navigate this exciting obstacle course.
From Marina to Beyond
Oh, and did I mention that the water adventures kick off from their private marina? Your journey starts in comfort and safety and progresses to the gorgeous Lough Bofin and beyond.
So, lads, when it comes to a stag party in Ireland that's the perfect blend of thrill and craic, Shannon River Adventure is the pot of gold at the end of the rainbow. Pack your sense of adventure, round up the lads, and let the shenanigans begin!