Star Outdoors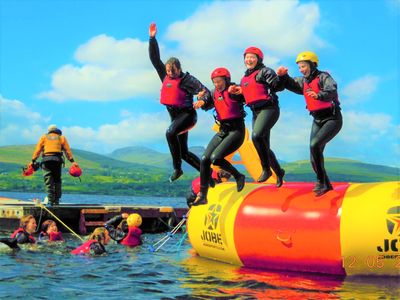 Star Outdoors
We have such a variety of activities to offer all at one location. We have a range of water activties eg. kayaking, pedal boats, kayaking games, water park and banana boat. We provide land activities such as archery, paintball, splatball, team games, murder mystery, obstacle course and mini golf. We have a Private 1 hour cruise of Kenmare Bay upon our 'Star of Kenmare'. This is fully heated with soft seating, tables, a fully stocked bar, sound system, toilets. Includes captain and one crewmember. Can take 50 pax.
Con's Bar and Restaurant: Located overlooking Kenmare Bay with a large balcony that an seat 50pax. Inside can seat 100 pax. Can serve a range of food from 3 course meals, light lunch, BBQs, afternoon tea and bar menu.
* Showers and changing facilities
* Wheelchair assessible
* Ample coach parking and car parking onsite
* Stunning views over Kenmare Bay.
* Qualifed , experienced instructors.
This is a unique experience in which the group will see how this famous Irish produced is filleted, salted, smoked, sliced and preserved from start to finish. It is one hour in total starting in 'Star Seafoods' located onsite and finishing with a tasting in Con's Bar and Restaurant
[website-button id="229″ type="website, phone, email, both"]