Four Seasons Monaghan: Where Luxury and Craic Meet!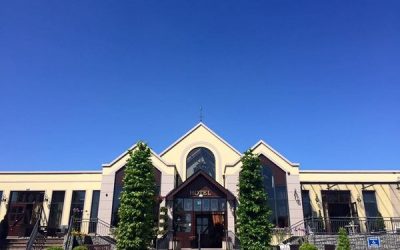 Welcome to Four Seasons Monaghan, a splendid four-star hotel and leisure club nestled in the heart of Ireland. Owned and managed by the lovely Clann McKenna Members – Frank and Anne Marie McKenna, this delightful hotel offers a taste of true Irish hospitality with a touch of luxury. So, grab yourself a pint of the finest brew and join us on a journey to discover what makes Four Seasons Monaghan the ultimate destination for both business and leisure travelers!
A Little History
Ah, Four Seasons Monaghan, a hotel with a story as rich as a perfectly poured pint of Guinness! Opened its doors back in 1970, this charming establishment has seen its fair share of memorable occasions. From joyous weddings to rollicking dinner dances, from heartwarming family gatherings to professional corporate events – Four Seasons Monaghan has played host to it all! With every passing year, its legacy only grows stronger.
Luxurious Accommodations
Imagine waking up in a plush and spacious bedroom at Four Seasons Monaghan, feeling as snug as a leprechaun in a pot of gold! These luxurious rooms are designed with your comfort in mind, featuring all the modern amenities you could wish for. Sink into the softest of beds, unwind in front of a large flat-screen TV, and enjoy the convenience of an en-suite bathroom. You'll feel like a pampered Irish lord or lady throughout your stay!
Award-Winning Leisure Club
If you're in need of some relaxation and rejuvenation, Four Seasons Monaghan's 4Fit Leisure Club has got your back! This place is more refreshing than a dip in the Irish Sea on a sunny day. Take a dip in the swimming pool, feel the stress melt away in the sauna and steam room, or let the bubbling Jacuzzi work its magic on you. And don't forget to join in on one of their invigorating classes, like yoga or Pilates. It's like a party for your mind, body, and soul!
Delicious Food
Calling all foodies! Get ready to treat your taste buds to a mouthwatering experience at the Still Bar & Restaurant. The chefs here whip up culinary delights that are so good, they'd give Granny's Irish stew a run for its money! Using the freshest local ingredients, the menu boasts a delightful blend of traditional Irish dishes and international cuisine. And to wash it all down, they have a superb selection of wines and beers – you'll be spoiled for choice!
Special Events
Looking to celebrate a special occasion in true Irish style? Four Seasons Monaghan is the place to be! Their banqueting suites can accommodate up to 200 guests, so you can invite the whole clan and still have room for a few friendly strangers. The experienced event planners will work their magic to make your celebration unforgettable. Whether it's a fairy tale wedding, a joyful christening, or a milestone birthday bash – they'll ensure it's a craic-filled affair!
Stag Party Packages
Lads, pay attention now! Four Seasons Monaghan has got the perfect stag party packages to make your last night of freedom an epic adventure! 
Stag Party Basic
The Stag Party Basic package kicks things off with two nights' accommodation in a cozy room, breakfast included, and access to all the leisure facilities. It's the ideal foundation for a weekend of fun! It starts at €140 per stag sharing.
Stag Party Deluxe
If you're looking to crank up the festivities, the Stag Party Deluxe package adds a sumptuous three-course meal at the Still Bar & Restaurant, a round of drinks to toast the groom-to-be, and a stag party pack to get the craic going. It starts at €180 per stag sharing.
Stag Party Ultimate
But wait, there's more! The Stag Party Ultimate package takes the party to a whole new level! It includes everything from the Deluxe package, plus a visit to a local brewery, a pub crawl to experience the best of Monaghan's nightlife, and a night out at a rocking nightclub! That's enough craic to keep you going until the cows come home! It starts at €220 per stag sharing.
Each package includes:
Luxury accommodation in Twin & Triple Bedrooms

Three Course Dinner followed by Tea & Coffee

Full Irish Breakfast to start your day

Use of our Award-Winning Leisure Club

Courtesy Car transport to the town centre with lots of bustling pubs

Wi-Fi Access throughout the hotel

Add a second night B&B from only €40 per person sharing to make your fun last all weekend.
Add-On Activities
Feeling the need for some outdoor adventure? Four Seasons Monaghan has got you covered with an array of add-on activities:
Quad biking
This is a great way to see the countryside around Monaghan.
Paintballing
This is a fun and active activity that is perfect for groups.
Go-karting
This is a great way to race your friends and have some fun.
Laser tag
This is a high-tech game that is perfect for groups of all sizes.
Hen Party Packages
Whether you're the bride-to-be or the bestie plannin' the shenanigans, they've got packages that'll make you feel like the queens you truly are
Hen Party Basic
First up, the "Hen Party Basic" – a delightful two-night stay in a snug standard room, scrumptious breakfasts to fuel your adventures each mornin', and full access to the hotel's leisure facilities. And all this starts at a jaw-droppin' €70 per hen sharing. Can you believe it?
Hen Party Deluxe
Now, let's up the ante with the "Hen Party Deluxe." Picture this – all the perks of the Basic package, plus a mouthwaterin' three-course meal at the Still Bar & Restaurant. But we're not done yet – how about a round of drinks at the lively Still Bar to get the giggles flowin'? And of course, a hen party pack to set the mood just right. This package starts at €100 per hen sharing. Now that's what we call a party!
Hen Party Ultimate
Hold onto your tiaras, 'cause we're takin' it to the next level with the "Hen Party Ultimate." It's got everything the Deluxe package offers, and then some! Brace yourselves for a visit to a local spa – time to unwind and pamper yourselves like the queens you truly are. Oh, but we're not stoppin' there! Get ready for a fabulous makeover session, so you'll be lookin' like a dream on your special night out. And to top it all off, a night of non-stop dancin' and laughter at a top-notch nightclub. This package is fit for the hen party of a lifetime and starts at €130 per hen sharing. Are you in?
Add-On Activities
But wait, there's more! Four Seasons Monaghan has a selection of add-on activities that'll make your hen party an unforgettable one.
Spa Day
Take some time for yourselves and revel in pure relaxation with a spa day. Soothe those pre-wedding jitters and pamper yourselves like the queens you are. Trust us, you'll be feelin' like a million bucks!
Makeover Session
Get your glam on, ladies! A makeover session will have you lookin' and feelin' your absolute best. Say cheese for those hen party selfies, 'cause you'll be radiant!
Night Out at a Nightclub
Time to paint the town red with your besties! A night out at a nightclub will have you dancin' the night away, laughin', and creatin' memories that'll last a lifetime. Let your hair down and let loose, ladies!
Visit to a Local Brewery
For the beer enthusiasts among you, how about a visit to a local brewery? Discover the secrets of the finest brews, savor the flavors, and toast to the good times ahead. Cheers, darlin'!
Unforgettable Escapades at Four Seasons Monaghan Awaits!
So there you have it, folks – Four Seasons Monaghan, a treasure trove of luxury, craic, and unforgettable memories! From its storied history to its luxurious accommodations, from the award-winning leisure club to the scrumptious food, and from special events to stag and hen party packages that'll have the lads cheering – this hotel truly has it all. So, what are you waiting for? Grab your passport, pack your bags, and set off on an Irish adventure like no other!
Looking for the ultimate stag party in Ireland? Explore a wide range of exciting options with stagit!