Paintball Package Dublin
…..
…..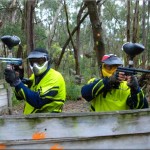 Hotel and breakfast
If you are looking for high-class accommodation after participating in a paintball shooting game, then the 3-star facilities in Sligo will satiate your needs. The accommodation facilities are offered with consideration for location and quality. Sligo's hotels have teamed up to ensure that guests get high quality services with unbeatable value packages. The most interesting thing is that once you pay for your accommodation, you don't need to worry about breakfast. Furthermore, you can make special arrangements for dinner so that you make maximum use of the exclusive rates.
Paintballing
Enjoy paintballing or paintball shooting, a thrilling game that you and your friends will take pleasure in from the beginning to the end. The game involves sneaking through a series of woods as you search for your enemy, hit him with your partly automatic paintball gun and declare yourself the winner. This is a game to be enjoyed at stag parties due to its vividness.  There is no limit to the game since you will be provided with a game kit and several free paintballs to keep you in action.
VIP night club entry
Complete your night in elegant style by getting yourself onto the dance floor to highlight your best moves. You can be sure of quality entertainment since only the best night clubs are picked. And there is no doubt- the chosen clubs are the all-time favorite for other stag and hen parties. Therefore, there is no question of your group being able to fit in any of the night clubs. There is a splendid assortment of music.
VIP strip club entry
If like watching stag night dances featured by strippers, then the VIP strip club will fit your desires. All stag nights are packaged with events that will leave you fully entertained. No stag night ends without a lap dance featuring naked ladies. Once you enter the club, you can choose to have a private dance or watch the dances from far as you take pleasure in your drink. Either way, before the night ends you have to dance with at least one of the scantily dressed beauties. That is the rule of stag nights.
ENQUIRE NOW – FILL OUT THE BELOW FORM