Archery Tag Galway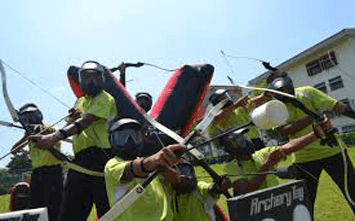 Ahoy, lads! Fancy a bit of excitement and competitive spirit at your stag party in Galway? Well, look no further. We've got something that'll hit the mark – Archery Tag in Ireland!
What's Archery Tag All About?
Archery Galway is one of the hottest things to hit the stag party scene in Ireland. It's a bit like a game of dodgeball but with bows and arrows, and no, there's no need to be a legendary archer like Robin Hood to enjoy it.
Why Choose Archery Tag for Your Stag Do?
Action-Packed Fun:

Let's be honest, lads, nothing gets the blood pumping quite like an intense game of Archery Tag. It's a battle royale of arrows, laughter, and camaraderie.

Stag vs. Stag:

It's all about friendly competition, and what's more competitive than taking aim at your mates? Show off your skills and earn those bragging rights.

Safety First:

Don't worry, safety is a top priority. We provide all the gear you need – bows, arrows, face masks – and our trained instructors will keep everyone safe while you fire away.

Location, Location, Location:

We've picked the perfect spot in Galway for your archery adventure. Get ready to fire arrows with a stunning view!
How to Play Archery Tag
Split into teams.

Each team takes a position on their side of the field.

Grab a bow, take aim, and fire away! Your mission is to tag out your opponents.

Dodge, dive, and duck like a pro. It's like a real-life game of action heroes, and it's epic.
Book Your Archery Galway Adventure
Ready to unleash your inner archer? Booking an Archery Tag for your stag do is as easy as a pint of Guinness. Just get in touch with us, and we'll set everything up for you. It's as simple as a leprechaun's grin!