Dodgeball

You've seen the film, but have you ever played dodgeball before? Now is your chance to try the real thing!
Dodgeball has a perfect balance of sports, aggressiveness, and silliness and is pretty much a straight-forward game. You throw balls to hit the opposite players, catch balls before they hit the ground, and dodge balls that are hurled at you. The team to eliminate all opposing players is the winner. Easy peasy, you say? Try the game and we'll see.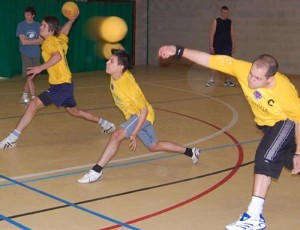 Players of all sizes, abilities, and experience levels are welcome. Just keep in mind the 5 D's of dodgeball: Dodge, Duck, Dip, Dive, and Dodge!