Galway Guesthouses
Welcome, lads! If you're eyeing for the perfect stag party getaway in Ireland, look no further than the heart of the craic – Galway. And guess what? Galway Guesthouses have got your back, offering not one, but two gems for your legendary escapades.
Abbey Lodge B&B
If you're the type who enjoys a touch of class without breaking the bank, Abbey Lodge B&B is your ticket. Tucked just minutes away from Eyre Square, it's the sweet spot between lavish and practical.
Designed by an award-winning interior guru, Abbey Lodge boasts top-notch rooms that scream comfort. Fancy a bite? The famous Huntsman restaurant is a mere stumble away. And did we mention the Connacht Rugby stadium practically waves hello from your doorstep?
For the lads who roll deep, check out their sister site, St. Jude's Lodge. More on that in a bit. At Abbey Lodge, they run a tight ship – clean, friendly, and always ready for a laugh.
St. Jude's Lodge B&B
Now, for the party animals in the pack, St. Jude's Lodge is your crash pad. Just a two-minute walk from the city center, close enough to the buzz, but not too close for comfort.
They're not just a B&B; they're your partners in crime for stag shenanigans. Free WiFi? Check. On-site laundry for those 'oops' moments? Check.
Whether you're flying solo or rolling in with the wolf pack, they've got rooms to fit the crew. Throw a stone, and you'll hit Eyre Square – the gateway to all things vibrant in Galway. Need recommendations? They're your go-to guides for the best local joints and activities.
Still not convinced? Check out Vladimir's 5 star review of St. Jude's Lodge:

"A great place to stay! The staff is very nice and friendly. Our room was clean, comfortable, and had everything we needed. The breakfast is absolutely top-notch and at a very reasonable price. Highly recommended! Also if you need to buy a tour, you can do it there. We did it just one day before the tour and it worked great!"
In the grand saga of Galway stag weekends, Galway Guesthouses is your secret weapon. Abbey Lodge for a touch of class, St. Jude's Lodge for the wild at heart – the choice is yours.
Castle Arch Hotel
Planning a legendary stag party? Look no further than the Castle Arch Hotel – your ticket to an unforgettable celebration in the heart of the enchanting heritage town of Trim. Picture this: stylish rooms, lip-smacking food, a bar that's alive with energy – all rolled into one epic package. Let's dive into why the Castle Arch Hotel is your go-to spot for a stag party that will have everyone talking long after the confetti has settled.
Discovering the Castle Arch Gem
Tucked away in the heart of Trim, the Castle Arch Hotel is more than just a place to crash; it's a haven for party enthusiasts. Just a stone's throw away from the iconic Trim Castle, this gem of a hotel is your gateway to the best of both worlds – a celebration haven and a historic adventure waiting to be explored.
Stag Party Central: What Makes the Castle Arch Hotel Shine?
The Buzzing Location
This hotel's prime location is a game-changer. Imagine being within walking distance of Trim Castle – a Norman masterpiece that stands as a testament to Ireland's rich history. When you're not raising a glass at the hotel's bar, you can venture into the town and discover a plethora of pubs and restaurants. Whether you're a history buff or a foodie, Trim has got you covered. And that's not all; the hotel's surroundings include must-visit attractions like the Boyne Valley and the National Stud. Adventure awaits!
The Rooms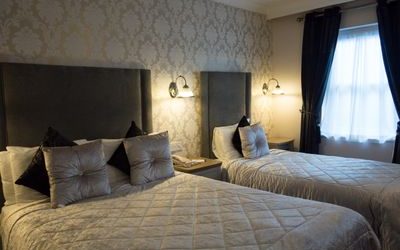 Let's talk comfort – the kind that makes you feel like royalty. The Castle Arch Hotel boasts 21 spacious and cozy bedrooms, each ready to welcome you and your squad for a well-deserved night's rest. And here's the kicker: every room comes with an en suite bathroom. So, after a day of raising the roof, you can kick back, relax, and freshen up before diving into the next round of celebrations.
Feast Like Kings
Stomachs growling? The hotel has your cravings covered. Their in-house restaurant dishes out traditional Irish cuisine that'll have you coming back for seconds (and maybe even thirds). From hearty stews to mouthwatering seafood, every bite is a journey into Ireland's culinary heritage. And when the sun sets, the bar comes alive with live music – the perfect backdrop for raising a glass to the guest of honor.
Cheers to Stellar Service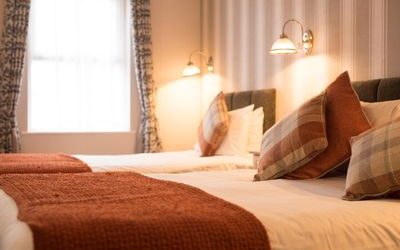 At the Castle Arch Hotel, it's not just about the place – it's about the people. The staff here don't just wear smiles; they create memories. Their warmth and attentiveness ensure that your stag party goes off without a hitch. Need a recommendation for the best local brew? They've got you covered. Want to surprise the groom with a special treat? They'll help you make it happen. With their friendly approach, they'll quickly feel like part of your party crew.
Where Wallets Stay Happy
Budgeting for a stag party can be a balancing act, but fear not! This hotel keeps things pocket-friendly, ensuring that you get the most bang for your buck. Here's the lowdown on the prices:
Standard double room: Just €120 per night.

Satisfy those taste buds with a dinner for two: A mere €60.

Drinks at the bar: Only €10 per person – a small price for creating big memories.
For a more accurate price estimate for your stag party group, you can visit The Castle Arch Hotel's website.
In a Nutshell: Your Epic Stag Party Awaits
When it comes to stag parties, the Castle Arch Hotel has carved a niche for itself as the ultimate destination. It's not just a place to stay; it's a backdrop for stories that will be told and retold for years to come. 
So, if you're looking for a unique blend of history, comfort, delectable cuisine, and top-notch service, your search ends at the Castle Arch Hotel. Get ready for a celebration that's bound to have you raising a toast to memories in the making!
The Ardboyne Hotel
How's it going, party people? Looking to throw the ultimate stag party that'll be talked about for generations to come? Well, you've just hit the jackpot! The Ardboyne Hotel in the charming town of Navan, Ireland, is your one-stop destination for stag party shenanigans that are off the charts. 
Let's dive into why The Ardboyne Hotel is THE place to be when it's time to celebrate in style.
Welcome to The Ardboyne Hotel
First things first, let's get to know the star of the show – The Ardboyne Hotel. Nestled right in the heart of Navan, County Meath, this 3-star deluxe haven is everything you've ever dreamed of for your stag do. It's more than just a place to crash; it's a hub of stag-friendly goodness that'll make your pre-wedding celebrations legendary.
Party Central with a Capital P
Let's talk about why The Ardboyne Hotel is the place where all the magic happens. This place is not just some run-of-the-mill hotel; it's a 3-star deluxe experience that's all about good times and unforgettable moments. You're probably wondering what makes it so special, right?
Newly Refurbished Bedrooms
Well, first off, let's talk about where you'll rest your heads after a night of revelry. The Ardboyne Hotel has recently pimped up its 29 bedrooms to the max. They're en suite, spacious, and stylishly decorated – perfect for a group of lads out for a good time.
Family Rooms and Adventure Packages
Bringing the family along for the adventure? The Ardboyne Hotel has got you covered. They've got family rooms and adventure packages that cater to all ages. Your little ones will have a blast, and you can still enjoy the stag madness.
Foodie Delights Galore
You can't party on an empty stomach, right? That's where The Ardboyne Hotel's restaurant swoops in to save the day. They serve up a mouthwatering array of Irish and international dishes, all crafted with fresh, local produce. 
Whether you're craving some hearty Irish stew, classic fish and chips, or a sizzling steak, this place has you covered. And don't worry if you or your mates have dietary restrictions; their chefs are more than happy to cater to your needs.
A Pub That's Lively as an Irish Jig
After dinner, you'll want a spot to keep the party going. The Ardboyne Hotel's bar is legendary among both locals and visitors. 
With a wide selection of drinks that'll make your head spin (in a good way) and live music on selected evenings, this is the place where stories are born and memories are made.
Perfect for All Walks of Life
Now, let's talk about why The Ardboyne Hotel is not just for stags but for everyone looking for a good time. Whether you're in town for business or leisure, this place has something for you.
Business and Leisure Travelers' Paradise
Business travelers, rejoice! The Ardboyne Hotel isn't just about parties; it's also a prime choice for those traveling for work. Comfortable rooms, great dining options, and a central location make it the perfect base for your business trip.
Leisure travelers, you're in for a treat too! Navan is a historic town with a treasure trove of attractions. While you're here, don't miss Navan Castle, the stunning Church of St. Mary, or the fascinating Navan Museum.
Stag Parties at Their Best
Okay, let's get back to the main event – why this hotel is the ultimate stag party destination.
Central Location
The Ardboyne Hotel's central location in Navan is a game-changer for stag parties. You're just a stone's throw away from all the town's bars and clubs. No need to worry about long taxi rides or designated drivers; it's all right at your doorstep.
Pampered Stags
Stag parties are all about having a blast, and that starts with a good night's sleep. The newly refurbished bedrooms at this hotel are the epitome of comfort. You and your squad can crash in style, and you'll wake up ready for round two of the party.
All the Drinks and Music You Can Handle
After you've explored Navan's nightlife, you'll want a place to unwind. The Ardboyne Hotel's bar is your refuge. With a fantastic selection of drinks, it's the perfect place to wrap up your night. Plus, on some evenings, you'll even get to enjoy some live music. Raise your glasses to the craic, lads!
Stag Party Packages
Saving the best for last – The Ardboyne Hotel offers stag party packages that are second to none. These packages include accommodation, food, and drinks. It's like your stag do is on autopilot – no need to worry about the details; they've got you covered.
Top Tips for an Epic Stag Party at The Ardboyne Hotel
Now that you're all set to have the stag party of a lifetime at The Ardboyne Hotel, here are a few tips to make it absolutely legendary:
Book Early:

The Ardboyne Hotel is a hot spot, so make sure to book your rooms in advance, especially if you're planning to party during peak season.

Snag Those Special Offers:

Keep an eye on the hotel's website for special deals and packages. You might just score a bargain that'll make your stag party even more epic.

Dine like a King:

Don't skip the hotel's restaurant. Try their signature dishes like Irish stew and fish and chips. You won't regret it.

Bar Bliss:

Make sure to visit the hotel's bar. It's the perfect place to kick back and soak in the atmosphere.

Explore Navan:

Take a break from the party and explore the town. You'll find some hidden gems, guaranteed.
Stag Party Perfection Awaits at The Ardboyne Hotel!
So, there you have it, lads! The Ardboyne Hotel is your ticket to stag party heaven. Get ready to create memories that you'll be reminiscing about for years to come. Cheers to an epic celebration at The Ardboyne Hotel!