Carrick Quads
Hey there, you wild bunch! Looking for adrenaline-pumping unconventional fun at your stag party in Ireland? Imagine this: You and your crew, tearing through the lush Irish countryside on roaring quad bikes, wind in your hair, and the sun giving you a high-five. Or maybe you're channeling your inner sharpshooter at the clay pigeon shooting range. Carrick Quads, my friends, is the right choice for your stag party shindig.
Where to Find This Stomping Ground?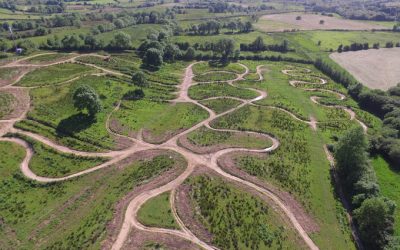 This stag party gem is tucked away in the heart of County Monaghan, Ireland. Pop "N51 P8C8" into your trusty GPS, and it'll guide you straight to our stomping ground. With over 100 acres of stunning Irish countryside, you'll be spoiled for choice with trails to conquer. If you're planning a stag party in Carrick-on-Shannon then the location of this place is perfect!
Highlights of Carrick Quads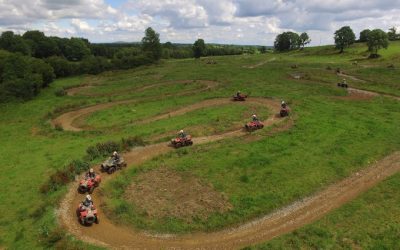 Now, why is Carrick Quads the bees' knees for your stag party adventure?
100 Acres of Irish Paradise
Carrick Quads isn't your average adventure spot; it's a sprawling paradise sprawled across 100 acres of enchanting Irish countryside. It's the stuff dreams are made of!
Trails for All
Whether you're a quad-biking rookie or a seasoned pro, there's a trail with your name on it. From beginner-friendly routes to adrenaline-pumping challenges, this place has it all.
All-Inclusive Packages
Gear worries? Forget about it! Carrick Quads offers all-inclusive packages covering everything, from quad bikes to safety gear. We've got you sorted!
Top-Notch Crew
Their crew is as friendly as they are experienced. They'll kick things off with a safety briefing to make sure everyone's on the same page, and they're there to lend a hand if you need it.
Heart-Pounding Activities
Now, let's talk about the activities that'll make your stag party legendary:
Quad Biking
Strap on your helmets and get ready for an epic quad biking adventure. Navigate forests, and fields, and conquer hills as you rev up your adrenaline. The Irish countryside never looked so good from the back of a quad!
Clay Pigeon Shooting
Fancy yourself a sharpshooter? Test your aim and accuracy with clay pigeon shooting. Take aim, pull the trigger, and watch those clay pigeons shatter as you hit bullseye after bullseye.
Perfect for Team Building
Not just for stag parties; Carrick Quads is also prime for team-building activities. Boost communication, teamwork, and problem-solving skills while having a blast.
Want to know more about these activities for your stag party? Call us!
Tips for an Epic Carrick Quads Experience
To make the most of your adventure:
Book in Advance:

Carrick Quads is a hot property, especially during peak season. Book in advance to secure your spot.

Dress Comfortably:

Comfy clothing and footwear are a must for all the riding and walking you'll be doing.

Sunscreen and a Hat:

Even in Ireland's unpredictable weather, the sun can sneak up. Don't forget sunscreen and a hat, just in case.

Listen to the Pros:

Pay attention to our experienced staff's instructions. Follow safety rules for a fun and safe adventure.

Stay Aware:

Keep an eye on your surroundings when quad biking or shooting clay pigeons. Safety first!

Have a Blast:

Relax, soak in the scenery, and create memories that'll be the talk of the pub for years to come.
Get ready for the craic of a lifetime at Carrick Quads! Book your adventure now and let the stag party madness begin. Cheers to unforgettable moments and the thrill of the Irish countryside! 
Kiltorcan Raceway
How's it going, fellow stag party adventure seekers? If you're itching for some high-speed excitement in the heart of Ireland, you're in for a treat! We're about to dive headfirst into the world of Kiltorcan Raceway, an absolute gem nestled in the beautiful county of Kilkenny. So, strap in, folks, because this 1000-meter all-weather circuit is where fun meets adrenaline!
What is Kiltorcan Raceway?
Kiltorcan Raceway  is the ultimate destination for karting enthusiasts and stag parties alike. Imagine a place where you can feel the wind in your hair, the roar of the engines in your ears, and the taste of victory on your lips – that's Kiltorcan Raceway for you!
Visit the Kiltorcan Raceway website.
The Heart-Pounding Circuit
Now, let's talk about the main attraction – the circuit itself. Kiltorcan Raceway's track is like a dance floor for karts, a challenging labyrinth that will put your driving skills to the test. Whether you're a seasoned pro or a first-time karting rookie, this track promises a ride you won't forget.
What's even better? The track is open from Wednesday to Sunday, ensuring you have plenty of opportunities to unleash your inner speed demon on your stag party. You can also enjoy the circuit's offerings in various kart rental session formats, each designed to cater to your experience level.
Karting Sessions at Kiltorcan Raceway
Arrive and Drive
Picture this – you wake up on a Sunday morning, feeling the need for speed. No reservations, no hassle. Just head straight to Kiltorcan Raceway, and for a mere €20, you can hop into a kart and take on the circuit for a thrilling 15-minute session. It's as easy as pie!
Grand Prix
Calling all groups of 10 or more daredevils! The Grand Prix format at Kiltorcan Raceway is the ultimate showdown. Get ready for a 10-minute qualifying session followed by a heart-pounding 20-minute final race. 
And the cherry on top? The top three drivers get a podium presentation, complete with champagne for the victor! It's €60 per person for this unforgettable experience.
Super Grand Prix
If the Grand Prix left you hungry for more, the Super Grand Prix has your back. It's like the Grand Prix but with an extra 10-minute race for the top six drivers from the final Grand Prix race. And trust us, the thrill is worth every penny of the €80 per person price tag.
When Can You Kart?
Now, you might be wondering, "When can I satisfy my need for speed?" Well, this raceway has you covered. 
They're open from Wednesday to Sunday, starting bright and early at 9:45 AM and keeping the action going until 6:00 PM. So, whether you're an early bird or a late riser, you can find your perfect karting slot!
K-SIM: A State-of-the-Art Golf and Kart Simulator
But wait, there's more! Kiltorcan Raceway doesn't stop at real-life karting thrills; they've got something special up their sleeve – K-SIM, a state-of-the-art golf and kart simulator. If you can't make it to the circuit, don't worry! The K-SIM experience is here to save the day.
This incredible simulator uses advanced technology to deliver an immersive golf or karting experience that's as real as it gets. So, even if you're miles away from Kilkenny, you can still feel the adrenaline rush right from your fingertips.
It Checks Out All the Stag Party Requirements!
Alright, all you soon-to-be-wed folks, listen up! Kiltorcan Raceway isn't just about karting; it's the ultimate stag party destination. Here's why:
Adrenaline Overload:

Stag parties are all about unforgettable experiences, and this raceway delivers on that front. The sheer adrenaline rush of karting will have everyone talking about your stag do for years to come.

Grand Prix Glory:

The Grand Prix format is the ideal choice for stag parties. Imagine you and your crew battling it out on the track, followed by a podium presentation with champagne for the winner. It's like your own mini Formula 1 race!

Accessible and Welcoming:

The clubhouse in this gem is wheelchair-friendly, ensuring that everyone can join in on the fun. They've got full toilet facilities, snacks, and refreshments to keep the energy high.
Don't Miss Out on the Fun!
Whether you're a seasoned pro or a first-time karting enthusiast, Kiltorcan Raceway is ready to welcome you with open arms and revving engines. It's a place where friendships are forged on the track, where cheers and laughter fill the air, and where every lap is a chance to create unforgettable memories.
But enough talk – time for action! Pick up that phone, book a session for your stag party in Ireland, and get ready for the time of your life. Trust me, you won't regret it!