Paintballing Wicklow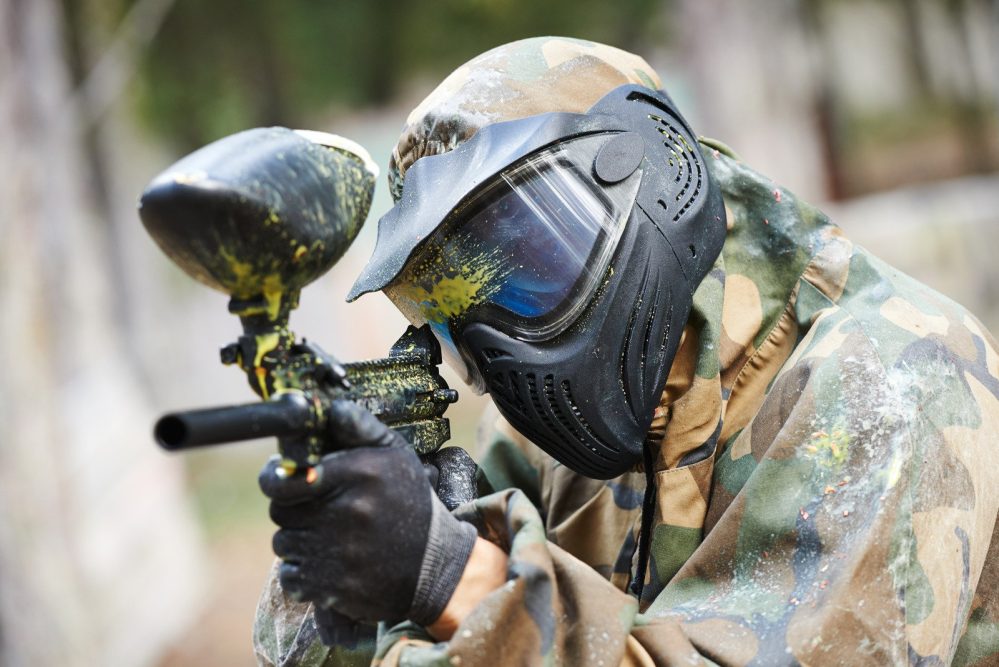 Get ready to dive into the action packed world of paintballing Wicklow style! If you're looking for an epic stag or hen party day filled with action, laughter, and camaraderie, you've come to the right place. Wicklow boasts some of the best paintballing facilities in Ireland, where you can unleash your inner warrior and have an unforgettable time. So grab your gear, don your war paint, and let's explore the top-notch paintballing spots in the heart of the Emerald Isle!
Special Ops Paintball
Located in the picturesque town of Roundwood, Wicklow, Special Ops Paintball sets the perfect place for an action-packed fun day of fun and excitement. This venue offers everything a paintball enthusiast could dream of, and then some! With a range of thrilling games like team challenges, capture the flag, and even zombie paintball, you're in for an adventure you won't soon forget.
But that's not all – Special Ops goes beyond the typical paintball experience. They also have a laser tag arena and an ax-throwing range, so you can switch up the excitement and challenge your friends in new ways. The paintball arena, nestled in a wooded area, offers an authentic battleground feel with plenty of obstacles for strategic maneuvers. Plus, the friendly and experienced staff at special ops are always on hand to ensure you have the best time possible!
Skirmish Paintball
Venture a little further from Wicklow, and you'll find yourself at Skirmish Paintball in Kilternan, County Dublin. This sprawling 65-acre paintball paradise promises an action packed day for thrill-seekers, kids and adventure sport lovers alike. Prepare to be captivated by their many attractions and six purpose-built paintball game zones, each offering unique challenges and heart-pounding excitement.
Woods, bunkers, forts and a bang on equipment – Skirmish has it all, providing ample opportunities to get your strategy game on and outwit your opponents. Whether you're planning a fun day out with friends, a corporate team-building event, business, hen party stag groups, or even a birthday party. Skirmish can cater to your needs. The experienced and professional staff will guide you through the games, ensuring safety and unforgettable memories for all participants.
Ballygawley Paintball
Nestled in the charming town of Blessington, County Wicklow, Ballygawley Paintball may have a smaller site, but it packs a big punch when it comes to excitement! This family friendly venue is the perfect place for those seeking an intimate and thrilling paintball experience.
The games at Ballygawley are diverse and cater to all ages and levels of experience, from seasoned paintballers to first-timers. Feel the adrenaline rush as you strategize with your team to conquer the enemy teams in epic team games, capture the flag challenges, and even zombie-themed scenarios. The wooded paintball arena offers plenty of natural cover, making every game intense and action-packed. And, of course, the staff's warm hospitality will make you feel right at home.
Go Ballistic Paintball
A stone's throw away from Wicklow, in the coastal town of Bray, Go Ballistic Paintball awaits eager warriors like you. While they may have a smaller paintball arena, don't let that one location fool you – a visit to Go Ballistic guarantees an explosive paintball experience!
Once you step into the wooded battleground, your tactical instincts will take over. Duck behind bunkers, build forts, and let the adrenaline surge as you engage in thrilling group battles and capture the flag missions. The friendly staff will ensure your safety and keep the excitement levels soaring throughout the day. So, gather your pals and get ready for a paintball adventure that'll leave you buzzing for weeks!
Xtreme Paintball
Just a short drive from Wicklow, Xtreme Paintball in Naas, County Kildare, combines elegance with extreme paintballing action. Their expansive 40-acre site boasts six purpose-built paintball game zones that offer both challenges and hours of heart-pounding fun.
Embrace the thrill of navigating through wooded landscapes, fortified bunkers, and hidden forts. The adrenaline will surge as you take on various game modes and unleash your paintball prowess. Corporate events, stag parties and hen parties, or even a birthday party – Xtreme Paintball caters to all and guarantees an unforgettable experience. With experienced and professional staff and safety equipment on hand, safety and fun go hand in hand.
Battlezone Paintball
Nestled in Ashford, County Wicklow, Battlezone Paintball is where the real adventure of sport begins. This thrilling venue boasts a diverse selection of game zones, including woodland, a quarry, and an urban zone, ensuring a great day for you lads. Whether you're a seasoned pro or a first-time paintballer, you'll find plenty of challenges and new experiences to enjoy.
Become the stealth master in the woodland area, perfect your aim in the challenging quarry, and showcase your teamwork prowess in the urban zone. The experienced and friendly staff at Battlezone will guide you through the games and ensure you have an absolute blast! With various packages to suit different ages and budgets, it's a win-win for everyone!
Wicklow Paintball
Located in Baltinglass, County Wicklow, Wicklow Paintball is the perfect destination to visit for a day of family-friendly paintballing fun. The expansive woodland area provides an ideal playground for beginners and youngsters, with plenty of natural obstacles to seek cover and hatch your strategies.
Choose from an exciting array of games, including classic team battles, thrilling capture the flag challenges, and the adrenaline-pumping zombie paintball. No matter your age or skill level, Wicklow Paintball guarantees to spend a fun day, filled with laughter and memorable moments. The friendly and helpful staff will make sure everyone enjoys the experience to the fullest, and with various packages available, it's an adventure that fits your budget!
Plan Your Ultimate Paintball Adventure in Wicklow Today!
If you lads are looking for an action packed day. Paintballing Wicklow-style promises an adventure you won't find anywhere else. From the tactical warfare at Special Ops Paintball to the expansive battlegrounds of Skirmish and Xtreme Paintball, every venue offers something unique and thrilling. Ballygawley and Go Ballistic may be smaller in size, but they more than compensate with their friendly atmosphere and action-packed games.
So, gear up and head to Wicklow for a day of laughter, strategy, and unforgettable memories with your stag group and fellow paintball warriors. Embrace the spirit of competition, unleash your inner hero, and let the paint fly! Paintballing Wicklow-style is an experience like no other, and it's waiting for you to conquer it!
But enough talk – time for action! Pick up that phone, book a session for your stag party in Ireland, and get ready for the time of your life. Trust me, you won't regret it!