Conquer the Challenges at Exit Athlone Escape Room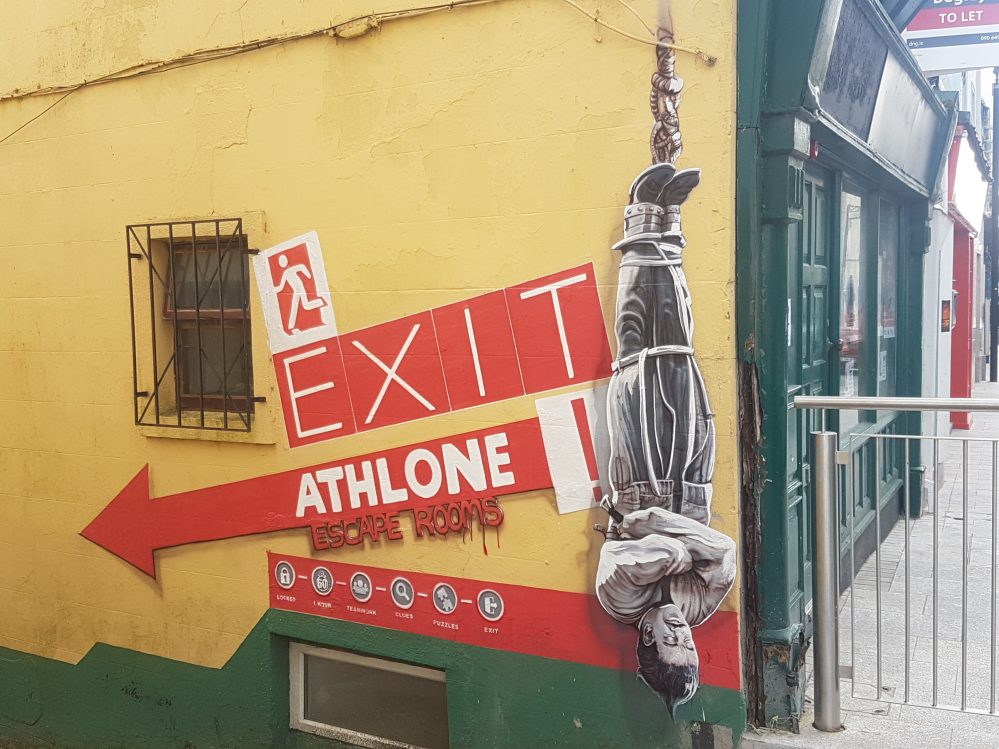 Ah, greetings to all you stag party planners and puzzle enthusiasts out there! If you're seeking a dash of excitement and a hint of mystery in the heart of Athlone, Ireland for your stag do, look no further than Exit Athlone Escape Room. 
Picture this: you, your friends, and maybe a pint of the finest Irish stout, all locked in a room filled with enigmas waiting to be unraveled. 
Ready to dive into a world of brain-teasing riddles, cunning clues, and heart-pounding excitement? Well then, let's embark on this grand adventure together!
Get Ready to Play and Puzzle at Exit Athlone
Imagine strolling down the cobblestone streets of Athlone, surrounded by the echoes of history, and stumbling upon a world of captivating escapades. That's what Exit Athlone Escape Room promises. Step into their realm, where reality blends seamlessly with fantasy, and every nook and cranny holds the key to your triumphant exit.
But wait, it gets better! Picture yourself and your crew becoming time-traveling detectives, daring survivors of a zombie apocalypse, or even elusive treasure hunters. It's all possible at Exit Athlone. With themes like "The Clown Prince of Crime," "Celtic Temple," and "Red Room," you'll find yourself solving mysteries that'll keep your heart racing and your mind racing faster than a leprechaun on a caffeine rush.
Game Themes That'll Have You Hooked
Curious about these themes, are ya? Let's dive into the fantastical worlds that Exit Athlone has conjured up:
The Clown Prince of Crime (Difficulty: 4/5)
Ever dreamt of outsmarting the notorious Joker? Now's your chance! Choose your level of challenge and race against the clock to escape his crafty traps. Will you outwit the clown before he returns to spoil your fun?
Celtic Temple (Difficulty: 3/5)
Calling all you brave souls out there! Embark on a quest to the heart of Ireland, where legends and magic collide. Face the dreaded Banshe's curse and follow the trail of an audacious archaeologist to uncover the wand of the goddess Morrigan.
Red Room (Difficulty: 2.5/5)
Fancy yourself a bit of a detective, do ya? Put on your thinking cap and solve a spine-tingling murder mystery. Dive deep into the world of politics, religion, and crime, and prove that you've got the smarts to crack the case.
New World Order (Difficulty: 3.5/5)
Got a thing for conspiracy theories? This one's tailor-made for you. Can you locate and disarm the ticking bomb before time runs out? Gather your crew, channel your inner adventurers, and put your skills to the ultimate test.
The Plague: Team vs Team Option (Difficulty: 3/5)
Ready for a showdown between your stag mates? Assemble your team for a Victorian-era fantasy game of survival. The world's been ravaged by an ancient plague, and zombies roam the earth. You and your friends are students of Plague Dr. Jules Verne. During his absence, your research subjects have mutated and gained intelligence. It's up to you to stop them in their tracks! Choose your side: the Steampunk team or the Zombie Apocalypse team.
Round up your stag do lads for an unforgettable team-building escapade. These rooms are designed for teamwork, bonding, and a good ol' time. And if those riddles have you scratching your head, don't sweat it! Hints are on hand to guide you in the right direction, because we all need a little help from our friends.
What's The Pricing?
Now, let's chat euros for a tick:
2 players – € 30.00 per person 

3 players – € 28.00 per person 

4 players – € 26.00 per person 

5 players – € 24.00 per person 

6 players – € 22.00 per person 

7 or more players – € 20.00 per person
A small investment for the groom's stag party for a day filled with memories, adrenaline, and laughter, don't you think? Trust us, it's a deal sweeter than a pot of gold at the end of the rainbow.
Your Exit Athlone Escape Awaits!
Whether you're looking for stag activities in Ireland or you're someone who's a puzzle maestro, Exit Escape Room Athlone has a challenge that'll fit you like a snug Aran sweater.
So, fellow thrill-seeker, gather your crew, don your thinking cap, and brace yourself for a whirlwind of riddles and thrills at Exit Athlone Escape Room. Your next adventure is a puzzle away – dive into the heart of Athlone and let the games begin!