The Fibber Magees Galway Pub Experience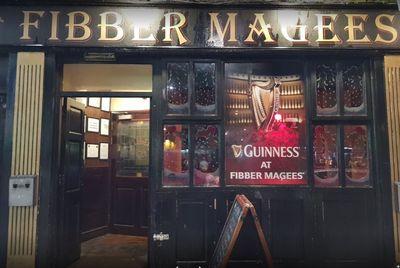 Top o' the mornin' to ya, folks! If you're lookin' for a craic-filled good time in the heart of Galway, then look no further than the legendary Fibber Magees Galway! This thriving pub is a real gem, perfect for stag parties and hens lookin' to paint the town green!
Right in the center of Galway city, nestled beside the Coach, Bus, and Railway Station, you'll find Fibber Magees, a place that exudes a traditional Irish atmosphere like no other. With its dark wood, brass fixtures, and cozy fireplaces, this pub will make you feel like you've stepped into a quaint Irish cottage.
Live Music!
And what's a proper Irish pub without some toe-tappin' music, eh? At Fibber Magees Galway, the good times are always rollin' with live music, from traditional Irish folk melodies to foot-stompin' rock and roll. You'll be jiggin' and reelin' all night long!
A Whiskey and Beer Lover's Paradise
Now, let's talk about the real nectar of the gods – the Irish beers and spirits. Ah, yes! Fibber Magees Galway boasts a grand selection of Irish libations that'll make your taste buds dance with delight. From the iconic Guinness and Harp to the smooth Jameson and Bushmills, they've got it all! Raise your glass and join the merry crowd for a proper Irish toast!
Sports and Spirits, A Perfect Match
Sports fan, are ya? Well, you're in luck! Fibber Magees Galway is the go-to spot for sports enthusiasts. With six TVs, you won't miss a single kick, puck, or swing! Cheer on your favorite team while enjoyin' a pint – it doesn't get better than that!
Perfect For Hen Parties?
Now, if you're lookin' to take your hen party to a whole new level of fun, Fibber Magees Galway has got you covered. Ladies, get ready for some cocktail classes! Shake, stir, and sip your way to mixology greatness under the guidance of expert bartenders. Talk about a hen do to remember!
Stag and Hen Party Activities!
But that's not all, darlin's! If you're up for some giggle-filled group activities, their Backstage Area is a dream come true. From dance classes that'll have you boppin' like river dancers to quirky games like "The Cube" and even a bit of cheeky "Nude Drawing" (wink, wink), there's no shortage of fun to be had!
Private Celebrations in Style
And for those who prefer a bit more privacy, Fibber Magees Galway can cater to all your needs. Private dances for both stags and hens are available, so you can celebrate with your closest mates in style.
Beyond Galway: A Global Irish Journey
Now, hold on to your shamrocks, because we're not done yet! Beyond the charming city of Galway, Fibber Magees has spread its Irish magic across the globe. The craic doesn't stop with just one location! Oh, no, no!
Dublin: The Pub's Origin
If you ever find yourself in Dublin, be sure to pay a visit to the original Fibber Magees pub. Located right smack in the heart of the bustling city center, this spot is where it all began – a true Irish classic!
Westport
Heading out to Westport, County Mayo? You're in for a treat! Fibber Magees Westport offers more than just great brews and cozy ambiance; it treats you to breathtaking views of Clew Bay. Now that's a pint with a view, me friend!
Chandler, USA
Cross the big pond and venture to the sunny state of Arizona, USA. In Chandler, you'll find the lively Fibber Magees Chandler, a local favorite and a go-to spot for visitors alike. It's got that warm Irish welcome with a splash of American flair!
Even in Dubai?!
But wait, we're not done globetrotting just yet! How about a taste of the exotic? Head over to Dubai, United Arab Emirates, and discover Fibber Magees Dubai. With its vibrant rooftop terrace offering stunning views of the city, you'll feel like you've stepped into an Irish oasis in the desert!
Raise Your Glasses To Fibber Magees!
So there you have it, folks! Whether you're looking to embrace the spirited charm of Galway or venture to other corners of the world, Fibber Magees has got your back! From live music and delicious Irish drinks to unforgettable hen parties and global adventures, it's a pub experience like no other.
Looking for the ultimate stag party in Ireland? Explore a wide range of exciting options with stagit!