Paintballing Kilkenny: A Splatterific Adventure!
Top of the mornin' to ya, paintball warriors and adventure seekers! If you're ready to experience an epic day of fun, adrenaline, and a bit of friendly "banter," then get yourself ready for an unforgettable paintballing escapade in the heart of Kilkenny! We'll dive into all the paintballing Kilkenny has to offer and tips you need to have an absolute blast while splatting and dodging in the land of castles, legends, and a good old pint of Guinness. Let's dive in!
Top-notch Paintballing Venues in Kilkenny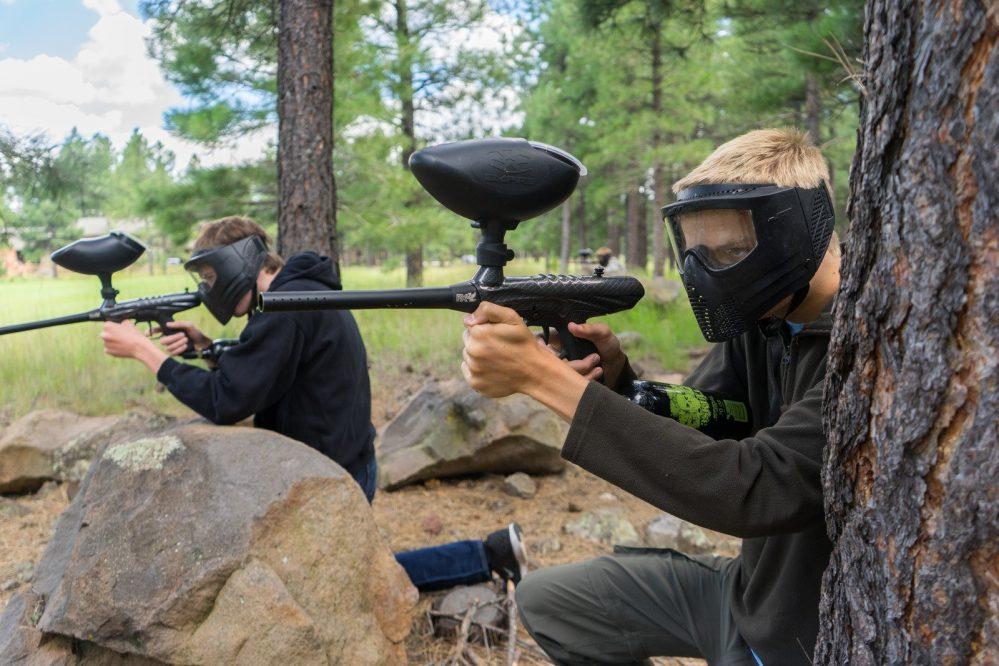 When it comes to paintballing Kilkenny, you're in for an absolute treat! We've rounded up the finest paint-spattered battlegrounds in the county, where you can unleash your inner warrior, experience heart-pounding adventures, and create memories that'll have you reminiscing over pints for years to come. Let's dive into the best paintballing venues that Kilkenny has to offer!
Kilkenny Activity Centre
Located just a short jaunt from the majestic Kilkenny Castle, the Kilkenny Activity Centre is a paintballing haven that caters to the whole family, wee ones included! With game zones inspired by history's greatest battles and thrilling challenges to test your mettle, this spot will have you laughing, strategizing, and unleashing your competitive spirit in no time.
Game Zones
D-Day:

Storm the beach, take down the enemy forces, and make your ancestors proud in this thrilling World War II-inspired battle. Teamwork is key to victory!

No Man's Land:

This classic paintball battleground pits two teams against each other in an epic battle of wits and aim. Will you outgun your opponents and conquer the land?

Blitzkrieg:

Gear up, soldier! In this fast-paced game zone, speed and agility are your best allies as you face an unrelenting onslaught of enemy fire.

Splatball:

Perfect for the littlest paintballers, this non-contact version of the game guarantees fun and safety with soft, burst-on-impact balls.

Assault Course:

Test your limits in this challenging obstacle course that calls for teamwork, quick thinking, and a dash of good old Irish luck!
Packages and Cost
The Kilkenny Activity Centre has got you covered for group shindigs and corporate events alike. For just €25, you'll get 200 paintballs to unleash on your friends and foes!
Go Ballistic
Tucked away in the lush countryside, just a hop and a skip outside Kilkenny City, Go Ballistic is a paintball haven with a touch of adventure that'll leave you grinning from ear to ear. From storming a replica of Kilkenny Castle to fighting off the undead in the Zombie Apocalypse, this place has it all!
Game Zones
Castle Assault:

Reenact the epic battles of yore in a replica of Kilkenny Castle. Work as a team to capture the castle and bring glory to your side!

Jungle Warfare:

Embrace your inner ninja as you navigate through the dense jungle, using stealth and cunning to take down your opponents.

Zombie Apocalypse:

If you're brave enough, face the terror of a zombie attack. Stick together, aim true, and survive the night of the living dead!

Splatball:

A hit with the younglings, this safe and fun version of paintball guarantees smiles all around.

Paintball Golf:

Who said paintball and golf don't mix? Tee off on a unique adventure, combining precision and paintball prowess.

Archery Tag:

Put your archery skills to the test in this exhilarating game of tag with foam-tipped arrows.
Packages and Cost
For just €30, you'll bag yourself 200 paintballs, granting you the ticket to an action-packed day of paintball glory with your mates or colleagues!
How risky is paintballing?
Ah, fear not, me friend! Paintballing in Kilkenny is as safe as a leprechaun's pot of gold. Of course, like any sport or adventure activity, there are some inherent risks. But the reputable paintball arenas in Kilkenny have taken every precaution to ensure your safety. They'll give you the lowdown on the rules, provide top-notch safety equipment, and have trained marshals to keep things in check. So, as long as you follow the rules and don't go all "reckless rogue," you'll be grand!
What should I wear to paintball?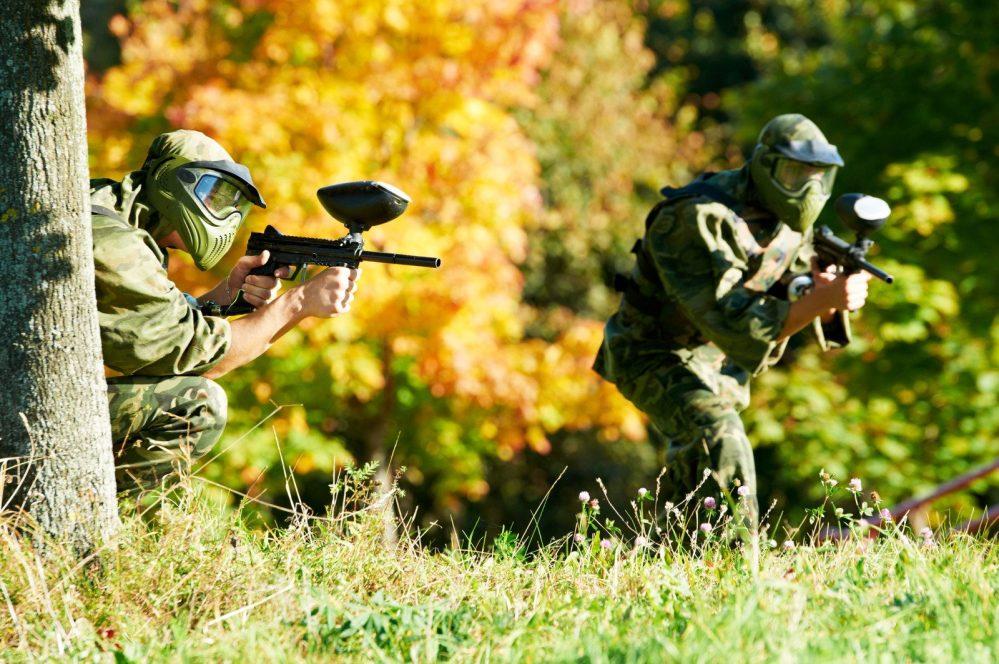 Now, ye wouldn't want to be caught without the right gear, would ya? Dressing the part is essential for a successful paintball mission. Embrace your inner warrior and deck yourself out in comfortable, breathable clothing that you won't mind getting a bit colorful. Layers are the trick here, for when the sun shines down upon the Irish countryside or the clouds decide to bless us with a gentle drizzle.
Slip on a sturdy pair of boots to handle the rugged terrain, and don't forget a hat or cap to keep your noggin' shielded. Oh, and the most crucial piece of your ensemble – a big, beaming smile ready to take on the paintballing kilkenny craic!
Is 100 paintballs a lot?
Ah, now that's a question worth ponderin'! The answer depends on your play style, my friend. If you're a sharpshooter, cunning strategist, and a bit of a legend, 100 paintballs might just be enough for you to conquer the battlefield. However, if you're feeling a wee bit trigger-happy or tend to go all out in the paintballing frenzy, you might be lookin' for a reload sooner than you think!
How long will 500 paintballs last me?
The number of paintballs you need depends on how you wield your paint-spewin' weapon, and how much you embrace the "spray and pray" technique. For some, 500 paintballs will keep the fun going for a good while, while others might find themselves seeking a refill sooner. Don't fret, though, you can always stock up and get back in the game!
What not to do in paintball?
Listen up, lads and lasses, for we shall unveil the sacred commandments of paintballing in Kilkenny!
Thou shalt not remove thy mask during battle! Keep those eyes shielded, for safety's sake. 

Thou shalt not be a paintball hoarder! Share the colorful love and keep the action flowin'. 

Thou shalt not break the rules of the arena! Remember, it's all for the love of the craic, and rules keep the fun fair and square. 

Thou shalt not hold grudges! Paintballing is all in good fun, so leave the "turf wars" on the battlefield.
Leave a Trail of Colorful Legends!
Paintballing Kilkenny is the stuff of legends – a chance to unleash your inner warrior, embrace the spirit of adventure, and create memories that'll have you smilin' like a Cheshire cat for ages to come. So gather your stag mates, family, or even the leprechauns if you can find 'em, and head over to Kilkenny for an epic stag party weekend!
But enough talk – time for action! Pick up that phone, book a session for your stag party in Ireland, and get ready for the time of your life. Trust me, you won't regret it!