Greyhound Racing – Mullingar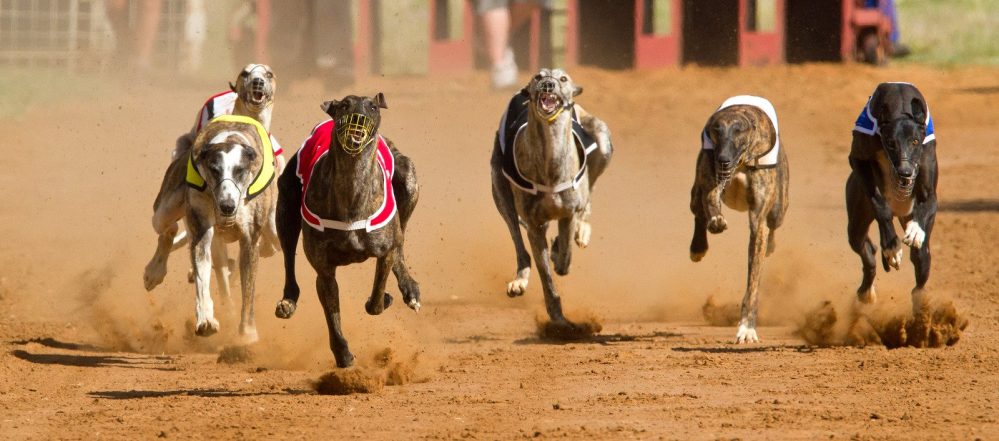 Top o' the mornin' to ya, lads! If you're on the hunt for an unforgettable stag party that'll have you and your mates howling with excitement, look no further than The Mullingar Greyhound Stadium. It's not just any old spot; it's the kind of place where you can toss your worries to the wind and immerse yourselves in the heart-pounding world of greyhound racing. Hold on to your pint glasses, because we're about to take you on a tour of all the stag party madness this legendary stadium has to offer!
The Mullingar Greyhound Stadium Stag Experience
Picture this: a lively atmosphere, mouthwatering grub, and a chance to scoop up prizes as you cheer on the fastest four-legged furballs around. Yes, we're talking about Mullingar Greyhound Stadium! 
This place isn't just your average racing spot—it's an epicenter of craic, where you and your mates can create memories that'll be told and retold for years to come.
Stag Party Requirements? This Mullingar Stadium's Got 'Em All!
Exciting Greyhound Racing Action
It's not just any Saturday evening or Sunday afternoon—it's greyhound racing time at Mullingar! Feel the adrenaline as these sleek hounds dash down the track, battling it out for victory. And guess what? You can be part of the action by placing your bets and crossing your fingers. Who knows, you might just win a pot of gold!
Great Food and Drink
Stomachs growling? No worries, because this Greyhound Racing Mullin Stadium has your cravings covered. Sink your teeth into juicy burgers, crispy pizzas, and sizzling steaks at the grandstand restaurant. If you're in a hurry to catch the next race, the fast food outlet's got you sorted. And for those who like their pints and shots, the bars are well stocked and ready to keep the good times flowing.
Lively Atmosphere
Let's be honest, a stag party without a lively atmosphere is like a pint without the froth. Luckily, Greyhound Racing Mullingar Stadium is known for its electric vibes. From the cheers of the crowd to the tunes of a live band, there's always something going on that'll make you want to raise your glass and celebrate with your pals.
Chance to Win Prizes
The excitement doesn't end with the races; there are prizes galore waiting for you. Bet on the races, enter thrilling competitions, or just show up and you might find yourself walking away with a prize. Talk about luck o' the Irish!
Stag Party Friendly Packages: Raise Your Glasses, Lads!
Want to keep it simple and effective? The Basic Package's got your back. It includes general admission for up to 10 of your mates, a reserved table at the grandstand restaurant, and a complimentary drink each. Cheers to that!
Looking to kick it up a notch? The Premium Package brings the heat. You'll snag all the perks of the Basic Package, plus a private buffet dinner for your crew and a meet and greet with a real greyhound trainer. Get ready to rub shoulders with the experts!
Go big or go home, right? The Ultimate Package is the whole shebang. In addition to the Premium Package goodies, you and your mates get a night out in Mullingar town. That means hitting the dance floor at a nightclub and enjoying a few rounds of drinks. Stag party goals? Achieved.
Beyond the Greyhound Track: Mullingar Unleashed!
Now, before you gallop off to the Greyhound racing Mullingar experience, consider a few other stag party essentials:
If you're rolling in from out of town, sort out your transportation in advance. Mullingar's got a slew of reliable taxi companies that'll get you to the stadium and back to your crib safely.
Need a place to crash after all the shenanigans? Mullingar's got you covered with a range of hotels and guesthouses perfect for stag parties. The Mullingar Tourism website is your go-to for the full scoop.
Sure, greyhound racing is the main event, but don't forget there's more to Mullingar than just speedy pups. Explore nearby Loughcrew Cairns, take a hike in the scenic Slieve Bloom Mountains, or cruise along the River Shannon for a boat trip you won't forget.
Unleash the Bark and Roar of Your Stag Party at Mullingar Greyhound Stadium
So there you have it, lads! Mullingar Greyhound Stadium isn't just a place to watch dogs dash—it's a stag party haven that'll make your celebration legendary. With heart-pounding races, mouthwatering bites, and the chance to win big, you'll be raising your pints and toasting to memories that'll last a lifetime. Greyhound racing Mullingar style? It's a surefire way to paint your stag party with a splash of Irish magic.
Looking for the ultimate stag party in Ireland? Explore a wide range of exciting options with stagit!