Off Road Buggy Racing
Eat My Dust
Rip up the track in these little yet extremely powerful machines. This is a great stag activity that the whole group will really enjoy as you tare around the track after each other while trying not to let the dust blind you.
A day driving the buggies is a really fun day for any stag party in Ireland. Get into the motion of driving these then rip around a purpose build track at speeds up to 60km/hr. A great experience thats guaranteed to get the blood pumping and all the boys covered in mud.
…………………….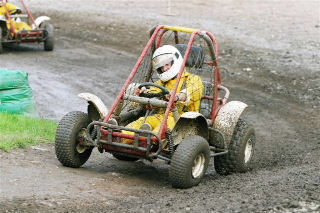 .
You'll be kitted out in all the required safety clothing – racing suit, gloves and helmet which leaves you to get that adrenaline pumping in the a stag weekend activity that makes simple go-karting look like a stroll in the park.
Don't worry if you flip over as the roll bar and seat belt keeps you well and truly strapped in. This is a must try for anyone.