TIGH NORA

You're wandering the bustling streets of Galway City, weaving through the lively Latin Quarter, and BAM! You stumble upon the gin lover's paradise—Tigh Nora. Now, I'm not just talking about any gin bar Galway joint; we're talking about an award-winning gin bar, the crème de la crème, where the craic flows as freely as the gin.
Gin Galore in Galway
When it comes to gin, Tigh Nora is in a league of its own. With over 200 different gins on the menu, it's like the Willy Wonka's Chocolate Factory, but for gin aficionados. And here's the kicker – they've got a secret weapon called Nora's Irish Gin. Who's Nora, you ask? Well, she's the muse, the inspiration, and the secret ingredient that makes this place legendary.
Distilled with botanicals straight from the lush west of Ireland, Nora's Irish Gin isn't just a drink; it's a tribute to history, to love, and to having a good time. So, if you're looking to raise your spirits (and a glass) on your stag party, Tigh Nora is THE spot to experience the best gin bar Galway offers.
Gin Masterclasses for the Stag Squad
Now, I know what you're thinking: "I know my G&Ts; I don't need a lesson." But hear me out. Tigh Nora's gin masterclasses are like a boozy crash course in all things gin. Led by the true gin connoisseurs of Tigh Nora, these classes elevate your gin game to a whole new level.
Interactive learning, tasty sipping, and a whole lot of banter – that's what you sign up for. Perfect for stag parties, these classes are more like your favorite pub quiz, but with a twist – you're sipping on gin and soaking up knowledge at the same time. So, gather your stag party crew and get ready to shake (or stir) things up.
Conveniently Located for Epic Nights
But wait, it gets better. Tigh Nora isn't some hidden gem you need a treasure map to find. Nope, it's right there at 8 Cross Street Lower, Galway. You're just a stone's throw away from Eyre Square, making it the perfect pitstop for your stag party activities in Galway.
Raise Your Glass to Tigh Nora!
So there you have it – the lowdown on Tigh Nora, the premier gin bar Galway offers, it's as Irish as the green hills and as welcoming as your favorite and best local Galway pubs. Whether you're a gin enthusiast, a casual drinker, or a stag party on a mission to have the time of your life, Tigh Nora is the place to be.
Enough talk, lads – time for action! Pick up that phone, book a session in the palace which is considered the best stag party across Ireland, and get ready for the time of your life at Tigh Nora. Trust me, you won't regret the gin bar Galway experience! Sláinte!
F.R.T.S The Fire Fighter Experience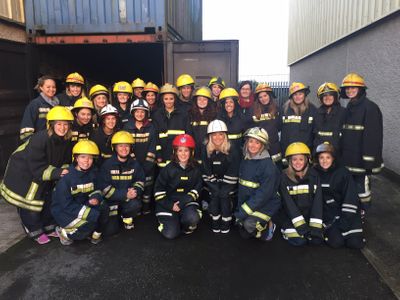 F.R.T.S The Fire Fighter Experience
Fight Real Fires & Rescue like the Fire Brigade
Wear full fire brigade gear
Full breathing apparatus
Search & Rescue Casualties
Rescue from a confined space, work as a team
Run out hoses and bring a fire under control
Enter a building with an extinguisher
Rescue each other from a building
Control a kitchen fire using an extinguisher / fire blanket
Learn all about emergencies
Most Important; Have Fun Throughout
All Instructors are Fully Trained Fire Officers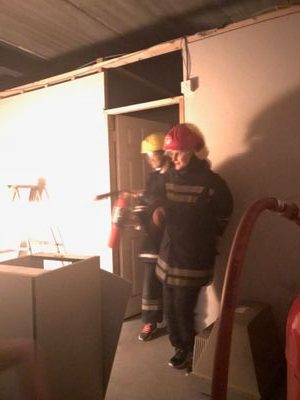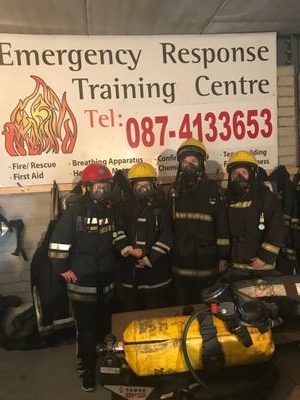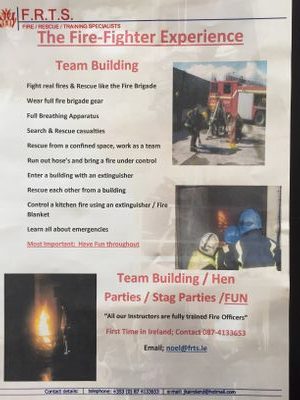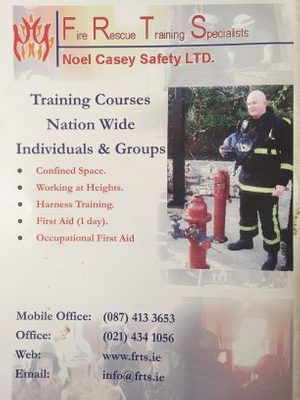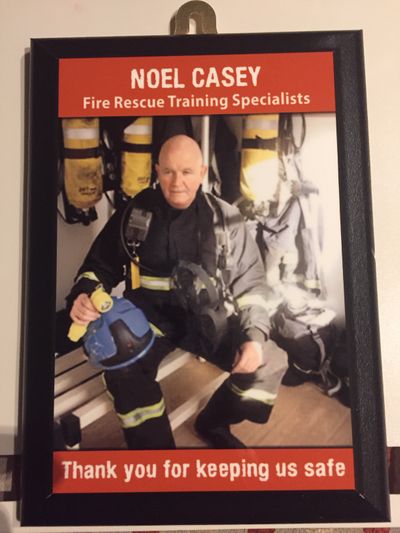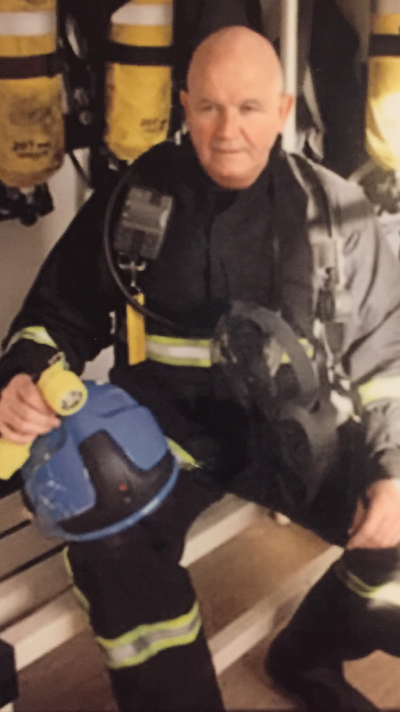 [website-button id="235″ type="website, phone, email, both"]