The Top Accommodation Options in Kilkenny City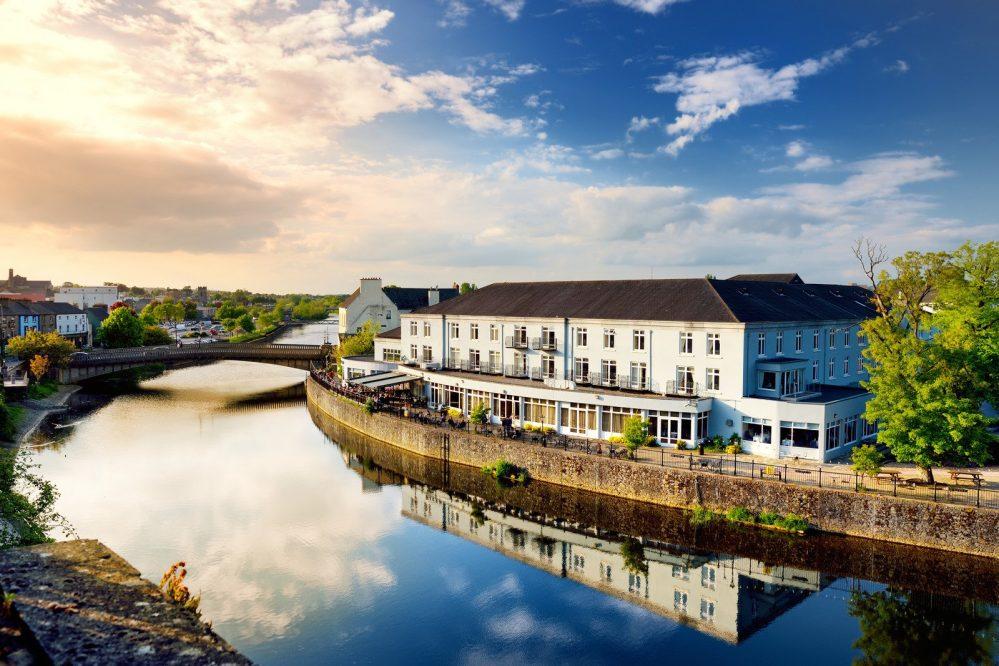 Top o' the mornin' to ye! If you're planning a visit to the charming city of Kilkenny, you're in for a treat! With its rich history, lively atmosphere, and friendly locals, Kilkenny is a gem waiting to be explored. But before you embark on your adventure, you'll need a cozy abode to rest your head after a day of exploring. Fear not, for we've rounded up the best accommodation options in Kilkenny City that'll make your stay as delightful as a leprechaun's pot of gold!
Kilmore Guesthouse
First on our list is Kilmore Guesthouse, a real hidden treasure in Kilkenny City. Nestled amidst beautiful gardens, this place offers a delightful blend of comfort and tranquility. Free WiFi to keep you connected? Check! A terrace to bask in the sun? Check! And a mere stone's throw away from Kilkenny Castle? Check and check! You'll be living like royalty here!
Butler House
If you're after a taste of elegance and charm, Butler House is the place for you. This 4-star guest house is just a hop, skip, and a jump away from Kilkenny Castle, making it an ideal choice for history buffs and fairytale enthusiasts alike. The rooms are so cozy and inviting that you might just find yourself resisting the urge to stay in bed all day. But fear not, the warm and welcoming staff will have you up and ready to explore in no time!
Bridge View B&B
For a relaxing retreat by the riverside, look no further than Bridge View B&B. Here, you'll be treated to full Irish breakfasts that'll keep you fueled for your Kilkenny adventures. The en suite rooms with free Wi-Fi are perfect for unwinding after a day of sightseeing. Plus, the friendly staff will make you feel right at home. It's a little slice of serenity that you won't want to miss.
Rafters
If you fancy a taste of the past with a touch of modern flair, RAFTERS Gastro Pub & Accommodation is your ticket to a memorable stay. Located in the heart of Kilkenny City, you'll be surrounded by history and tradition. With 14 stylish ensuite bedrooms and a rooftop beer garden, it's the perfect place to rest your feet and raise a pint to the good times.
Butler House & Garden
Indulge in the ultimate getaway experience at Butler House & Garden. A bottle of bubbly to welcome you? Absolutely! Whether you choose to sip it in the splendid Garden View Room or in your own cozy abode, you'll feel like royalty. Surrounded by walled Georgian gardens, this haven is a treat for the senses.
Gráisín
Prepare to be captivated by Gráisín, where you'll be treated to garden views and all the creature comforts you need for a perfect stay. With a patio to soak up the Irish sun and a trusty coffee machine for that morning pick-me-up, this place has got you covered! And guess what? It's just a wee distance of 8.1 km from the enchanting Kilkenny Castle. Time to get your bags packed!
Kilford Arms
Welcome to Kilford Arms, right in the heart of Kilkenny! The rooms here are as cozy as can be, and you'll be treated to all the modern comforts you could want. Fancy some good old Irish hospitality? Kilford's White Oak restaurant serves up the best of local produce, ensuring you'll be fueled up for all your Kilkenny adventures!
The Nore River House
Embrace the Riverside Charm Nestled in Kilkenny and just a stone's throw from Kilkenny Railway Station, The Nore River House is a true gem. With a garden, free private parking, and a shared lounge to kick back and relax, you'll feel right at home. And oh, the terrace is a grand spot to take in the scenic views. It's the perfect base to explore all that Kilkenny has to offer!
Launard House
Looking for a charming and attractive bed and breakfast? Look no further than Launard House! Located just a short 6-minute drive from Kilkenny Castle and close to the city centre, you'll be in the heart of all the action. Plus, with free Wi-Fi, you can share all your Kilkenny adventures with the world!
Carraig Rua
Right smack in the centre of Kilkenny, Carraig Rua is a true gem offering a warm Irish welcome! With free WiFi and free private parking, it's got all the essentials for a splendid stay. And did we mention the continental breakfast? Fresh pastries, fruits, and juice to kickstart your day! Plus, it's just a hop, skip, and a jump away from Kilkenny Castle, making it the perfect base for your Kilkenny escapades.
Apartment, Kilkenny City
For those who prefer the hustle and bustle of city life, the centrally located Apartment, Kilkenny City, is a fantastic choice. Situated right in the heart of the action, you'll be within walking distance of Kilkenny Castle and the city center. It's the perfect home base for exploring all that Kilkenny has to offer.
Knockreagh Farm Cottages
Looking for something a little more secluded? Look no further than Knockreagh Farm Cottages. With its hot tub, sauna, and beautiful garden, this place is an oasis of relaxation. It's a bit outside Kilkenny City, but the tranquility and amenities make it well worth the short journey.
Kilkenny Hibernian Hotel
Get ready to experience the lap of luxury right in the heart of Kilkenny city! The award-winning Kilkenny Hibernian Hotel is the place to be, with its posh rooms, Harper's Restaurant, and not one, but two fabulous bars. And guess what? It's practically neighbors with the legendary Kilkenny Castle and the trendy Kilkenny Design Centre. How's that for location, eh? So, if you're craving a stag party location in Ireland with a taste of traditional charm with a vibrant city buzz, this is the spot for you!
Is Kilkenny a nice city?
Ah, sure, Kilkenny is an absolute gem of a city! It's a place filled with history, vibrant culture, and friendly folks perfect for Kilkenny stag weekend. You'll be charmed by its medieval streets, lively pubs, and warm atmosphere. Whether you're wandering around the castle or exploring the cobblestone alleys, Kilkenny is sure to leave a lasting impression on you. So, the answer is a resounding "Yes!" – Kilkenny is one mighty nice city!
Is Kilkenny the most luxurious city in the world?
Now, wouldn't that be a fine thing? While Kilkenny is undoubtedly a city of elegance and grace, it might not take the crown for the most luxurious city in the whole wide world. But hold your horses! It's still a stunner! In fact, Kilkenny snagged an impressive 16th place on the list of most luxurious cities worldwide based on its size. According to a fancy international study by Money.co.uk, Kilkenny has been voted one of the most lavish cities around. So, while it might not top the charts, it sure knows how to impress!
Does Kilkenny have a shopping Centre?
Absolutely! Kilkenny's got a shopping Centre right at its heart, and it's a cracker! Market Cross Shopping Centre is where the magic happens, boasting over 40 shops spread across three floors. You'll find all your favorite brands nestled in this shopping haven. And when your shopping bags start to weigh you down, fear not! There's a grand selection of food outlets to grab a bite and refuel. So, there you have it – shopping enthusiasts will feel right at home in Kilkenny!
More Accommodation Options in Kilkenny City!
Kilkenny Ormonde Hotel
Calling all knights and fair maidens, the Kilkenny Ormonde Hotel is your gateway to medieval magic! Right smack in the heart of Kilkenny's enchanting city, this 4-star beauty is just a hop, skip, and a jump away from all the best spots – the main street, restaurants, shops, and of course, the iconic Kilkenny Castle. Complimentary WiFi and 24-hour room service? Oh, you betcha! Plus, did we mention the 21m pool with a kids pool for the wee ones? There's even a Jacuzzi, sauna, steam room, gym, and aerobic studio to keep you feeling top-notch! So, saddle up and get ready for a royal stay in Kilkenny!
Carrigeen Glamping
If you're up for a unique experience, Carrigeen Glamping is calling your name! Embrace the great outdoors while still enjoying the comforts of a cozy bed. Wake up to a breakfast basket waiting for you, and you'll be ready to tackle the day with enthusiasm!
Tig na Coille B&B Country House
Tig na Coille B&B Country House exudes a warm and welcoming vibe, making you feel right at home. The serene garden and shared lounge are perfect spots to unwind and share stories with fellow travelers. Just a short distance from Kilkenny Castle, it's an excellent option for a comfortable and friendly stay.
Glamping at Treegrove
Last but not least, we have Glamping at Treegrove, where you can immerse yourself in nature without compromising on comfort. With free WiFi and private parking, you'll have the best of both worlds – a peaceful retreat and a chance to explore the beauty of Kilkenny.
Rest Like Kings!
From quaint guesthouses to charming glamping spots, Kilkenny City offers a variety of accommodation options that cater to every taste. So whether you're seeking a historic hideaway or a nature-filled escape, these delightful spots will ensure your stay in Kilkenny is nothing short of magical. Book your accommodation in Kilkenny City and get ready for a grand adventure filled with the warmest Irish hospitality and the craic that only Kilkenny can provide! Sláinte!
But enough talk – time for action! Pick up that phone, book a session for your stag party in Ireland, and get ready for the time of your life. Trust me, you won't regret it!