A Guide for Pub Crawls and Beers in Galway
It's a simple rule of thumb, lads: never put your faith in a fella who's sitting in a pub with an empty hand! If he's not holding a pint or a whiskey, then he's either a teetotaler or a shady character, and neither of those are good company for a proper Irish pub crawl in Galway!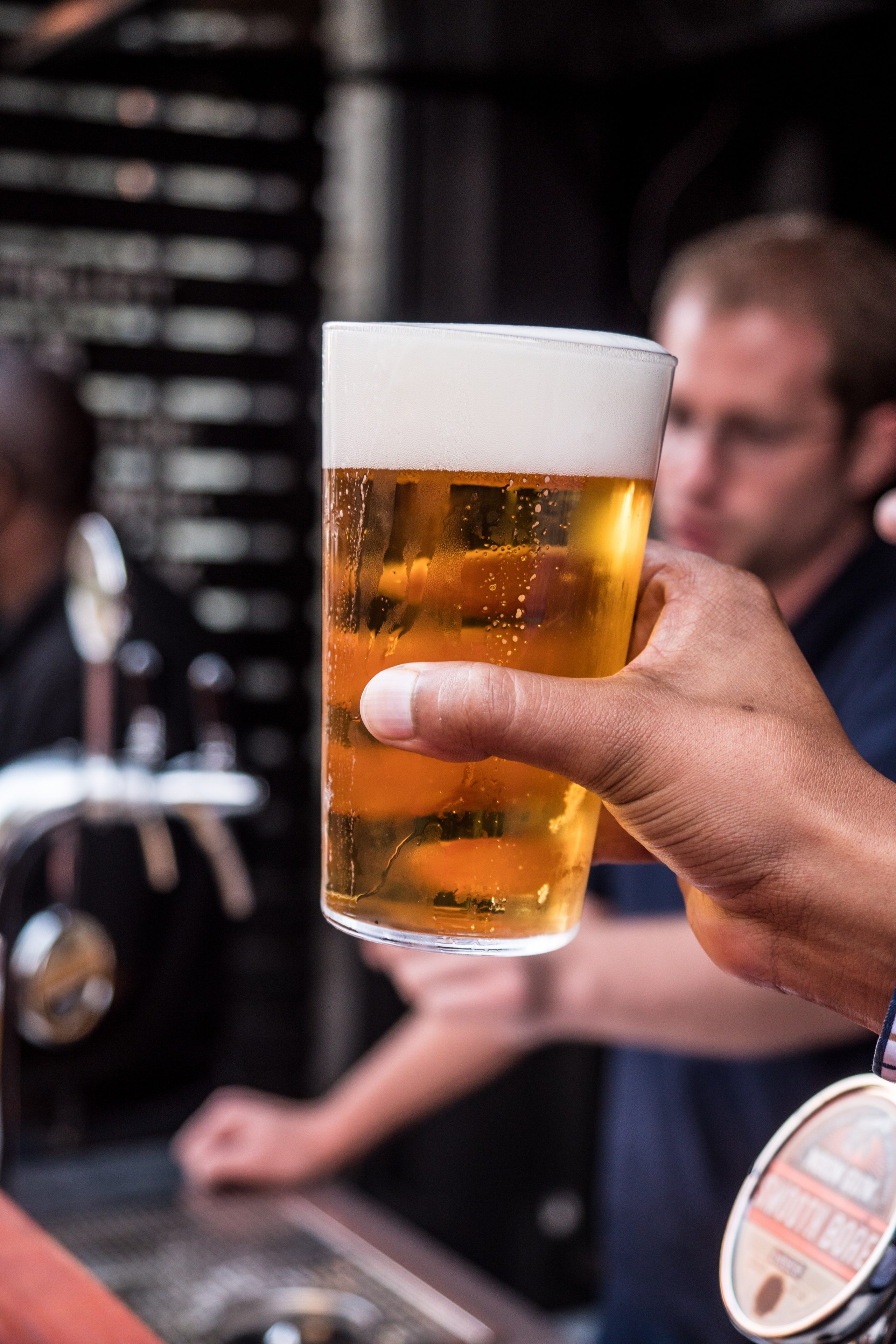 So, if you're out and about with the lads on a proper pub crawl, you can't be letting the groom-to-be miss out on the fun! It's the mark of a true best man, after all. And if you're looking for a spot to do it right, there's no better place than Galway. Make sure to check out Galway Stag Party Packages! 
So why Galway? 
Galway, the Pub Crawl Destination
It's a tradition as ancient as the hills, but you know what? There's more than enough reasons to fall head over heels for Galway as the ultimate pub Galway crawl spot! 
Galway got the best pub scene you won't find in any other place. Imagine walking in a long street of pubs and crawls –

we bet you won't make it through the end! 

The music? You'll be  stomping along like a mad leprechaun!

Of course, Galway's got its own brews and spirits. Top-notch drinks that'll put some hair on your chest!

Galway's gonna make you feel like mammy's home. It's really the warm and friendly vibe of Galway's pubs that really sets 'em apart. 
There's no way you don't want to experience this good stuff, ya? So, here's how you plan a good pub Galway crawl. 
Planning Your Pub Gawlay Crawl
(Three things you should know!)
There's no such thing as too much time spend in a pub Galway
Galway's the place for a stag party with loads of craic in the summer. The town is full of tourists and activities. But for a chill pub Galway crawl, come off-season. Whatever you choose, take note: Timing is key.
The more pubs, the more chances of finding that pot of gold at the end of the rainbow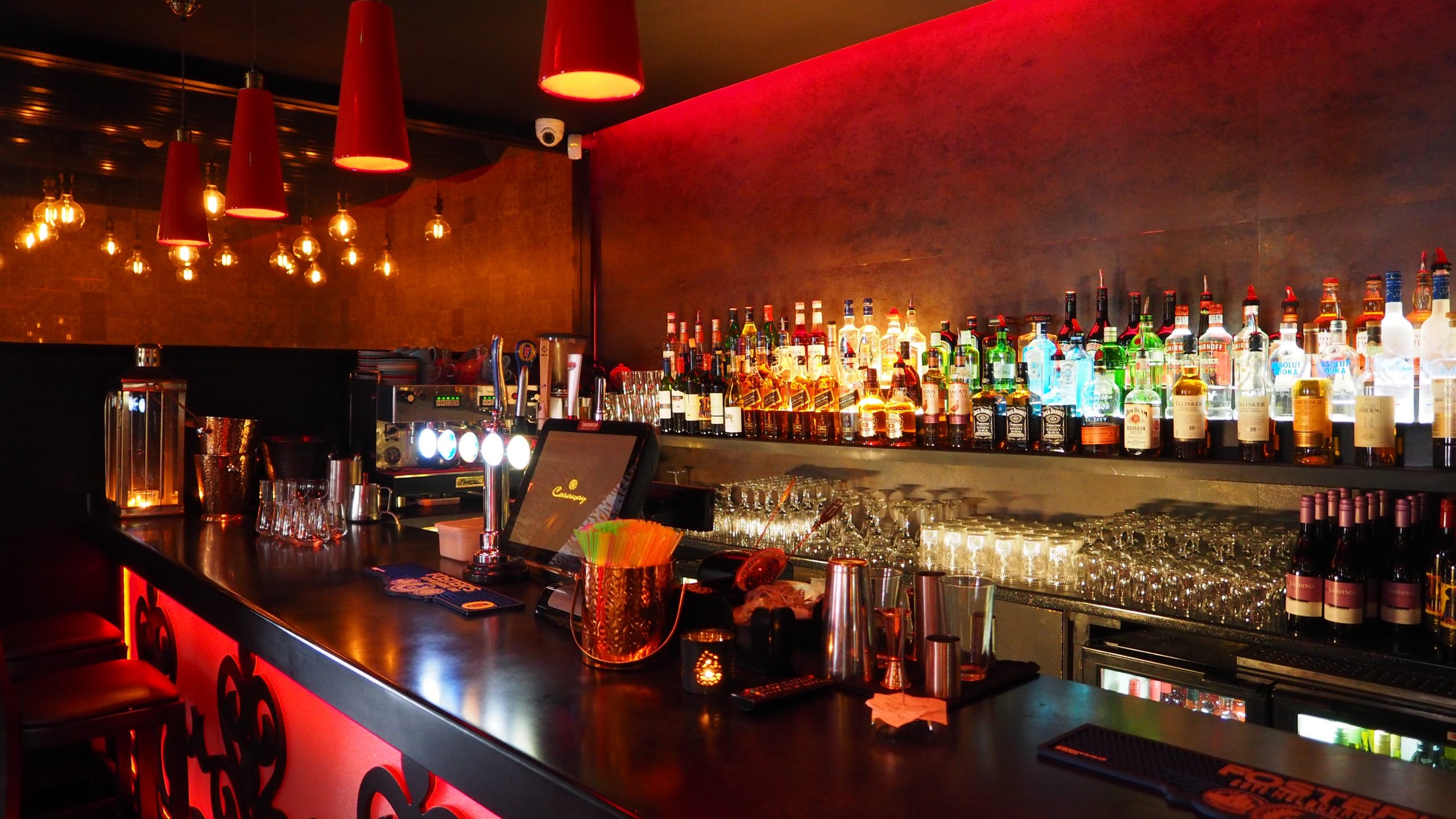 When it comes to pub crawling in Galway, you better use your noggin' and pick your targets wisely. There's no scarcity of pubs Galway 'round these parts, so don't get too greedy, now! We'd recommend hittin' up about 3-5 pubs, depending on how much time you wanna spend in each. That way, you can have a grand ol' time without ending up sloshed like a bag of spuds! 
Just a heads up: You better book ahead, unless you fancy begging a pub Galway on your knees to let you in! It's not a grand sight, we tell you that!  
Try not to crawl too far. Know the routes!
You've sorted out the big decisions like a real big man (or maybe not, check out the list of the best pubs in Galway below), so the next step is don't take the word 'crawl' literally. Be smart enough to do proper research on the routes you'll be taking for your stag party. 
Galway's Best Pubs
Here's a short checklist for a grand pub Galway: ✔trad music, ✔craft beers, and ✔late-night party scene. 
The Quays Bar
The Quays Bar is a jewel in the crown of Galway city! (Just 5-min. Walk from Eyre Square). This pub Galway has been a landmark of Galway city for over 400 years, and it is located on the banks of the River Corrib. It has a traditional Irish atmosphere, with live music and a friendly crowd.
What to expect: You can expect to find a good selection of beers, whiskeys, and traditional Irish food.
Special features: The Quays Bar has a great outdoor seating area with views of the river. They also have a whiskey bar upstairs with over 100 different whiskeys to choose from.
Price: The prices are reasonable, with pints of beer starting at €5.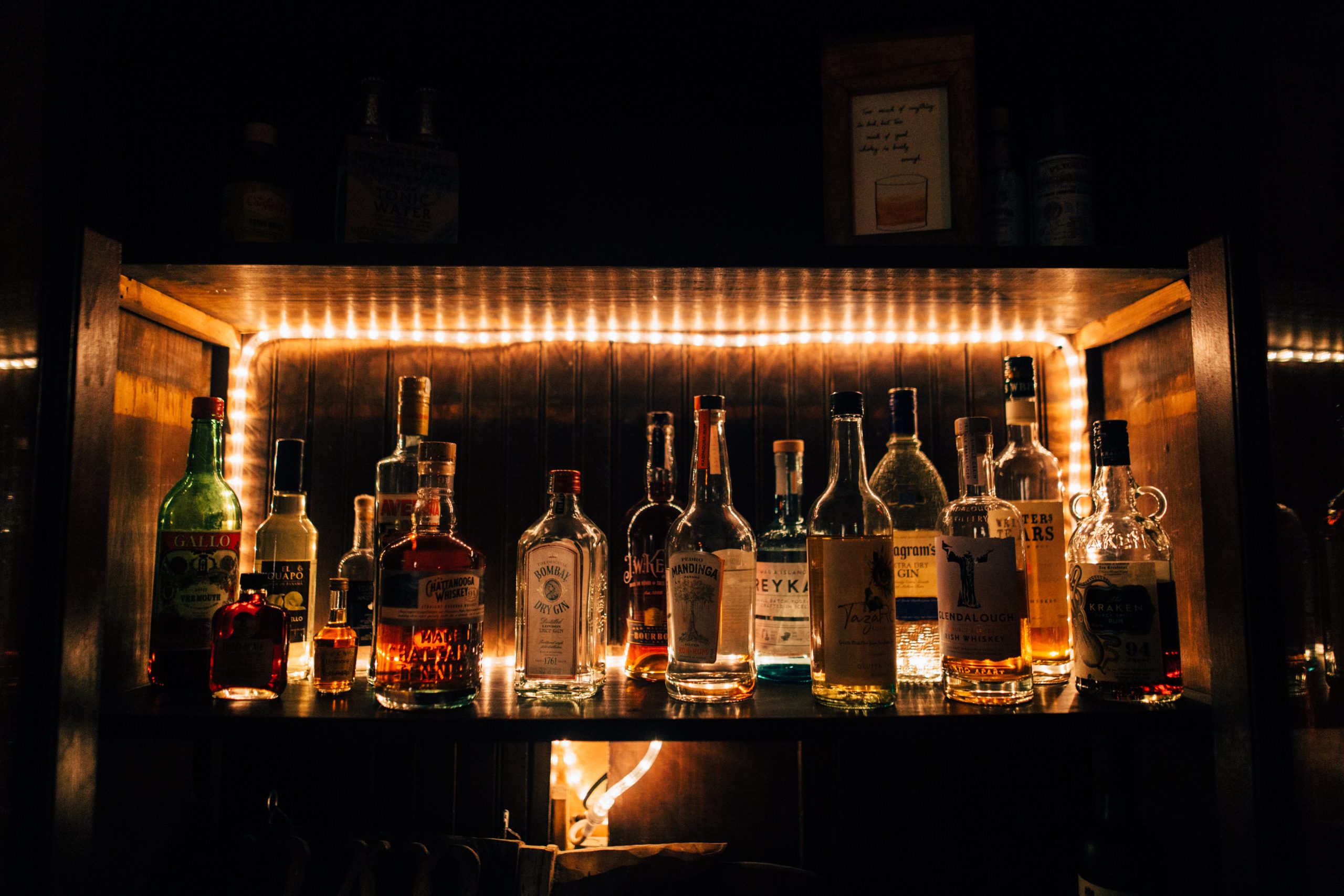 Tig Coili
Tig Coili is located on Mainguard Street, just a few minutes' walk from Eyre Square. This pub Galway is known for its traditional Irish music sessions, which take place every night. The atmosphere is cozy and intimate, with a mix of locals and tourists.
What to expect: You can expect to find a good selection of beers and whiskeys, as well as traditional Irish food.
Special features: Tig Coili has a great selection of traditional Irish music and hosts sessions every night. They also have a whiskey bar upstairs with over 150 different whiskeys to choose from.
Price: The prices are reasonable, with pints of beer starting at €5.
The Kings Head
The Kings Head is located on High Street, just a few minutes' walk from Eyre Square. This pub Galway has a historic feel, with parts of the building dating back to the 13th century. The atmosphere is lively and fun, with a mix of locals and tourists.
What to expect: You can expect to find a good selection of beers, whiskeys, and traditional Irish food.
Special features: The Kings Head has a great outdoor seating area, as well as a whiskey bar upstairs with over 80 different whiskeys to choose from. They also offer whiskey and beer tasting sessions.
Price: The prices are reasonable, with pints of beer starting at €5.
So, here it is – the three pubs to start off your pub Galway crawl. That's already 80% of the work, and the 20%, well, let's deal with the drinks and food!  
What to Drink in Galway
Irish beers like Guinness, Smithwick's, and Kilkenny's are all popular choices, with each offering a unique taste and experience. But let's be real, Galway is more than that! For those looking for something a wee different, the Galway Bay Brewery's craft beers are a must-try.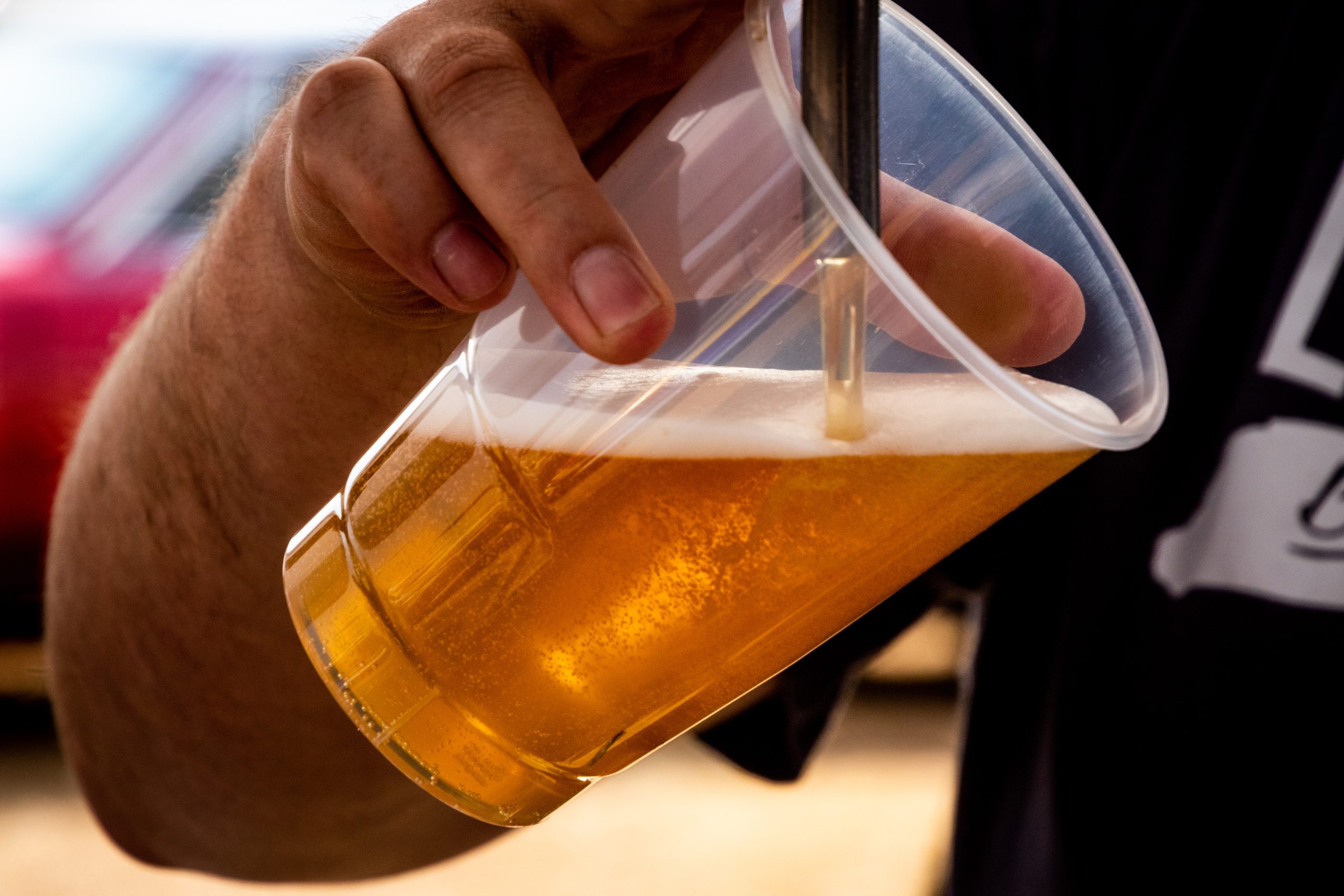 The Full Sail IPA

– a popular beer with a bold, hoppy flavor and a citrusy aroma

The Althea

– a Belgian-style saison with a spicy, fruity taste

Buried at Sea Oatmeal Stout

–  a beer with a dark, smooth stout with a rich, creamy texture with some flavor notes of coffee, chocolate, caramel, and sweetness from oats. 

Of Foam and Fury double IPA

– a strong, hoppy IPA with a bold, bitter flavor and a high ABV of 8.5%, blended with American and New Zealand hops.

Bay Ale amber ale

– has a balanced deep amber color and a malty, caramel flavor with a moderate ABV of 4.4% and a subtle hop profile.
Food to Eat in a Pub Galway
Satisfy your hunger during a pub Galway stag party with the must-have foods on this list: 
Fish and Chips

: You'll never go wrong with crispy battered fish served with chunky chips. Classic but chef's kiss! 

Bangers and Mash:

Comfort food you say? Nothing beats this Irish sausages served atop a mound of creamy mashed potatoes.

The perfect beer combo! 
Guinness Beef Stew:

if you can't get enough with that pint of Guinness, throw it in some pot and slowly cook the beef to warm your belly and put a smile on your face! 

Boxty:

Be hopping pubs to pubs? You better bring some snacks – get these Irish potato pancakes to keep you sound from your hunger!
Now, we're not ones to cast judgment, but when the drink starts flowing and the craic is mighty, it's all too easy to go a bit bonkers! Ah, but no worries, lads, here's a friendly heads up. Remember to keep it safe and sound while you're out having a grand ol' time.
Safety Tips for a Pub Galway Crawl
Drink with a dash of common sense! 
Don't go charging in like a mad bull at a gate, taking on more than you can handle. Pace yourself now, and remember to wet your whistle with a drop of water between sips, unless ye want to wake up with a head the size of a leprechaun's pot o' gold.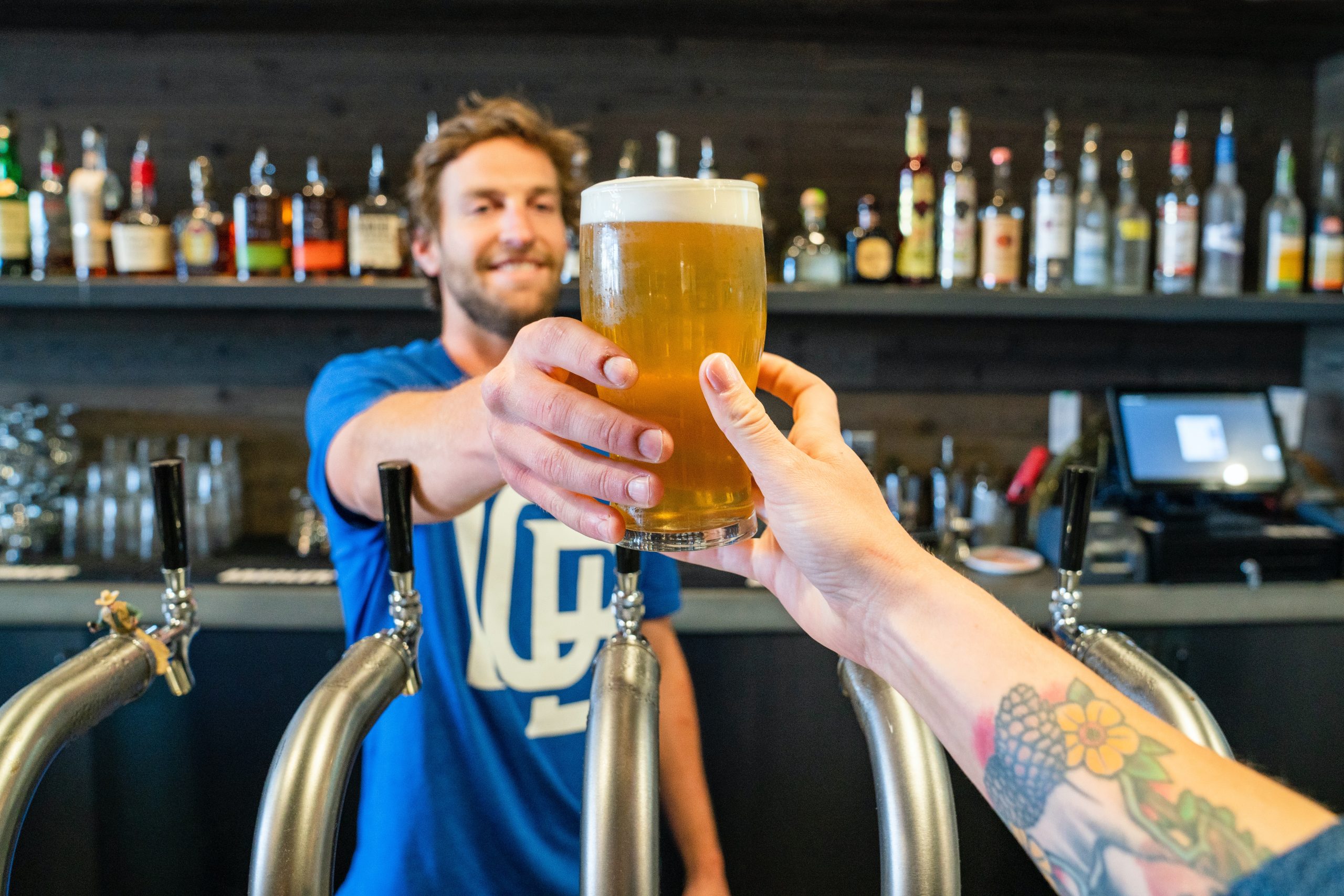 And for the love of St. Patrick, don't be drinking on an empty stomach, unless ye fancy a row with a banshee in the morning!
Be like a flock of sheep – stick together!
It's grand important yo stick with your crew like a pack of wild sheep. No wandering off on your lonesome, now! Swap yer contact deets with the gang and have a cunning plan in place for reuniting if any of ye get lost in the sauce. 
Just be aware. 
Galway is grand altogether, but it's always best to have your wits. Stick with your mates, for safety's sake, and never wander off on your lonesome after dark. And if some stranger comes your way, just give 'em a good old fashioned Irish eye and keep on walking. 
Galway is a grand spot for a pub Galway crawl, me friend! With its lively pub culture and tasty brews, you'll be spoiled for choice from the traditional taverns to the hip craft breweries. Just be sure to keep your wits about ya and take it handy, for the pubs in Galway can be mighty inviting!
A pub Galway crawl is sure to be a memorable experience. Ready to raise the glass for a pub Galway crawl? 
Go for Gold: Organising an Epic Stag Olympics Weekend in Galway
Dust off your fanciest tracksuits and get ready to show off your mad skills, 'cause we're goin' for gold!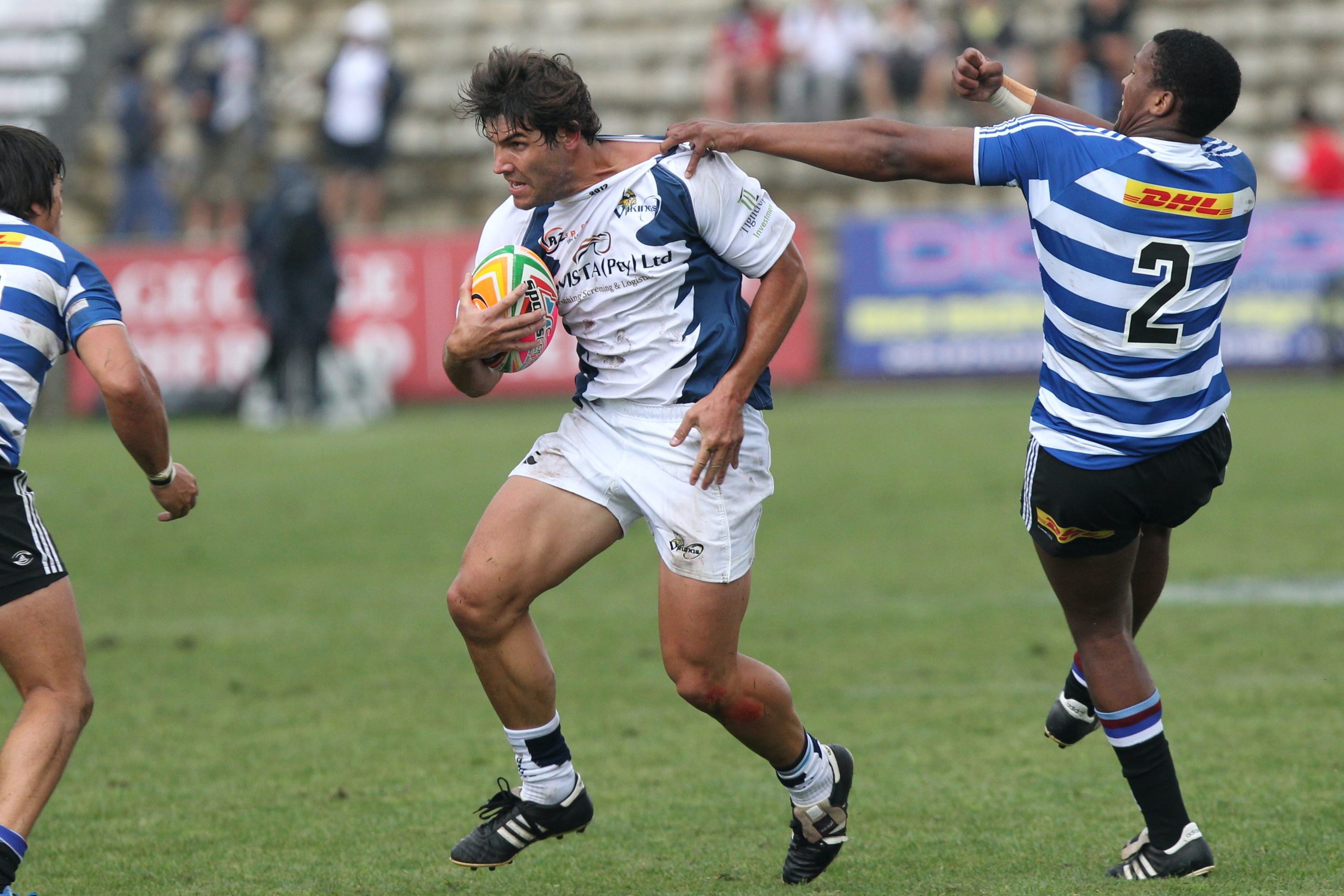 Stag Olympics Galway – the perfect stag party Galway idea where you can dump in everything, and it ain't that complicated to organise. Remember, Galway is already the perfect spot for all the "fun" stuff, so you'll have everything you need, there and there. 
And if the groom-to-be is one heck of a sporty lad or just mad craving for adrenaline, then why bother looking for other stag party ideas? 
if you're planning for a longer stag party olympics Galway, find a place to stay. Check out our trusted accommodation in Galway and get the best deals. 
What do you need? 
The Game
Ask your lad what he likes. This stag party is for him, not for you. And if this is a surprise, shouldn't the best man already know this? Well, let's take a quick How-well-do-you-know-your-lad kind of survey, shall we? 
Is he a sports guy?

Yap! Then,

do a Sports-theme Olympics. Maybe a five-a-side footy tournament, a rugby sevens match, or even a basketball shooting competition. Just be sure to remind 'em that the winner buys the first round of pints!
Is he a proud Irish man by heart?

Sure, he is. So you should organise a Traditional Irish Olympics and play Gaelic football, hurling, and of course tug of war. 
Does he like water? (

He's a merrow!)

If yes, go to the Atlantic coast and try the obvious choices you got there like kayaking and paddleboarding. 
Is he the smartest in the group?

Well, you can prove that with some puzzle and problem-solving activities. Galway has grand gaffs for escape rooms and scavenger hunt. 
Does he drink booze like water?

Bet he does, so give him a drinking stag olympics Galway. Nothing much to explain here. You get it right? 
The action plan 
It's simple.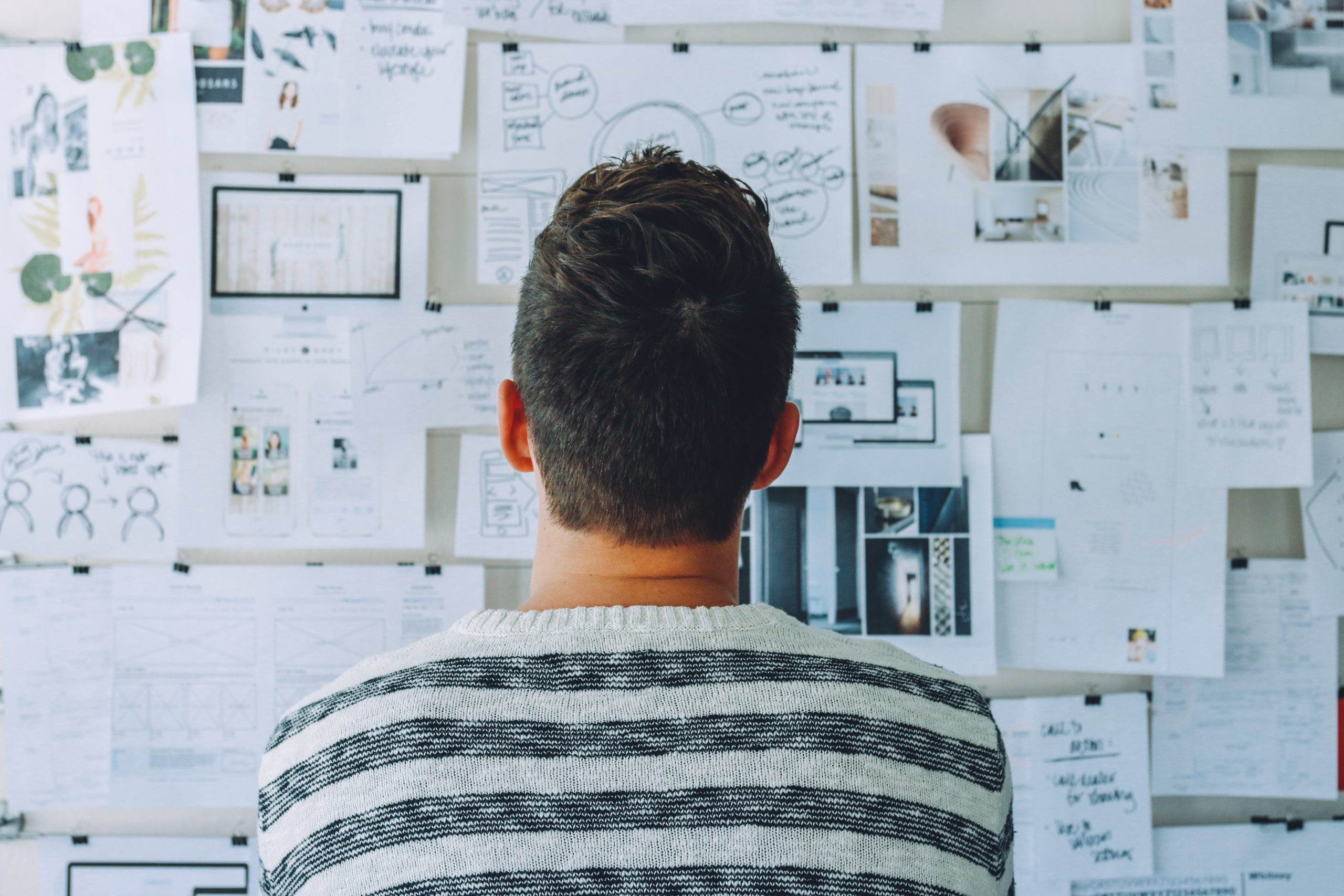 Step. 1 – Set the date and time. 
Step. 2 – Choose the game theme. (Or maybe mix them up. Check our sample itinerary below.)
Step 3 – Have an epic Stag Olympics Galway!    
That easy? Sure! But to make it as easy as drinking a pint of Guinness, here's a sample itinerary for a stag olympics Galway. 
Sample Stag Olympics Galway Itinerary
Take note: This is a full-day shenanigans. You can have it half a day or hrow some on the other day. All up to you! 
Dean's Stag Olympics Galway Itinerary
9:00 AM – Arrive at the designated meeting point and fuel up with a hearty Irish breakfast.
10:00 AM – Sports-themed activities begin. Divide the group into teams and rotate through a series of sports activities, such as five-a-side football, rugby sevens, and basketball shootout contest.
12:30 PM – Break for lunch. Head to a local pub or restaurant for some traditional Irish cuisine and a pint of Guinness.
2:00 PM – Afternoon activities begin. Choose from a variety of water sports, such as surfing, kayaking, and paddleboarding.
4:30 PM – Puzzle and problem-solving activities. Finish off the day with an escape room challenge, a scavenger hunt, or a treasure hunt.
7:00 PM – Return to the accommodation to freshen up for the evening's festivities.
8:00 PM – Dinner and drinks. Enjoy a delicious meal at a local restaurant, followed by a night out on the town. Visit some of Galway's famous pubs and bars for a night of craic and banter.
12:00 AM – Return to the accommodation for some well-deserved rest.
To make it even fun …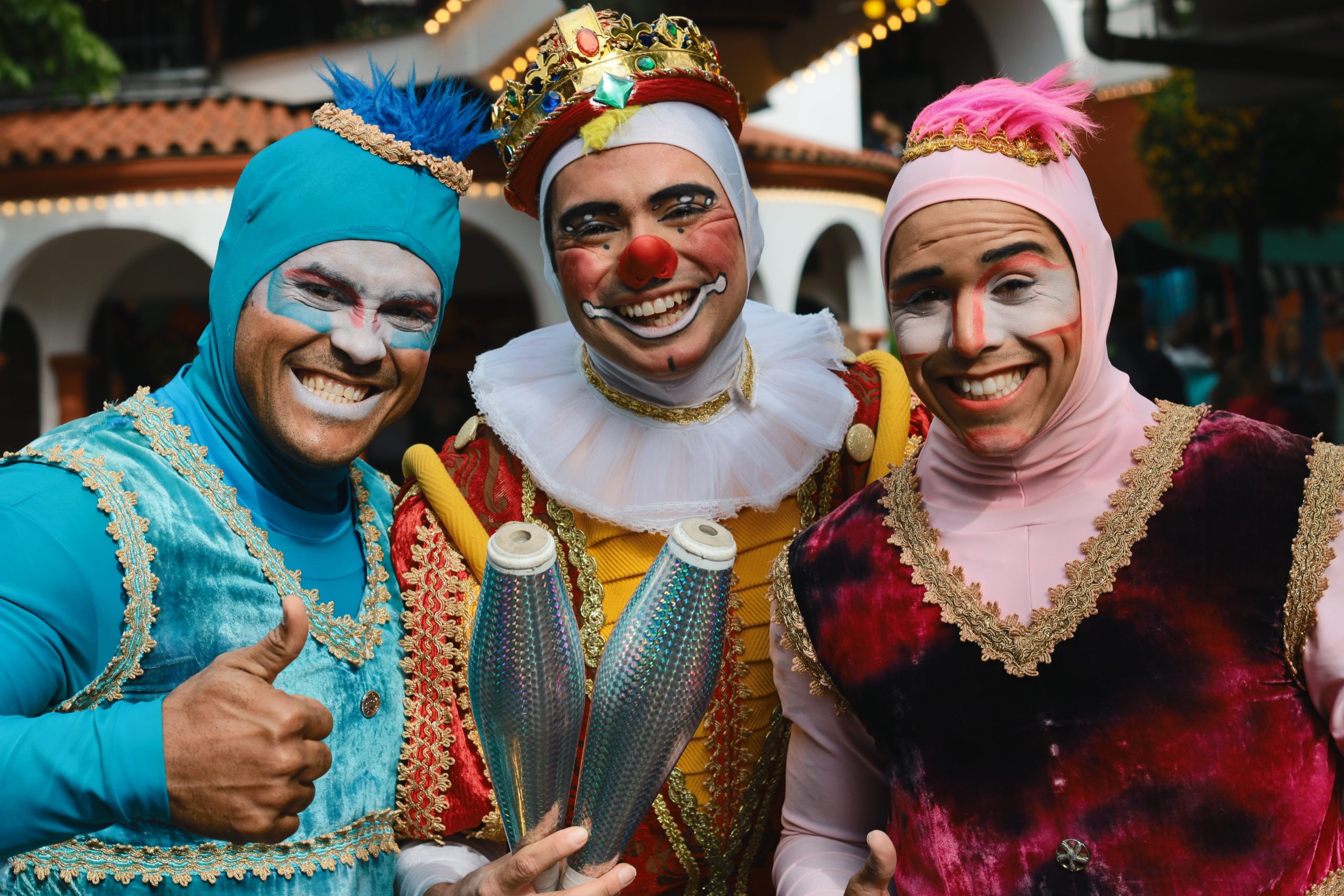 Get the lads to do some daft costumes or create team names and logos to raise the stakes and add to the fun. And sure, why stop there? Give out prizes for the likes of "best team name" or "most competitive" to really make it a day to remember. It'll be a grand old time, so it will!
There you have it
Everything you need to know to organise, not just a simple, but an EPIC stag olympics Galway weekend for the groom-to-be. It's the grandest way to celebrate the last night of freedom for your lad, with plenty of activities to keep you busy. 
Mind you – there's gotta be a tiny-bitsy effort to pull this off. If you don't want to give such, we can help.  
Locked and Loaded: The Ultimate Guide to Paintballing in Galway for Your Stag Party Craic
You heard of PUBG and COD, haven't you? Aye, those are for wee boys with no hair on their chest. If you wanna be a real man, you need to taste some real action and feel some real pain! And where better to do that than in the great city of Galway? stay tune for an ultimate for your  paintballing in Galway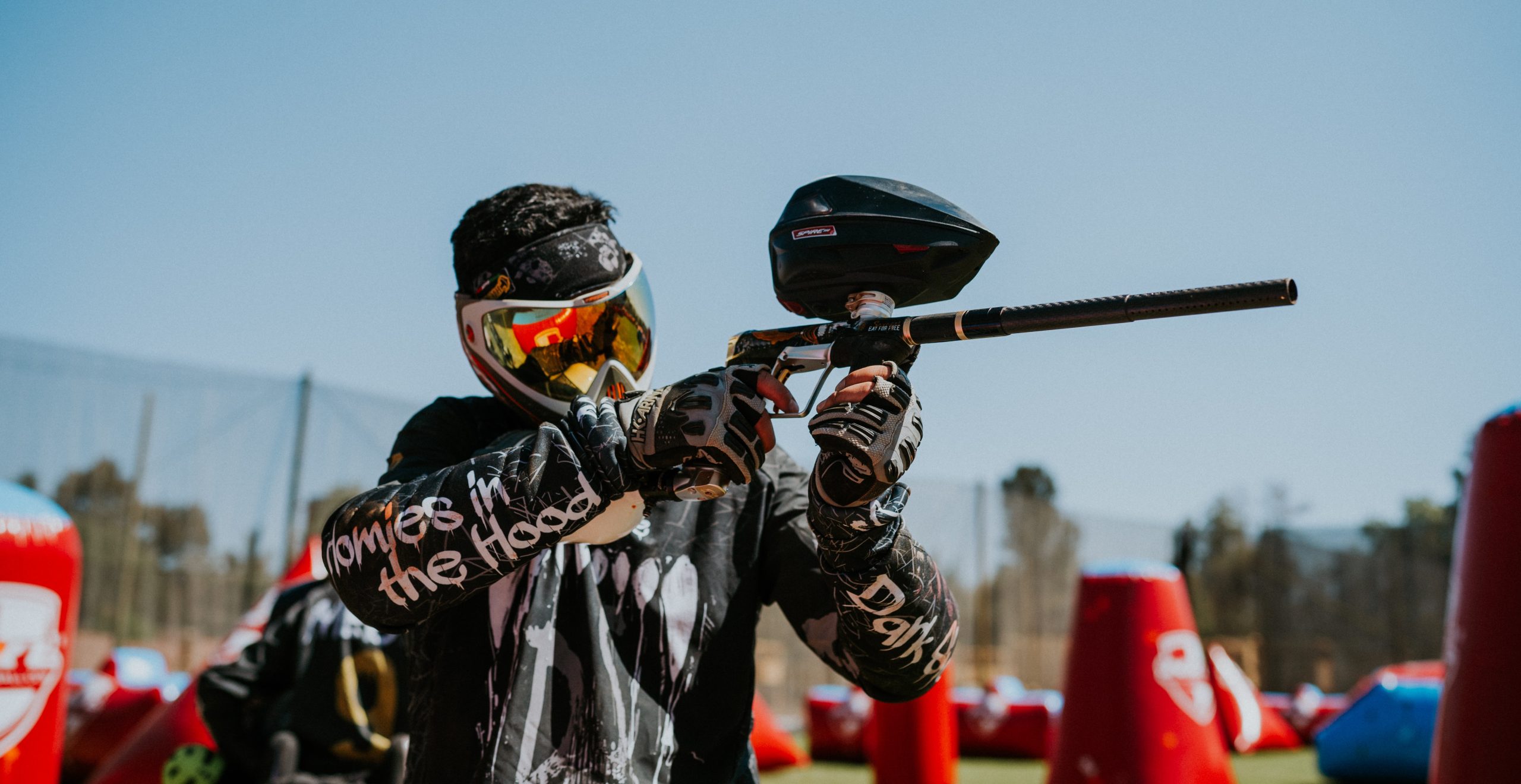 Whether you fancy becoming the next Jack O'Connell or just want to try something different, grab your gun and head out for a weekend of paintballing Galway! You won't regret it, trust us.
Looking for other stag party shooting games? Check out our stag party packages.
Why go Paintballing Galway for your stag party?
It's a real man's game! 
It's not just about shooting each other with balls of paint – no, no, no – it's all about the team effort, strategy, and banter that comes with it. And what better way to bond with your pals than by pelting them with paint and running around like headless chickens?
C'mon, it's real-life Battlegrounds! 
Paintballing Galway a high-octane activity that'll make you feel like you're in the middle of a battle at the Cliffs of Moher.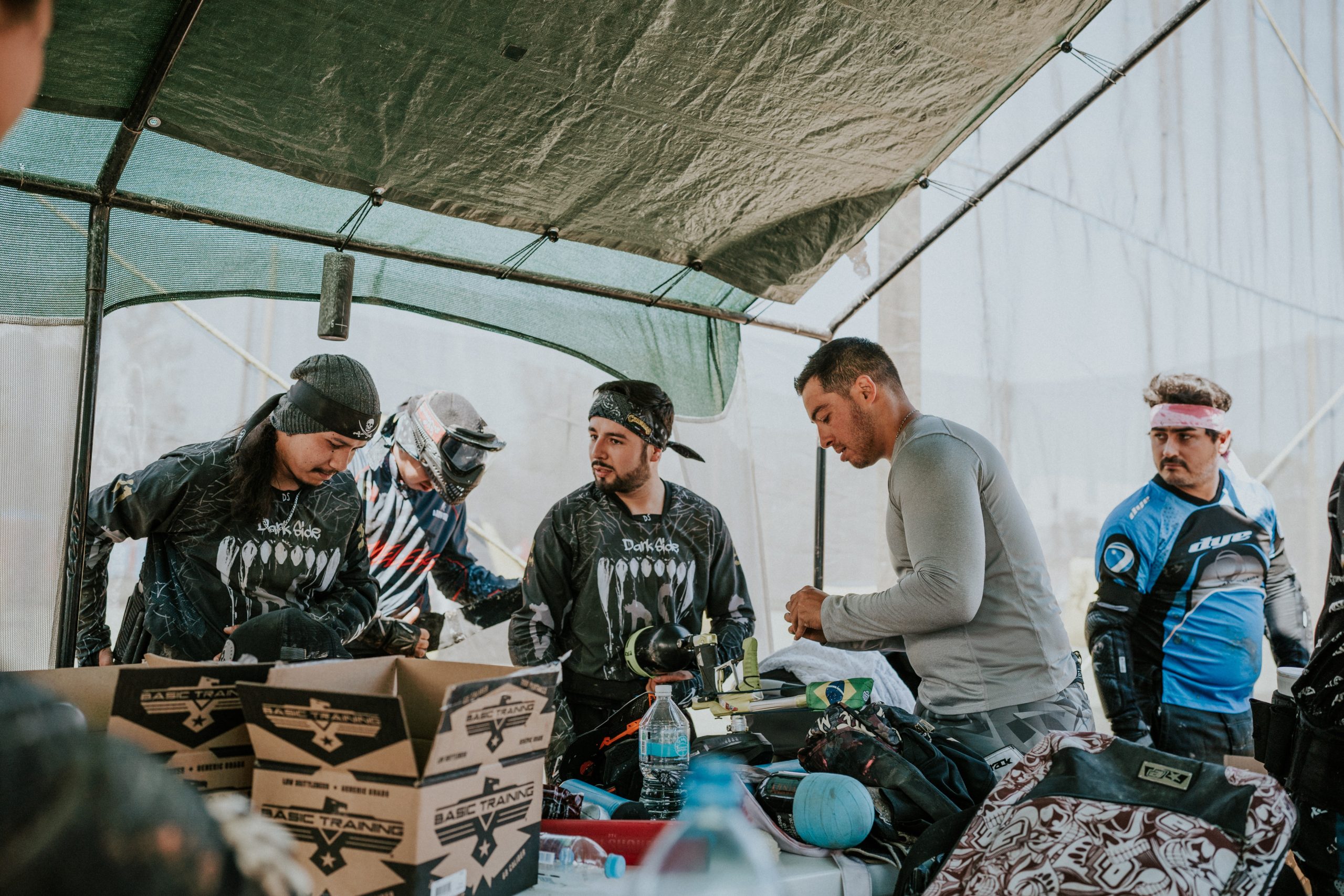 The thrill of dodging enemy fire and outmaneuvering yer foes will make you feel like a true Irish warrior. And when ye finally eliminate the opposition, ye'll feel like ye've conquered the Emerald Isle itself!
A one-time moment? We don't think so.
You'll be shooting paint bullets left and right, dodging like a leprechaun on the run, and making memories that'll last a lifetime. The experience is so unique and thrilling that it'll probably won't be the last time you'd play it with the gang. We're pretty sure you'll come back for more! 
Venue Recommendations for Paintballing Galway
Choose the "perfect" venue or be disappointed as a cow on a dry day. No one wants to be caught in some boggy field, dodging paintballs that shoot as weak as a newborn kitten's meow. It's a recipe for disaster, so make sure you're choosing a spot that'll give you a good blast and not leave you feeling like a wet sock.
The Jungle in Oranmore
First stop is just 10 minutes from Galway city center. You'll be trying paintballing Galway here in a lush forest setting. 
How to Get there: Take the M6 eastbound towards Dublin, then take exit 19 for Oranmore.
Price: starts at €25 per person for 200 paintballs (pretty nice price, right?) 
Action Park Paintball
Well, if you wanna move away from the city-center, head to Action Park Paintball. In this place, you'll be choosing game scenarios in a purpose-built arena. 
How to Get there: Take the N84 towards Headford, and the venue is just a few kilometers outside of Galway city.
Price: starts at €25 per person for 200 paintballs
West Coast Adventure
A nicer view? We heard you. Here we have the West Coast Adventure. By the name itself, you know you'll have the best view. 
How to Get there: Take the N59 westbound towards Clifden, and the venue is just outside the village of Barna. 
Price: starts at €20 per person for 200 paintballs
Shooting Techniques 
TEST YOUR GUN FIRST.

Best to take a few practice shots beforehand. Don't be worrying about accuracy just yet, just watch that wee ball and get a feel for how far she'll travel. But once she starts to drop, you'll be wanting to get in close, 'cos the chances of her breakin' on some poor, squishy human target be dropping, too. 
So don't waste your time, ammo, or good cover just to try to shoot your lad who's out of range.
KEEP MOVING

. Play hard, there's no sense in being a "sniper" and sitting in the back. The other side will be darting and dodging your shots left and right and they'll probably bounce if you get a lucky hit. If you want to come out on top, you need to be moving and playing with some gumption. Did we mention keep moving? 
DON'T FIRE AT A MOVING TARGET.

Fire at where he's going  even if it means lobbin' one at his wee bunker when he's only a stone's throw away. He'll be forced to take a dip in the stream or make a detour, which is just about as grand, don't ya think?
Bonus: DO A PROPER RUN!

Caught in the crossfire? Give up your mask and shift your gun to the opposite side of your body. A good thump to your skin might leave a mark, but a smack to the plastic and metal is less likely to do harm.
Hey! Right here is a jackpot. If you do all these shooting techniques, you'd be a general of the day. But don't just thank us yet because how in the world do you actually win this game? Well, know your score machine!  
Scoring 
It's simple, "The team with the highest number of eliminations at the end of the game wins." Here are some ways to score in paintball:
Eliminating opponents
The easiest way is to send your opponents packing. Give them a good splatter with a paintball and they'll be out of the game faster than you can say "top of the morning!" Sure, there's no need to complicate things with fancy tactics or strategies – just aim and fire! 
Capturing the flag
In some of them paintball battles, it's not just about shooting your opponents with colorful pellets – no. You gotta show some brains too, 'cause there are flags and objectives to capture! And if your team can manage to nab that flag and haul it all the way back to your base, well then, you've earned yourselves some points! 
Holding a position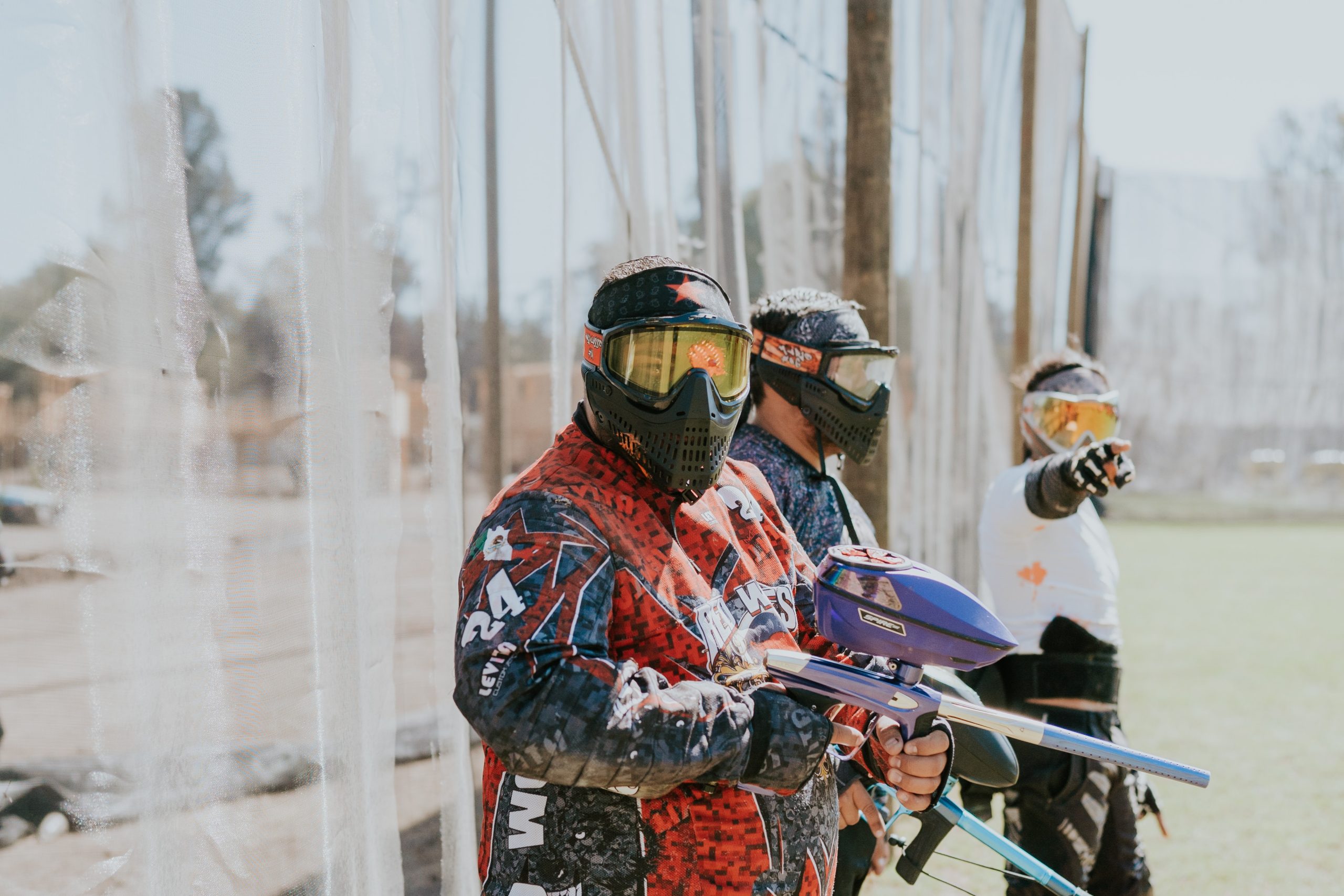 By simply squatting in a particular spot, you earn some points. If you're playing chicken and a wee bit nervous, manage to stay put in your designated area for a decent stretch of time, you might just find yourselves on the scoreboard.
Rescuing teammates
If you're playing one of those games where your mates are getting nabbed by the other team, it's up to you to rescue 'em! And if you manage to drag your poor mate back to your own base, you'll earn yourself some points.
Completing objectives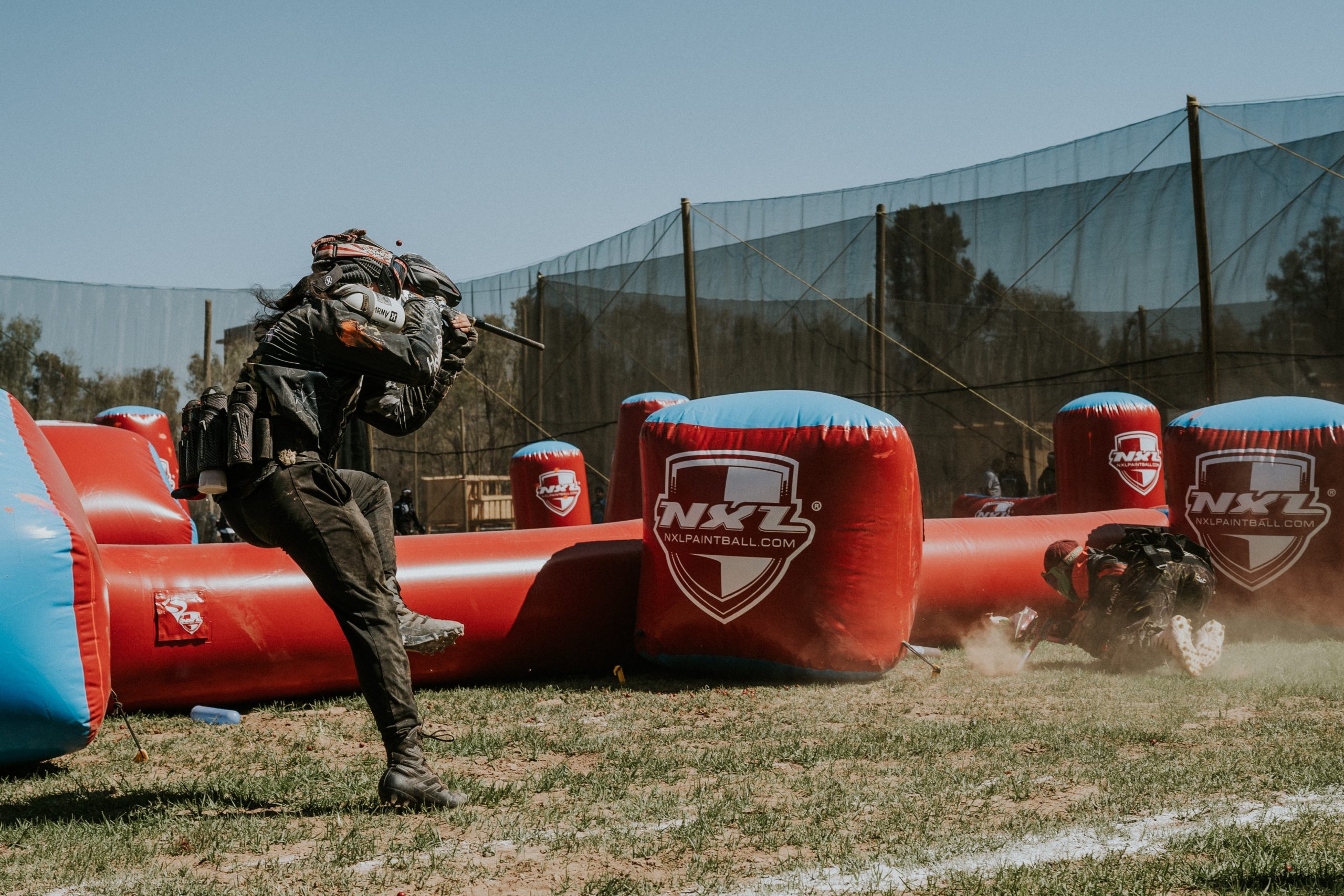 Sometimes you have to do more than just kick a ball around or run like a madman to score some points. For instance, you might have to obliterate some object or give a good whack to a particular opponent to make the scorecard sing. It's all about strategy.
Speaking of objectives, we know you're planning a fun and crazy Paintballing Galway stag party with your lads. But you gotta keep it fair and safe! 
Rules and regulations 
FYI for those who don't know already … when you get whacked with a paintball, your soul will be leaving your body faster than a ferrari because it definitely hurts! Okay, we know – that's where the fun comes, but … 
Be sure you play safe. Here's a few notes to keep. 
Safety first, Lads!

Let's face it, getting hurt on the field is no laughing matter… unless you count the time Bobby got tackled by a rogue squirrel.

No shooting eliminated players.

Come on, let's keep it fair, folks! We're not in the Wild West here.

No firing at close range.

We're not trying to give each other a makeover with paintball, people! Let's keep it safe and hilarious out there! 

Deal with your anger issues.

No smashing the gear, props, or environment!

And sorry, but you can't bring your own paintballs or markers – we've got plenty of those to go around. Let's keep the fun going without wrecking the place, okay?

Keep your head in the game, not up in the clouds.

No boozing or drugging before or during the game. Leave the alcohol and drugs at the door. 
Here it is – everything you need to know about paintballing Galway for your stag party. Not only will you get to shoot your mates with some high-powered guns (safely, of course), but you'll also get the best out of Galway. 
Sure, there's nothing like a little friendly competition to get the blood pumping and the banter flowing. So if you're up for some laughs, some action, and maybe even a few bruises, give paintballing Galway a go. Just don't forget to wear your cup!