Unleash Your Competitive Spirit: Experience Gaelic Games for Stag Parties in Ireland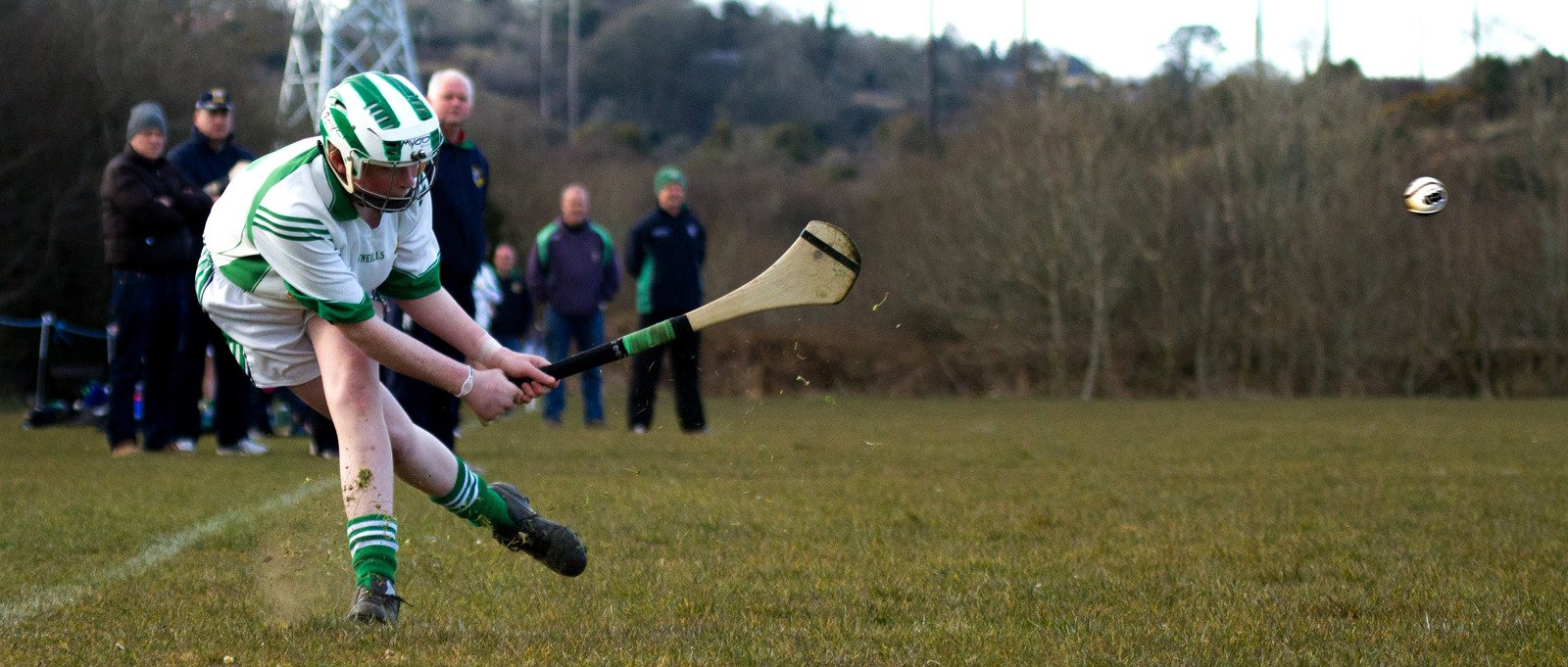 We're about to embark on a grand adventure that'll awaken your competitive spirits like never before. Picture this: a wild combination of fierce athleticism, Irish culture, and downright good craic. We're talking about none other than the magnificent world of Gaelic games!
Now, you might be wondering, "What are these Gaelic games all about?" Well, my friends, they're the beating heart of Irish sports and an integral part of our rich cultural heritage. Gaelic football, hurling, and camogie are the names you'll want to etch into your memories. 
The Thunderous Excitement of Gaelic Football
Imagine a blend of soccer, rugby, and a pinch of madness, and you've got Gaelic football. It's a game where the ball is kicked and punched, and players dart across the field like wild hares. Fast-paced and full of excitement, it's like a thunderstorm brewing in your veins.
The Majestic Artistry of Hurling
And then there's hurling, the jewel of our ancient ancestors. Picture wielding a stick called a hurley, gracefully swinging it like a warrior of old, and sending a small leather ball soaring through the sky. It's a thrilling spectacle that will leave you in awe.
A Cultural Journey
Gaelic games aren't just about kicking balls and swinging hurleys; they're deeply rooted in the historical and cultural fabric of Ireland. So, grab a pint, sit back, and let's dive into the captivating world where sports and Irish identity intertwine.
Gaelic games have been part of our Irish heritage for centuries. They harken back to ancient times when our forefathers would gather on lush fields, engaging in contests of strength and skill. Passed down through generations, these games have become a proud tradition, embodying the spirit of our land and its people.
The Ultimate Stag Party Experience
Incorporating Gaelic games into your stag party itinerary offers a host of benefits:
Gaelic games create moments you'll cherish for a lifetime.
Strengthen friendships through teamwork and healthy competition.
Tailored Activities and Packages
Choose from various options designed for stag parties.
Expert Guidance and Instruction
Experienced instructors ensure a safe and enjoyable experience.
Competitive Entertainment
Experience the thrill of Gaelic games with laughter and excitement.
Versatility and Flexibility
Games can be adapted to suit groups of all sizes and skill levels.
Make your stag party truly exceptional with the exhilaration, camaraderie, and laughter that Gaelic games bring. It's an adventure that guarantees unforgettable memories and lasting friendships. Get ready to kick, strike, and hurl your way to an ultimate stag party experience!
Choosing the Right Venue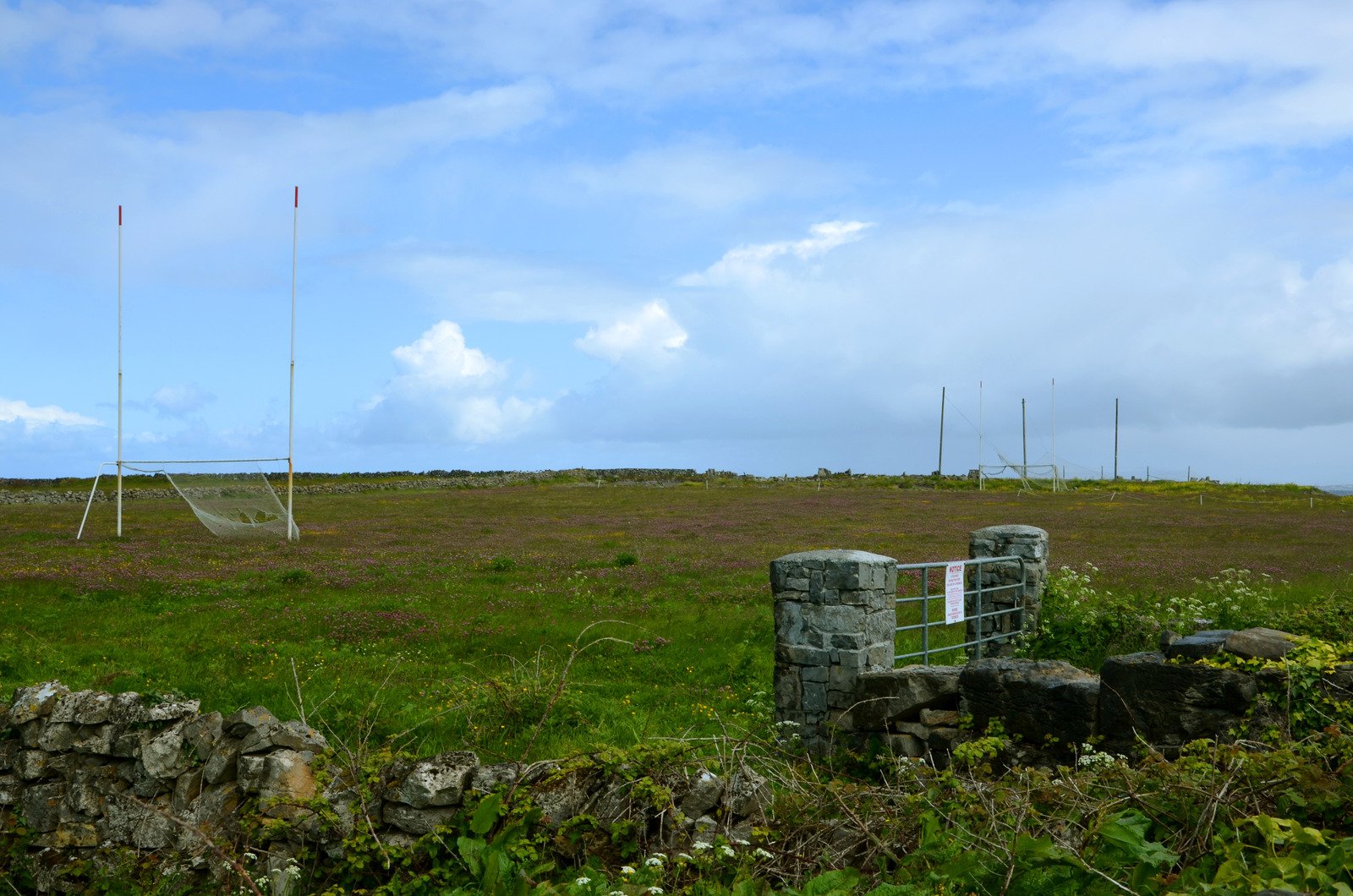 When it comes to Gaelic games, lads, choosing the right venue can make all the difference. Here are some key points to consider and popular venues in Ireland that offer Gaelic games experiences for stag parties in Ireland:
Importance of Venue Selection
The venue sets the stage for an authentic and enjoyable Gaelic games experience.

Look for venues that have dedicated facilities and experienced staff to ensure a smooth and memorable event.

Consider the location, accessibility, and availability of amenities when choosing a venue.
Popular Venues in Ireland
Croke Park
Welcome to the majestic Croke Park, the iconic home of Gaelic games located in Dublin. This legendary stadium holds a special place in the hearts of Irish sports enthusiasts, as it encapsulates the rich history and fervor of Gaelic football and hurling. Croke Park offers much more than just a sporting venue:
Explore the rich history of Gaelic games with guided tours of Croke Park. Learn about the iconic moments, legendary players, and the significance of this hallowed ground.
Engage in interactive exhibits that bring the spirit of Gaelic games to life. Test your skills, learn the intricacies of the games, and immerse yourself in the culture and heritage.
Experience the thrill of playing on the same turf where sporting legends have made history. Take to the field and create your own memories with a friendly game of Gaelic football or hurling.
Páirc Uí Chaoimh
Nestled in the vibrant city of Cork, Páirc Uí Chaoimh stands as a state-of-the-art stadium dedicated to Gaelic games. With its modern facilities and electric atmosphere, it offers an immersive experience that will leave you in awe:
Páirc Uí Chaoimh is a modern stadium that offers world-class facilities for Gaelic games. It provides a professional and immersive environment for your stag party.
Take a guided tour of the stadium and delve into the captivating stories of Cork's sporting heritage. Get a behind-the-scenes glimpse of the venue and soak in the electric atmosphere.
Test your Gaelic games skills on the pitch itself. Feel the rush of adrenaline as you kick points, strike sliotars, and experience the excitement of playing in a top-notch stadium.
Pearse Stadium
Immerse yourself in the enchanting world of Gaelic games at Pearse Stadium, situated in the captivating city of Galway. This renowned venue offers not only Gaelic games activities but also awe-inspiring views of the vast Atlantic Ocean as your backdrop:
Enjoy breathtaking views of the Atlantic Ocean as you engage in Gaelic games activities at Pearse Stadium. The scenic backdrop adds an extra touch of magic to your experience.
Pearse Stadium boasts modern facilities designed to accommodate Gaelic games. From well-maintained pitches to comfortable amenities, everything you need for an enjoyable day is at your fingertips.
Located in Galway, a city known for its vibrant arts scene and traditional Irish culture, Pearse Stadium offers the perfect setting to immerse yourself in the spirit of Gaelic games and local heritage.
Additional Amenities and Facilities
Most venues provide equipment rental, including jerseys, hurleys, and sliotars, ensuring you have everything you need for an authentic experience.

Look for venues that offer changing rooms, showers, and locker facilities, allowing you to freshen up after an action-packed game.

Some venues may have on-site cafés or restaurants where you can refuel and enjoy a post-game meal or celebratory drinks.
Remember, lads, choosing the right venue is crucial for an immersive and unforgettable Gaelic games experience. Consider the amenities, location, and reputation of the venue to ensure your stag party has everything needed for a fantastic time. So, lace up your boots, grab your gear, and get ready to take on the Gaelic games at a venue that will make your stag party truly epic!
Planning and Logistics
Planning a stag party incorporating Gaelic games requires some careful consideration. Here are some tips to help you navigate the logistics and make your event a resounding success:
Group Size and Duration
Determine the size of your stag party group. Gaelic games can accommodate both small and large groups, but it's essential to ensure everyone can actively participate.

Consider the duration of the Gaelic games experience. It can range from a few hours to a full day, depending on your preferences and the packages available.
Equipment and Attire
Check with the venue or activity provider about the equipment provided. Typically, venues offer the necessary gear, including jerseys, hurleys, and sliotars.

Encourage your stag party attendees to wear comfortable clothing and suitable footwear. Sports attire and trainers are recommended to ensure ease of movement on the field.
Special Considerations
Booking in advance is highly recommended, especially if you have a specific date or venue in mind. Gaelic games can be in high demand, particularly during peak seasons or popular times for stag parties.

Be flexible with your schedule. Consider alternative dates or times if your preferred choice is not available. This allows you to secure a spot and ensures a smooth planning process.
Remember, lads, meticulous planning and early booking are key to securing the Gaelic games experience for your stag party. Take into account the group size, duration, and necessary equipment, and be prepared to adapt your plans if needed. With proper planning and attention to logistics, your stag party will be a roaring success, filled with laughter, competition, and unforgettable Gaelic games moments. Get ready to create memories that will be talked about for years to come!
Embracing the Gaelic Games Adventure
Embracing the adventure and camaraderie of Gaelic games is a fantastic way to create lifelong memories. By immersing yourselves in these games, you'll not only experience the excitement of competition but also gain a deeper understanding of Irish culture and traditions. The bonds formed on the field and the shared laughter and banter will strengthen your friendships and leave an indelible mark on your stag party experience.
So, lads, don't hesitate to dive headfirst into the world of Gaelic games. Embrace the thrill, the friendly rivalry, and the genuine sense of camaraderie that these games offer. Whether it's a spirited match at Croke Park, an immersive experience at Páirc Uí Chaoimh, or a breathtaking adventure at Pearse Stadium, the memories you create will be cherished for a lifetime.
Gather your friends for an unforgettable stag party filled with mystery and intrigue in Carrick on Shannon, Kilkenny, and Galway. Let the haunting adventure begin!
Music Festival Weekend in Ireland: A Perfect Stag Party Experience
You see, our lovely land isn't just known for its breathtaking landscapes, leprechauns, and charming accents. We're also home to an incredible music festival scene that'll have you tapping your feet, raising your hands, and singing along at the top of your lungs. So, it's no wonder that stag parties and music festival weekends go together like whiskey and a pint of Guinness – a match made in party heaven!
Picture this: your rowdy crew, adorned in their wildest stag party costumes, descending upon a sprawling festival ground. The air crackling with excitement, the sound of live music filling every nook and cranny, and the unmistakable aroma of festival food wafting through the air. 
Now, I know what you're thinking – why should you choose a music festival weekend for your stag party? Well, my friends, the answer is simple. Music festivals in Ireland offer a blend of electrifying performances, contagious energy, and an unrivaled sense of community. They provide the perfect backdrop for a stag party extravaganza where you can let loose, unleash your inner wildling, and revel in the celebration of friendship and good times.
Choosing the Right Music Festival for Your Stag Party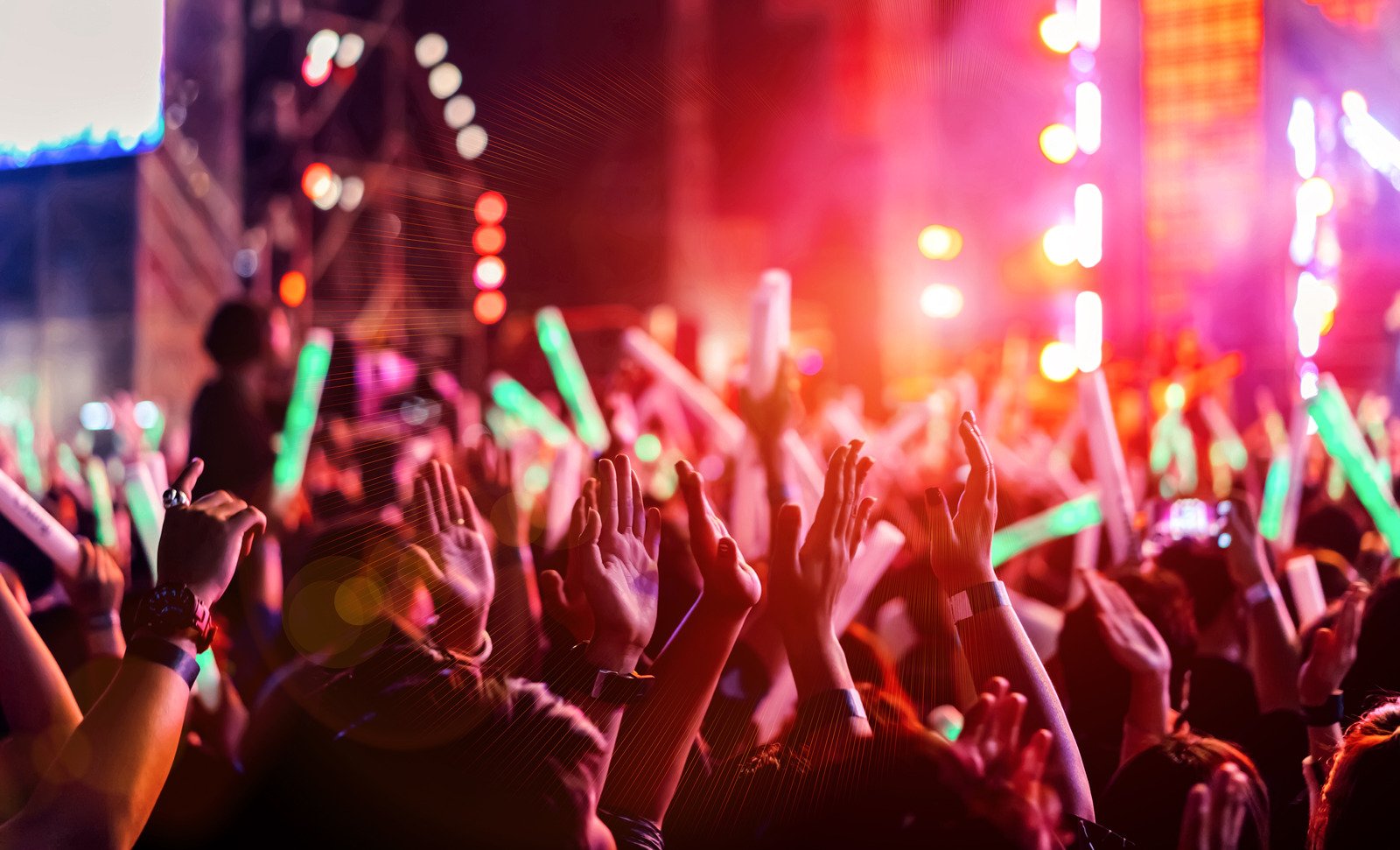 Alright, lads, let's dive into the task of choosing the perfect music festival for your stag party. Ireland is teeming with a plethora of music festivals, each with its own unique vibe and lineup of artists. But fear not, for I'm here to guide you through the process of finding the ultimate stag party destination.
Overview of Popular Music Festivals in Ireland
First things first, let's talk about some of the most renowned music festivals in our fair land. We've got a little something for everyone:
Electric Picnic 
This iconic festival held in Stradbally, County Laois, brings together an eclectic mix of music genres, from rock and indie to electronic beats. With an array of stages, art installations, and a vibrant atmosphere, Electric Picnic is a favorite among stag partygoers.
Longitude
Located in the heart of Dublin, Longitude showcases the hottest acts in hip-hop, pop, and alternative music. It's a city festival that combines great tunes with the buzzing energy of the Irish capital.
Body & Soul
Nestled in the serene setting of Ballinlough Castle, County Westmeath, this festival offers a more intimate and mystical experience. Expect a diverse lineup of artists spanning various genres, wellness activities, and a strong emphasis on art and creativity.
Sea Sessions
If your crew loves sand, surf, and tunes, then this one's for you. Taking place in Bundoran, County Donegal, Sea Sessions combines a music festival with a beach party atmosphere, attracting top artists from Ireland and abroad.
Factors to Consider for Stag Party-Friendly Festivals
Now, let's talk about what factors you should consider when selecting a festival suitable for your stag party extravaganza:
Discuss with your crew what types of music get your toes tapping and bodies moving. Whether you're into rock, EDM, folk, or something in between, choose a festival that aligns with your musical preferences to ensure non-stop enjoyment.
Location, Location, Location
Consider the festival's location and accessibility for your squad. Would you prefer a city festival for easy accommodation and transportation options, or are you up for an adventure in the countryside, where you can pitch tents and embrace the wild spirit?
Look into the festival's amenities and additional activities that can enhance your stag party experience. Does it offer camping facilities, food vendors, bars, or even adventure sports? Think about what extra features will make your weekend unforgettable.
Stag Party-Friendly Music Festivals
Now, for the moment you've been waiting for – our top recommendations of music festivals that cater to stag parties:
Forbidden Fruit
Held in Dublin's stunning Irish Museum of Modern Art (IMMA) grounds, Forbidden Fruit brings together a blend of music, art, and good vibes. It's a fantastic choice for a stag party, with a central location and a lineup that spans various genres.
Indiependence
Located in Mitchelstown, County Cork, Indiependence offers an indie and alternative music experience that's sure to get your stag party rocking. With camping options and an intimate atmosphere, it's ideal for creating lasting memories.
All Together Now
Set in the scenic Curraghmore Estate, County Waterford, All Together Now combines music, comedy, spoken word, and immersive art installations. It's a festival that offers a unique and diverse experience, perfect for a stag party seeking something extraordinary.
Remember, lads, while these festivals come highly recommended, ultimately, the choice should align with your group's preferences and style. So, gather your lads, raise a glass, and choose the festival that promises to be the backdrop for your legendary stag party. Sláinte to unforgettable moments!
Stag Party Planning Tips for a Music Festival Weekend
Alright, lads, now that you've chosen the perfect music festival for your stag party, it's time to dive into the nitty-gritty of planning. Here are some practical tips to ensure your stag party shines amidst the festival madness:
Organizing Your Stag Party within a Music Festival Setting
Set up a dedicated group chat or communication channel to keep everyone in the loop. Discuss travel arrangements, ticket purchases, and any specific requirements or preferences.
Purchase your festival tickets well in advance to secure the best deals and ensure your entire crew can attend. Consider group ticket options that might offer discounted rates.
Embrace the stag party spirit by brainstorming creative costumes or themed outfits. Coordinate your attire with the festival's vibe or create your own unique theme. It's all about standing out and having a laugh!
Accommodation Options
Camping, Glamping, or Nearby Hotels?
If you're up for the full festival experience, camping is the way to go. Pack your tents, sleeping bags, and camping essentials to create a home away from home. Just make sure to check the festival's camping guidelines and rules.
For those seeking a touch of luxury, consider glamping options available near the festival site. Experience the festival buzz during the day and retreat to a comfortable glamping setup at night. It's the best of both worlds.
If roughing it out in tents isn't your style, look for hotels or guesthouses near the festival location. Keep in mind that these accommodations tend to fill up quickly, so book early to secure your rooms.
Stag-Friendly Activities and Attractions
Kick-start your stag party with a pre-festival pub crawl in the nearby town or city. Explore the local watering holes, soak up the Irish hospitality, and raise a glass (or several) to the groom-to-be.
Indulge in the mouth watering festival food options available. From hearty burgers and gourmet street food to artisanal treats and international cuisines, there's something to satisfy every appetite.
Explore the Festival Grounds
Take the time to explore all the nooks and crannies of the festival grounds. Discover hidden stages, immersive art installations, and interactive experiences. Keep an eye out for unique photo opportunities to capture those stag party memories.
Engage in friendly competitions or challenges within your stag party group. Create games, dares, or scavenger hunts that add an extra layer of fun and excitement to your festival adventure.
Embrace the Festival Spirit
Join in the festival activities beyond the music stages. Attend workshops, participate in yoga sessions, try your hand at arts and crafts, or even take part in impromptu jam sessions. Immerse yourself in the full festival experience.
Remember, lads, the key to a successful stag party at a music festival is to balance the excitement of the festival itself with the celebration of the groom-to-be. Plan ahead, stay organized, and most importantly, let the spirit of camaraderie and humor guide your stag party escapades. Sláinte to an unforgettable music festival weekend!
The Stag Party Experience at Music Festivals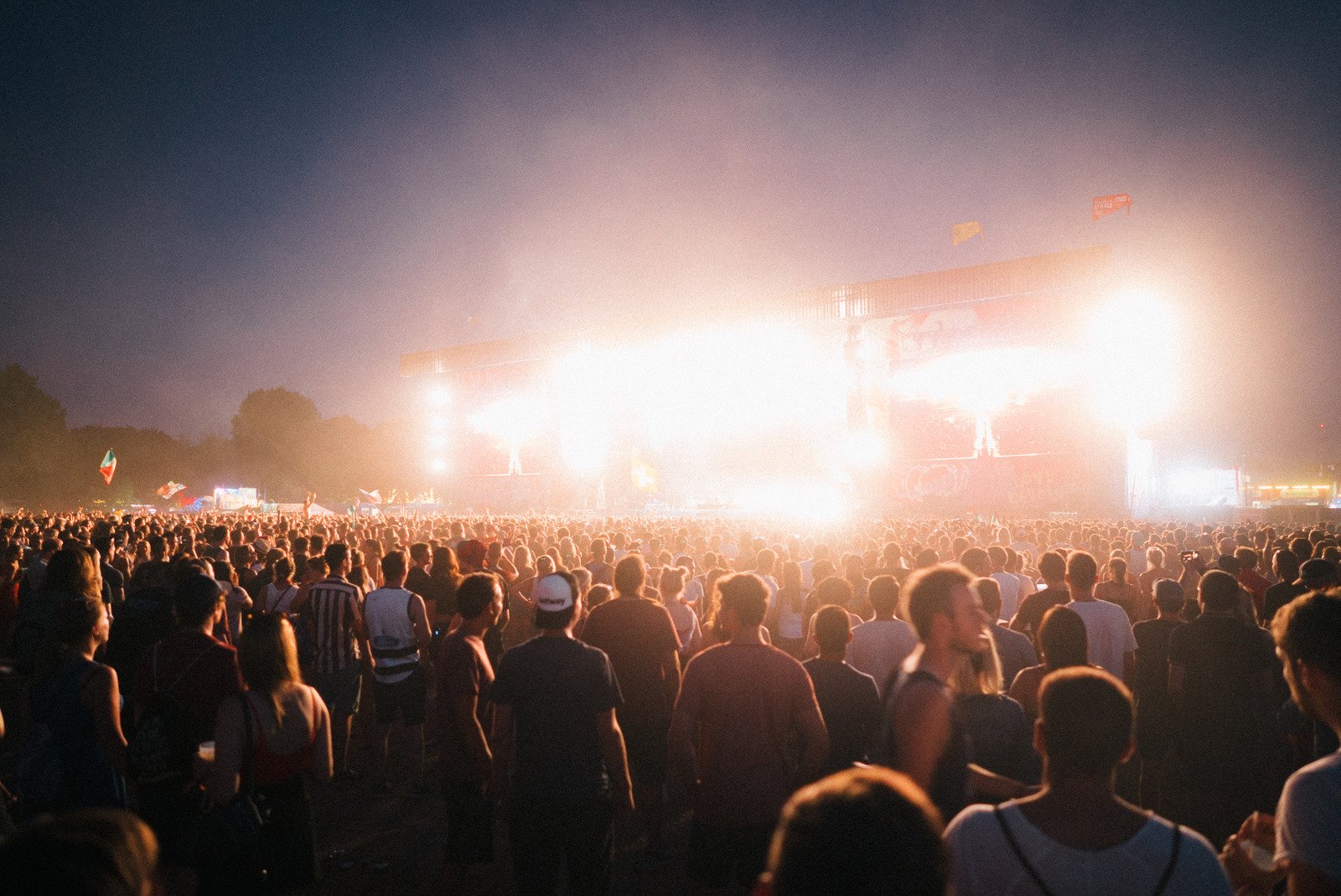 Combining a stag party with a music festival weekend offers a vibrant and inclusive atmosphere like no other. Immerse yourselves in the energy and excitement of the festival crowd, where laughter, cheers, and good vibes are contagious.
Music festivals provide an incredible lineup of live performances from top-notch artists. Get ready to rock out, dance, and sing along to your favorite tunes with your stag party crew. It's a chance to experience the thrill of live music in a shared, electrifying atmosphere.
Beyond the music, festivals offer a plethora of entertainment options. Explore art installations, indulge in delicious food and drinks, participate in interactive activities, or even catch comedy shows and other performances. There's never a dull moment.
Music festivals are filled with adventures waiting to be had. From navigating the festival grounds together to discovering hidden stages or participating in spontaneous dance-offs, the shared experiences will become legendary stories you'll reminisce about for years to come.
Embrace the Epic Fusion of Stag Parties and Music Festivals
From the pulsating beats of the stages to the laughter-filled moments shared with your stag party crew, a music festival weekend offers the perfect backdrop for celebrating the groom-to-be in style. It's an opportunity to bond, laugh, and create legendary stories together, all while being swept away by the magic of the festival atmosphere.
So, lads, don't miss out on the vibrant music festival scene that Ireland has to offer. Explore the options, choose a festival that resonates with your crew's musical tastes, and embark on an unforgettable stag party experience. Let the music be the soundtrack to your adventures, and the laughter be the fuel that keeps the celebrations going.
Sláinte and may your stag party be an experience like no other!
Exploring the Role of DJs in Pubs and Bars
Ah, music and pubs, two beloved elements of Irish culture that go together like a good pint of Guinness and a lively conversation. It's no secret that music holds a special place in the hearts of pub-goers across Ireland. Whether it's a traditional Irish folk tune or the latest chart-topping hit, music sets the tone and creates an unforgettable atmosphere in our cherished establishments.
Now, when it comes to keeping the energy levels high and the dance floor buzzing, we can't overlook the crucial role of DJs in our pubs and bars. These maestros of music are the sonic architects who weave their magic and transport us to a realm where worries melt away and feet start tapping. But what exactly do DJs do, you might wonder? Well, hold on to your shamrocks, because we're about to take you on a delightful journey into the world of  DJing and how they infuse our favorite haunts with infectious energy and undeniable craic.
The Basics of DJing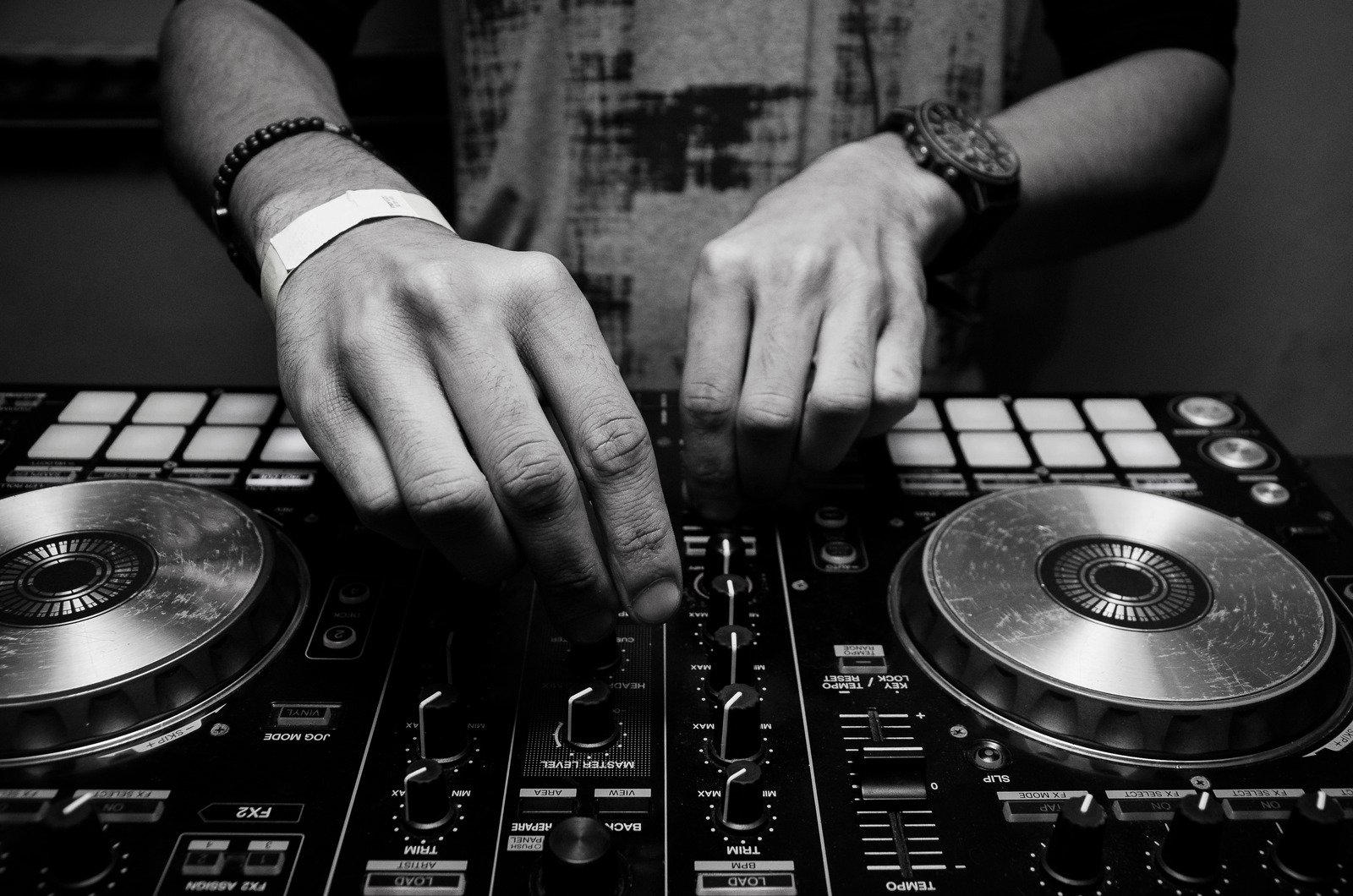 DJ equipment and tools used in pubs and bars
Alright, let's dive into the arsenal of tools our Irish DJs wield to create their musical masterpieces. From turntables to digital controllers, these maestros have an array of gear at their fingertips. Picture them behind the decks, armed with their trusty vinyl records or a cutting-edge laptop, effortlessly blending beats and tunes to get our toes tapping. It's like watching a skilled craftsman at work, only their canvas is a dance floor, and their tools are the stuff of auditory enchantment.
The DJ's Role in Selecting Appropriate Songs for Different Occasions
The DJ's task of crafting the perfect playlist is a sacred art, dear friends. They possess the innate ability to sense the vibe of the occasion, like a seanchaí who knows precisely which tale will captivate the audience. Whether it's a rowdy Friday night or a cozy Sunday afternoon gathering, our trusty DJ is the maestro who orchestrates the melodic journey, handpicking songs that resonate with the crowd and embody the spirit of the moment.
Building a Diverse Music Library to Cater to Different Tastes
They skillfully blend music genres like a master brewer crafting the perfect pint, ensuring that every taste is catered to and no foot can resist tapping to the rhythm.
Techniques for Reading the Crowd and Adjusting the Playlist Accordingly
With their wisdom, they deftly tweak the playlist, bringing the tempo up when the energy sags and dialing it down when the hearts yearn for a tender moment. They are the sonic sorcerers who wield their tunes with precision, keeping the dance floor a swirling cauldron of laughter, joy, and craic.
Mixing Different Genres to Keep the Energy Flowing
They fearlessly blend different genres, creating a musical fusion that's as surprising as finding a four-leaf clover in your pint. 
Picture this: a traditional Irish folk tune joyfully intertwines with a cheeky hip-hop beat, or a beloved rock anthem seamlessly segues into an infectious dance floor anthem. 
The result? A wild, harmonious medley that defies expectations and keeps the energy flowing like the mighty River Shannon.
Encouraging Crowd Participation and Creating a Vibrant Atmosphere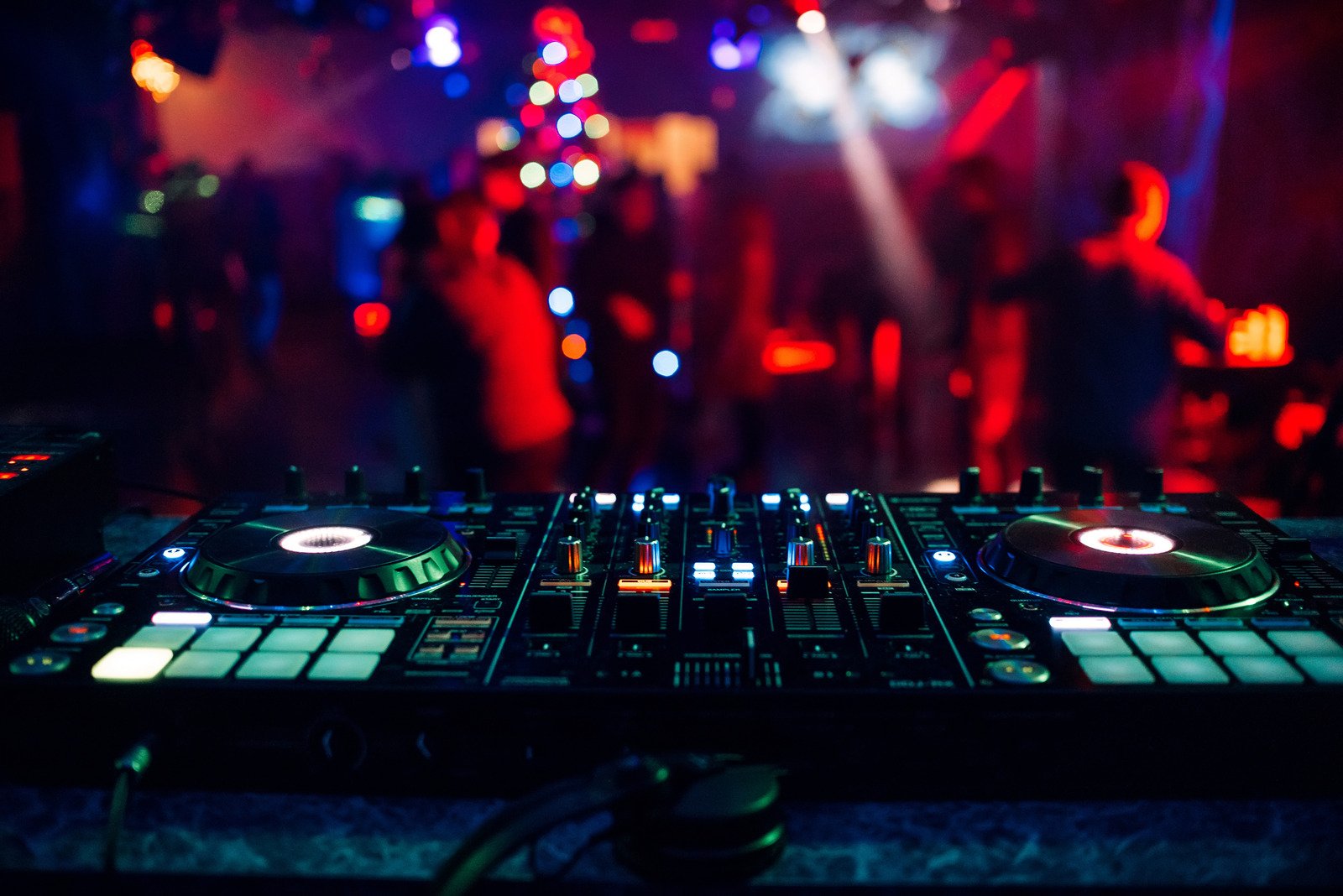 Our DJs, bless their souls, know how to rouse a crowd like no other. They possess an enchanting ability to encourage crowd participation, turning a gathering into an uproarious celebration. With a simple raise of their hands, they ignite a sea of swaying bodies, transforming a timid group into a joyous, uninhibited horde. 
They're the conductors of our collective dance, orchestrating moments of shared euphoria and camaraderie that echo through the walls of the pub. It's a sight to behold, my friends, when the DJ and the crowd become one in their boisterous revelry.
Understanding the Importance of Timing and Building Anticipation
DJ's build anticipation like a leprechaun leading us on a merry chase, teasing us with glimpses of what's to come before delivering the sonic ecstasy we crave. It's a dance of anticipation and release, expertly executed by our musical maestros, leaving the crowd begging for more.
Utilizing DJ Techniques such as Scratching and Beat Drops to Captivate the Audience
Our DJs are virtuosos of their craft, wielding techniques that can turn the dance floor into a swirling vortex of energy. They unleash the power of scratching by moving their nimble fingers dancing across the turntables.
The scratches cut through the air, adding an extra layer of excitement and raw energy to the mix. And when the beat drops, oh, it's a moment of sheer ecstasy. The crowd erupts in cheers and applause, bodies pulsating with the infectious rhythm. It's in these moments that the DJ's true magic comes alive, captivating the audience and taking them on a sonic journey they'll never forget.
Adapting to the Venue and Atmosphere
Tailoring the DJ's Style to Match the Pub or Bar's Atmosphere
DJs effortlessly adapt their style to match the unique character of each pub or bar, creating an atmosphere that feels like a perfect fit. They curate playlists that reflect the spirit of the venue, ensuring that the music becomes an integral part of the overall experience.
Adjusting the Tempo and Energy Level Based on the Time of Day or Night
DJs understand the shifting energy of the day and night. They set a laid-back tone in the early hours and raise the tempo as the night unfolds, intensifying the energy on the dance floor. They adapt the music to the changing atmosphere, carrying the crowd on a wave of euphoria.
Collaborating with Other Staff Members to Enhance the Overall Experience
DJs work hand in hand with other staff members to create a seamless and immersive experience. They coordinate with bartenders, synchronize lighting effects with waitstaff, and collaborate to enhance every element of the venue. Together, they create a memorable and harmonious atmosphere.
Leveraging Technology and Creativity to Create Memorable Moments
DJs leverage technology and their boundless creativity to craft unforgettable moments. They use cutting-edge equipment to surprise the crowd with mind-bending remixes and live mashups. Their artistic flair and technological prowess create those captivating moments that linger in our memories.
Encouraging Appreciation and Support for Local DJs
As we conclude this journey into the world of DJs in pubs and bars, let us take a moment to appreciate and support our local DJs. They are the unsung heroes who work tirelessly to make our nights unforgettable. So, next time you find yourself swaying to the beat, take a moment to acknowledge the DJ behind the booth, for they are the ones who transform ordinary moments into extraordinary memories. 
Show them your appreciation, spread the word about their talents, and continue to support their craft. Let us celebrate the magic they create and ensure that the legacy of incredible DJs lives on in the heart and soul of our beloved pubs and bars. A Stag party in Ireland wouldn't be the same without them!